8 Best Email Marketing Software Providers [2023]
Email marketing is a digital marketing strategy that promotes services and products by sending emails and developing relationships with customers and prospects. This includes sending newsletters, exclusive deals, discounts, and general updates/messages sent on behalf of a business.
When using email marketing software, businesses don't send their emails like a typical Gmail email, however. They use platforms like Brevo and Constant Contact to design and automate campaigns. These tools also offer analytics and reporting features to measure performance.
Table of Contents
The Best Email Marketing Software for Most Businesses
Brevo — overall best choice for email marketing in 2023
Constant Contact

— best service for event

marketing
Moosend

— best choice for marketing automation

Omnisend — best for e-commerce omnichannel marketing
ConvertKit — built for creators to help turn an audience into fans
Mailerlite — simple-to-use platform that makes advanced easy
GetResponse — provides email analytics to better understand behavior
AWeber — offers free option for up to 500 subscribers
Brevo (previously Sendinblue) is an intuitive all-in-one marketing platform that has built-in email marketing functionality among other features. All of their plans come with unlimited contact storage. This means that the only limit you'll need to consider is the number of emails you're sending. It's easy to get started with Sendinblue – they have a free plan that allows you to send up to 300 emails per day. Their paid plan starts at $25/mo.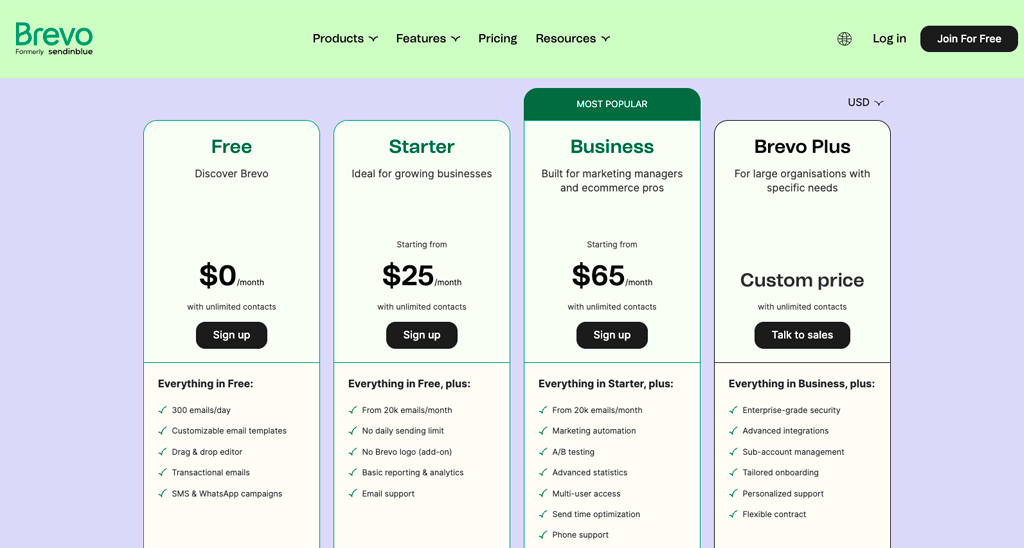 Constant Contact is the original email marketing platform. They survived the dot com bubble of the late '90s which means they have been refining their platform for nearly 20 years. A unique feature of Constant Contact is its event management functionality which lets you collect attendee registrations for a nominal fee. It's free to try Constant Contact (no credit card required) and their paid plans start at $20/mo and are based on the number of contacts in your list.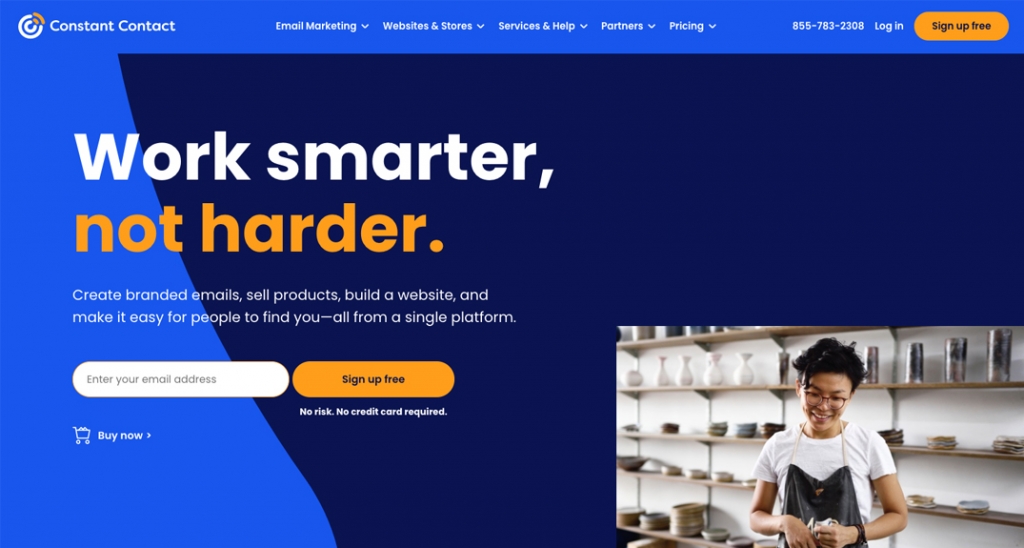 Moosend is the best platform for those looking to implement marketing automation (instead of sending one-off email campaigns). Businesses of all sizes use their platform to create campaigns, A/B test, and automate things like customer cart abandonment emails. Moosend's user interface is easy to use thanks to their drag-and-drop experience and they offer support via phone and live chat.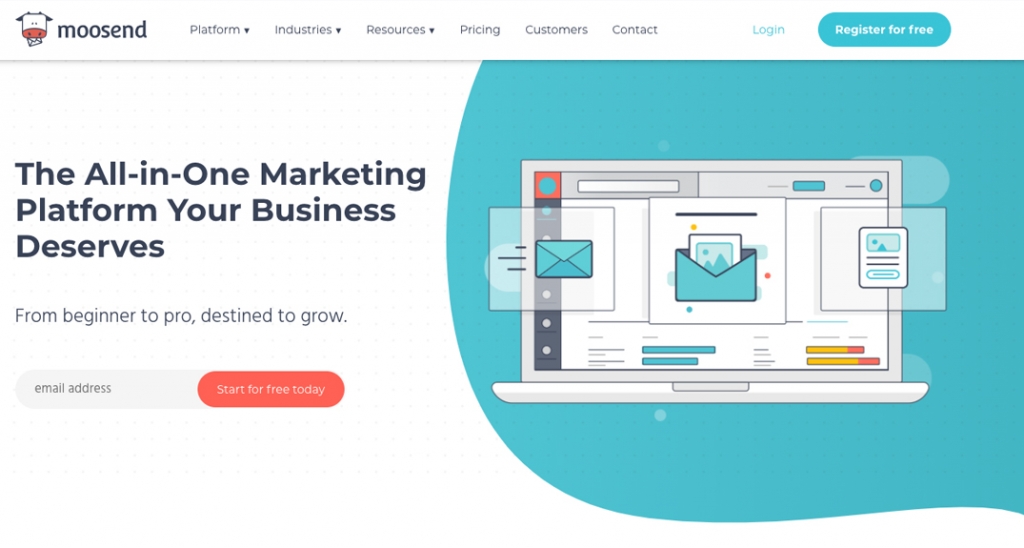 Founded in 2014 under the name Soundest, Omnisend has come a long way from being a startup to being an email marketing service with 4.7/5 on the Shopify app store. The company is eCommerce-centered with features focusing on niche marketing, advanced segmentation, and sales tracking. Omnisend allows you to send the right message at the right time with its email, SMS, and web push notifications. Omnisend offers a free plan that comes with 500 emails, for 250 contacts and allows you to test out all the features including SMS, web push notifications, segmentation, and automation. The paid plan starts at $16/month.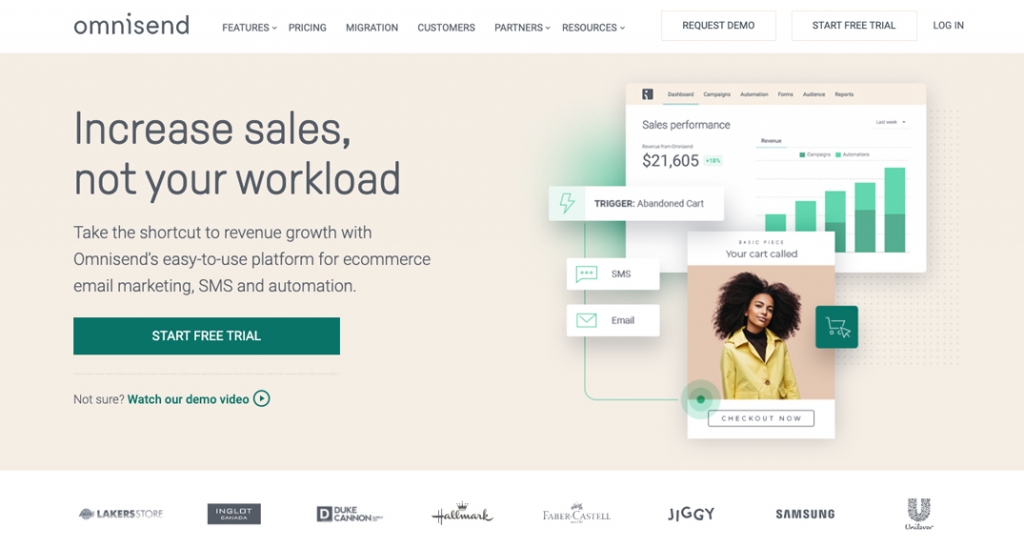 ConvertKit offers niche features that target online creators like professional bloggers, Podcasters, and YouTubers. The aim is to help creators find their audience, turn them into fans, and earn a living. The tool is for those who require powerful automation and sequences without engaging in the technical part of the process. Among its niche features, the most unique is that users can sell products and subscriptions – not something available with other email marketing companies. Despite targeting solopreneurs, the company starts paid packages at $29. For trials, there is a feature-wise limited, freemium plan for those with less than 1,000 subscribers.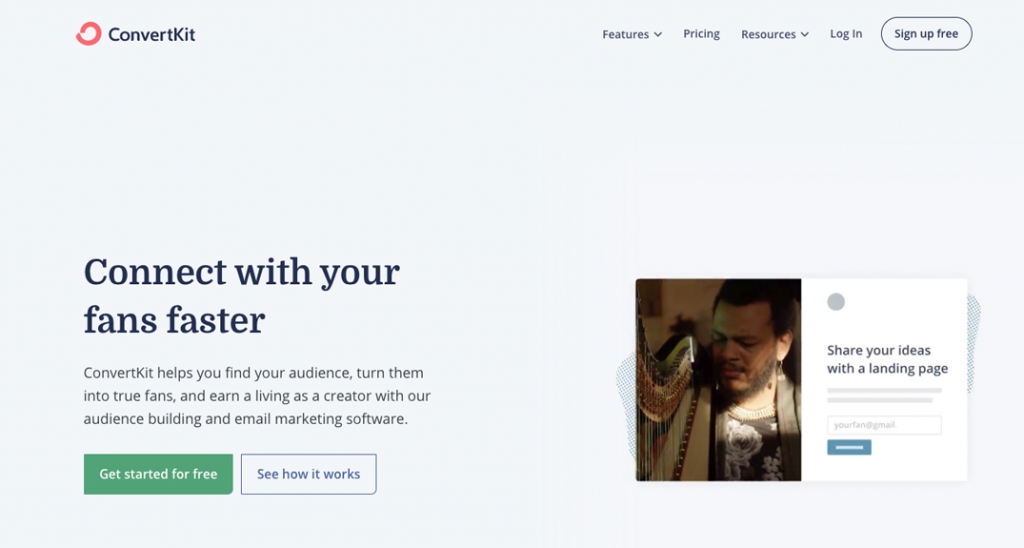 Relatively new, MailerLite has a modern, clean, and straightforward design. You can expect features that are functional and creative with an interface that is available in 5 languages. There is also a mobile app running on iOS. What's best about MailerLite is its Free Forever Plan. With this plan, you can send up to 12,000 emails per month and have up to 1,000 subscribers. If you plan to pay in the future, you will find it cheaper than many others. Prices start at $10 for 1,000 subscribers.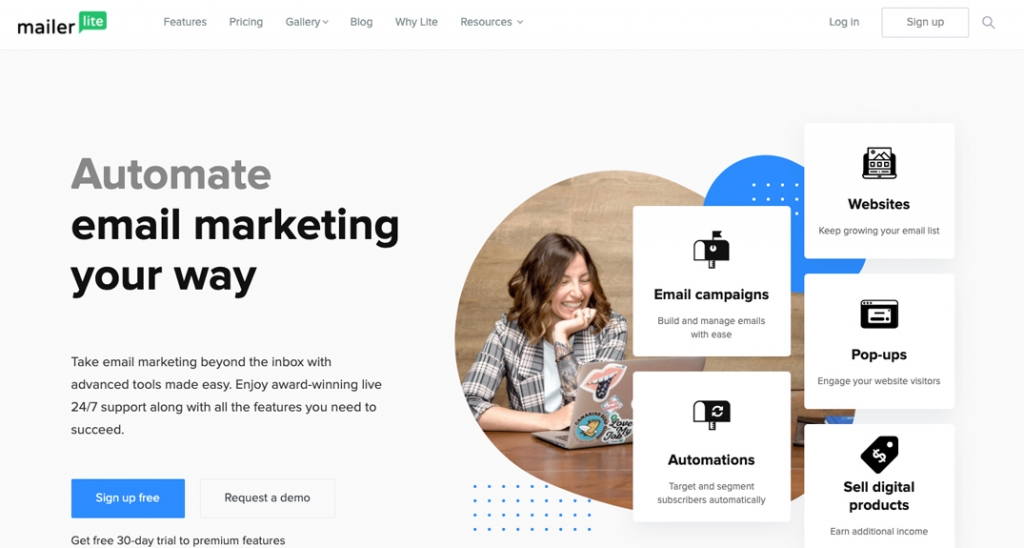 GetResponse is a one-stop shop for eCommerce and marketing solutions. They have been in business since 1998. From creating a mailing list to providing landing pages and sales funnels, this Polish-based company offers a stack of conversion-oriented features with a global reach that extends to 182 countries. Its Basic plan starts at $15 for 1,000 subscribers but provides a 30-day free trial to help you decide whether the purchase is right for you. The biggest perk of using GetResponse is that they only charge for active subscribers, eliminating any hidden costs.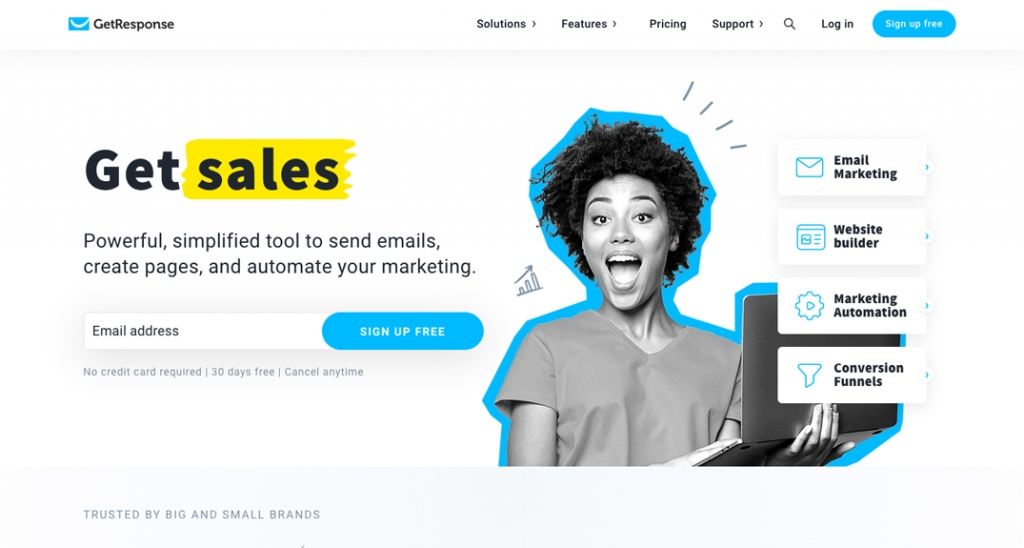 AWeber is a US-based email marketing company that has been in business for over 20 years. Their powerful marketing automation is among their most significant selling points. Apart from this, they offer split (A/B) testing and Email Web Analytics for sales tracking. Recently, AWeber launched a free plan for those with less than 500 subscribers. It gives access to limited features with the ability to send 3,000 emails a month. Paid plans start at $19, and the price increases only with the increasing number of subscribers. All features are available on all paid plans.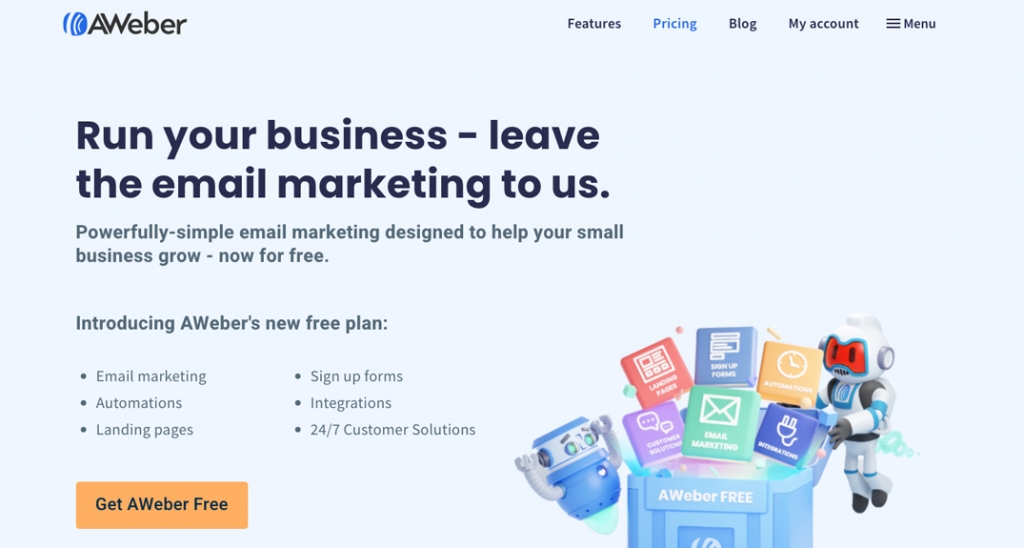 What are the benefits of email marketing?
Perhaps, the biggest, non-monetary benefit of email marketing is that you can automate the entire process. In other words, it is convenient and time-saving. But is that worth relying on this digital marketing strategy? Yes – email marketing has several other benefits.
Email Marketing Exposes Your Brand to More Prospects
In addition to all recognizable brands, even small businesses use promotional email marketing. By keeping their emails interesting, eye-catching, and relevant, they can reach a wider audience. It helps them develop a brand identity by routing them directly into the inboxes of (potential) customers.
Email Marketing Generates Revenue
One look at recent digital marketing facts reveals how beneficial this marketing strategy is at driving in profit. According to surveys, every dollar invested in emails delivers a strong average return of $42. Another report by Marketing Week shows that email marketing generates around $37 billion annually.
In a recent Hubspot study, 59% of marketers revealed email marketing to be their biggest source of ROI. And those who segmented their mailing campaigns saw as much as a 760% increase in their revenue, which can go as high as 4400%.
Lastly, compared to social media, email marketing campaigns have at least 3X the average order value.
Email Marketing Works as a Consensual Medium between Brands and Customers
Customer experience is valuable and can make all the difference between a one-time buyer and a loyal return consumer. Email marketing can help you ensure it is the latter by becoming a medium to engage your customers, interact with them, and get feedback.
Getting feedback also helps you learn what works and what needs improvement.
Moreover, you know that those on the mailing list voluntarily signed up, thus affirming their interest in your brand.
Email Marketing Generates Traffic
One of the less evident benefits of email marketing is that it doubles as an SEO strategy. A well-curated email has the power to pique the interest of the receivers and encourage them to redirect to your brand website. This way, not only do you get traffic but also keep your audience engaged with your products or services and website.
Email Marketing Campaigns Can Be Automated
Although traditional marketing campaigns are times according to the location of their audience, they can take months to plan and organize. Even then, it is hard to make sure that they reach every one of your target audiences. For example, Instagram advertising. Since it includes people from every corner of the world, it is natural that some will miss the ad cause of the time zone differences.
However, with email marketing, you can create a marketing campaign, automate each email according to the time zone of the sender, and ensure your audience sees it at the right time. For example, you can time the content by segmenting your audience.
Email Marketing is an Affordable Marketing Strategy
With any business, especially small businesses, there are always budget constraints. A large sum spent on just one strategy can mean lost revenue and fewer opportunities to invest in other aspects of the business. That's why email marketing is great. It is cost-effective with more promising returns.
How does email marketing software work?
Email marketing software helps you design, target, and execute email marketing campaigns. The most popular examples are HubSpot, Campaign Monitor, and Mailchimp.
Whichever email marketing tool you choose, you can start by signing up for a free email marketing account. Once done, you will find a rich selection of email templates, an email builder, and other tools that let you plan, create, customize, segment, and manage campaigns. These will typically include A/B Testing Tool, Merge Tags, Mailing List Manager, Autoresponders, CRM Integration, and Social Media Integration.
While many software provides free versions, others have affordable and scalable price tiers. Some start free, and others charge as your list grows — usually by the number of subscribers or sends.
What features should I look for in email marketing software?
When looking for email marketing software, consider your business requirements and look for the following features:
CRM Integration: If you want to take the email marketing experience to the next level, integrating with your CRM system is a must. Interacting with customers helps you to discover additional data such as demographics, competitive information, and pain points. This results in more effective campaigns and provides a stronger ROI.
Analytics & Reports: This tool will help you cut through the clutter by giving you data like which devices the subscribers are using to open your emails, are they forwarding or deleting those emails, bounce rate, demographic stats, etc. Analytics and reporting features also provide insights on deliverability rates based on how the receivers interact with the mail.
Autoresponders: Save time and effort by setting up automated responses to certain emails. Quick and relevant replies also boost conversions. For example, an auto-reply with discount coupons upon signing up for the newsletter proves to be an effective tactic to draw the visitor to make a purchase.
CAN-SPAM Compliance: Choose an email marketing software that complies with the CAN-SPAM Act to maintain your reputation and optimize deliverability. Some software will analyze your email content and deliver insights on whether there are any broken links, the potential of the content to be blocked by spam filters, if the HTML looks legit, etc.
Segmentation and Targeting: This feature shouldn't be ignored, especially if you're serious about email marketing. Choose an email marketing platform that allows you to create groups based on geolocation, time zone, autoresponder engagement, click-through, browser used, subscription message data, and purchase behavior. This lets you create targeted, effective, and personalized campaigns.
WYSIWYG Editor: Similar to a website builder experience, a WYSIWYG editor lets you build an email template without having to know HTML and CSS. Most tools have all essential features built-in – like CTA buttons, spacers, text, dividers, and hero images.
Frequently Asked Questions
How much does email marketing software cost?
Email marketing software pricing can vary but expect to pay between $9 and $300 per month. Pricing increases based on the number of subscribers, emails sent, and feature set. Many providers offer a free trial that makes it easy to get started. There are usually limits to the number of emails you can send or available features with the free versions, however.
What's the best email marketing platform?
It depends on your needs and the size of your business. Sendinblue, Omnisend, and Mailchimp can be good options, but there are dozens of others.