50+ Digital Marketing Facts, Trends, & Resources for 2023
The Internet is ever-changing, which is why it is important to stay up-to-date with the latest digital marketing facts and statistics to keep growing your business online. In this article we'll take a look at the following:
Resources and additional information about digital marketing are included towards the end of this article if you'd like to learn more about what we've covered.
2023 Marketing Trends
AI copywriting tools will continue to improve and evolve. Popular tools like Jasper and Copy.ai are able to write entire articles with a few prompts. ChatGPT, OpenAI's new chatbot, will be particularly interesting to watch.
Marketers will focus less on Web3, as the hype surrounding NFTs and the Metaverse continues to decrease as the need for business value and ROI increases.
Core Web Vitals continue to be a major ranking factor for Google Search. This started in 2021. User Experience (UX) elements like page loading performance, interactive delay, and visual stability need to be optimized.
E-commerce transactions will become easier with one-click checkouts. Services like Apple Pay and Bolt are more secure for consumers since a limited amount of data is shared, and one-click checkouts improve conversion rates for retailers.
Companies that focus on relevance and inclusivity will capture attention as consumers continue to be exposed to an ever-increasing amount of digital advertising.
Organic reach on social media will continue to decrease. Brands will need to dedicate budgets if they want their social media campaigns to get the attention they've gotten previously.
Content Marketing Facts
Content marketing continues to be the heart of digital marketing. Here are 15 crucial content marketing stats to boost your knowledge!
There are over 500 million blogs on the Internet. 50,000 people search for how to start a blog every month on Google.
WordPress powers 40% of the top 10 million sites on the web. WordPress is a blogging platform that allows website owners to quickly create and manage content on their websites.
The time it takes to write a blog in 2021 has increased 65% more compared to 2014. The average writing time in 2014 was 2.24 hours, while in 2019 it had already hit 3.57 hours.
According to 65% of marketers, SEO is the most effective tactic to drive more traffic. While, on the other hand, 51% of marketers report that repurposing or updating existing content is just as effective too.
Blogs are among the top three forms of media used in content strategies, and 69.6% of businesses actively invest in content marketing.
In 2020, "content marketing strategy" was the most popular query searched on Google related to content marketing.
78% of companies report having only one to three content marketing experts on their team. The three popular roles included content writer (52%), a social media manager (36%), and SEO content manager (34%).
The top three content mediums for most B2B marketers are email newsletters, blogs, and social media content.
In 2020, 70% of B2B marketers reported that their org's content marketing is much or somewhat more successful now than compared to a year ago.
75% of people, who incorporate visuals in content, drive better ROI.
The majority of B2B content marketers have increased their use of audio/visual content compared to a year ago. The use of written digital media and images has also increased similarly.
Longer articles with 3,000+ words get 3x more traffic and get 4.5x more social media shares than shorter articles of 300-400 words.
Videos are becoming a more popular form of media within content strategy compared to blogs and infographics. The most common videos being created are promotional and brand storytelling.
Most marketers are creating content for multiple audience segments, three being the most common.
Among all social media platforms, Facebook is the most popular content distribution channel among marketers.
Marketers report that the most challenging part of content marketing is generating quality leads.
Successful blogs are a blend of four content types — guides, how-tos, Q&As, and lists.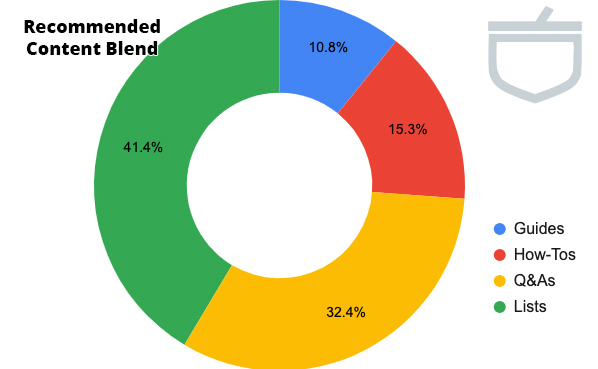 Social Media Marketing Facts
Here are some social media marketing stats that will help your online businesses gain visibility and boost the impact of their social media strategies.
Facebook has 2.74 billion monthly active users, as of September 2021, while Twitter has 340 million monthly active users.
TikTok has been downloaded 2 billion times globally. They have 100 million monthly active U.S. users.
By 2020, marketers were already spending more than $89 billion on social media ads. The numbers are projected to reach $98 billion in 2020 and $135 billion by 2025.
54% of social browsers research products on social media platforms, of which 37% visit a brand's social media page and 24% click on sponsored product links.
Videos perform better and encourage 49% more interaction than images and yet 68.2% of all Instagram posts are images.
Weekend social media posts get 27.3% more interactions than posts during the work week.
73% of marketers report that their social media efforts have been "somewhat" or "very" effective for their business.
80% of companies believe their social media customer service is exceptional, while only 8% of customers say they agree. Over 95% of customers who have messaged a complaint will never receive a response.
When it comes to customer care, 34.5% of customers prefer help over social media. 24.7% prefer live chat and 19.4% prefer Email.
70% of consumers look for products on Instagram and Facebook. 30% of interviewed online consumers claim to have made a purchase directly from platforms like Pinterest, IG, Twitter, etc.
Social media referral traffic to online stores has increased by more than 100%. Social media e-commerce is predicted to increase by $735 billion by 2023.
Social platforms like Pinterest are the biggest source of online shopping inspiration. 87% of consumers say that social media helps them make shopping decisions.
In 2018, social media had already become the most relevant advertising channel for 42% of millennials and 50% of Gen Z.
India is the largest social media market with the biggest jump in numbers of social media users since 2019.
43% of all social media users use the platforms when researching products or services to make a purchase.
The majority of users engage with social media to find funny and entertaining content.
The recent biggest challenge in social media marketing is that people are becoming private. 50% of marketers admit that this shift has them rethinking their content strategy.
Email Marketing Facts
Email marketing may feel retro but it continues to be important for growth. Here are some email marketing insights to help you strengthen your knowledge of online marketing strategies.
73% of millennials prefer communication via email from brands and businesses over other mediums, like text messages.
Marketers who segment their email campaigns have seen up to a 760% increase in their business revenue.
3.9 billion people use email every day, and that number is expected to reach a staggering 4.3 billion by 2023.
78% of marketers have reported an increase in email engagement in the past year.
31% of B2B marketers say that email marketing still remains the best way of getting leads.
For 81% of B2B marketers, email newsletter is their most used form of content marketing and 87% of them say email is among their top free and organic content distribution mediums.
In 2019, 293.6 billion emails were sent and received daily, and the number is expected to increase to over 333.2 billion by 2022.
For every $1 spent on email marketing, marketers reported an average return of $42.
81% of SMBs still depend on emails as their primary medium to boost leads while 80% of them use emails for retention.
Email with emojis in the subject line increase open rates by 56%. In a recent survey, only 6.9% of email subject lines contained an emoji.
Companies that send two emails per day see the highest open rates.
Trigger-based emails perform 3x better than nurture or batch-based emails.
Personalized emails that include the customer's name tend to perform better than generic, non-personalized messaging.
The top reason people unsubscribe from an email list is that they receive too many emails. This is followed by the information no longer being relevant and that they no longer recognize the brand.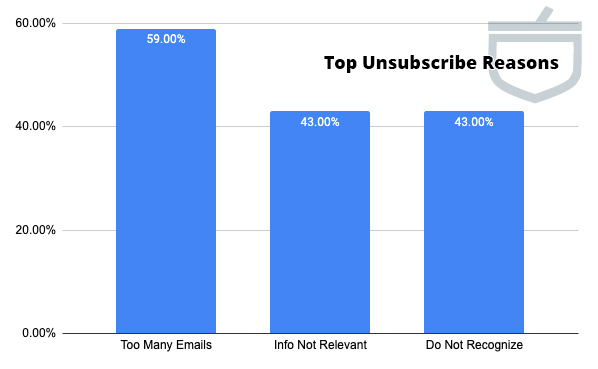 Sources & Additional Information