50+ Internet Facts, Statistics, & History for 2023
There is no doubt that the Internet is a core part of life in 2023. Students and adults around the globe are using the Internet more and more every day to research, shop, and connect with friends & family.
On the surface, today's Internet looks similar to the Internet of 20 years ago. It's drastically different at its core, though. Leaps and bounds of innovation have occurred to get the world wide web to where we are today.
Global Internet Facts for 2023
There are 5.28 billion Internet users as of August 2023. This represents 64.6% of the global population. Ten years ago, in 2010, fewer than 2 billion people were online.
Nearly half of all Internet users live in Asia – 765 million people in China and 600 million people in India use the Internet. China and India are the most connected countries.
7.5% of adults in the UK have never used the Internet. This number shrinks by about 1% every year.
Women are underrepresented online, with only 48% of women connected to the Internet, compared to 58% of men.
Google.com is the most popular website on the Internet. Visitors spend an average of 15 minutes and 13 seconds per day searching the website.
Facebook is the most popular social network as of May 2021, with 2.80 billion monthly active users.
TikTok is the fastest-growing social network. It has been downloaded over 2 billion times.
97% of people are within reach of a mobile data network (cell phone signal). 82% of people live within reach of a high-speed LTE or higher signal.
Bots are estimated to make up 37.9% of all Internet traffic. The financial sector is the main target for bot activity, followed by education, government, and gambling.
Online sales are now higher than traditional retail sales – this started for the first time in early 2019.
Retail e-commerce sales are projected to grow to $740 billion by 2023.
Amazon is the leading e-commerce retailer in the United States, controlling 47% of the market. eBay is second with 6.1% market share, Walmart is third with 4.6%, Apple is fourth with 3.8%, with The Home Depot coming in at 1.7%.
5G internet is 10X faster than 4G LTE and will be the new widespread mobile Internet standard by the early 2020s
76% of Americans use digital technology to keep in contact with others.
25% of Americans have used webinar software tools like Zoom to attend virtual meetings due to COVID-19.
Zoom saw daily users more than quadruple during COVID-19.
Online merchants gained an extra $107 billion in 2020 thanks to the Coronavirus pandemic.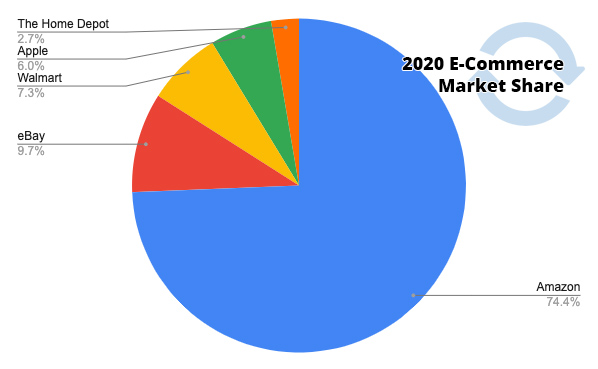 Web Hosting Facts for 2023
Every website requires a domain name and web hosting. A domain name is also called the URL (such as google.com). Web hosting is a single or cluster of servers connected to the Internet storing web page files. Computers are able to connect to these servers with a network connection and download the page contents.
Amazon Web Services (AWS) is now the world's largest hosting company. AWS has 47.8% market share, ahead of competitors like Microsoft Azure and Google Cloud Platform.
Newfold Digital is the largest web-hosting company for small businesses in the United States. The flagship brand of Newfold Digital is Bluehost. Bluehost has over 2 million customers and is one of the most popular web hosting companies for beginners and small businesses.
There are 359.8 million active domain name registrations as of Q3 2019. The most popular domain names are .com and .net TLDs.
WordPress powers 40% of the top 10 million sites on the web. WordPress is a Content Management System (CMS) that allows webmasters to quickly create a website and manage content on a website. Notable websites like TechCrunch, the Government of Sweden, and The Rolling Stones all use WordPress.
100,000 websites are hacked every day. 90% of hacked websites run an outdated version of WordPress.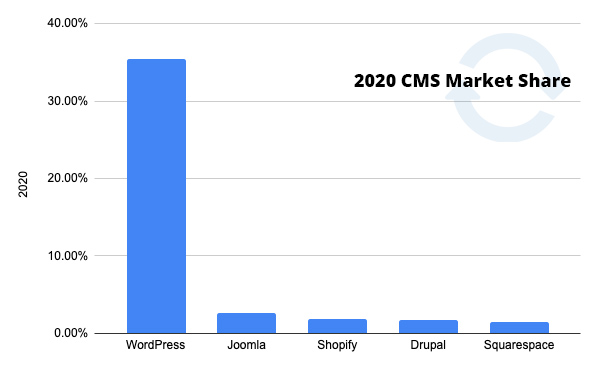 History of the Internet
The start of the Internet started in the early 1960s when Paul Baran began researching packet switching, one of the core technologies behind the Internet. Packet switching enables the contraction of digital networks that are flexible, reliable, and affordable. This is unlike circuit-switched networks of the past, which powered analog telephone networks.
Development of the Internet continued into the late 1960s and 1970s with the creation of ARPANET, which was the first packet-switching network to implement the TCP/IP protocol. This protocol specifies how data should be transmitted, routed, and received.
While ARPANET was primarily for government and university use, commercial Internet service providers began to pop up in the late 1980s which started bringing the Internet to the North American public. It expanded to Australia and Europe shortly after, with Internet connectivity arriving in Asia in the early 1990s.
All of the tools necessary for the modern web were available by 1995. Since then, the Internet has impacted individuals and businesses like no other tool has before with near-instant communication, which continues to evolve today.
Sources & Additional Information