Bluehost Review – Pros & Cons [2023]
Bluehost is one of the most well-known hosting providers. It was founded nearly 20 years ago in Salt Lake City, Utah. Bluehost primarily provides shared hosting but also offers other hosting products like:
Fun fact: Bluehost is owned by a company Newfold Digital (formerly called Endurance International Group (EIG)). Bluehost is one of Newfold's flagship brands. Newfold has over four million customers worldwide — almost half of those use Bluehost — which means you won't have to worry about this provider going out of business anytime soon!
Pros of Bluehost
Cheap introductory pricing
It's easy to get started with Bluehost thanks to their cheap introductory pricing, starting at just $2.95/mo when you use this link (please click our link before you purchase — you directly support our website!). You can lock in this special pricing for up to three years.
Easy to use backend
Bluehost launched a new user interface in 2018 called Bluerock. This new interface refreshes the old, cluttered cPanel look into a more modern look that we think beginners will find easier to use. This is important for people new to the web, as confusing backends are frankly a turnoff and can scare some away.
Check it out: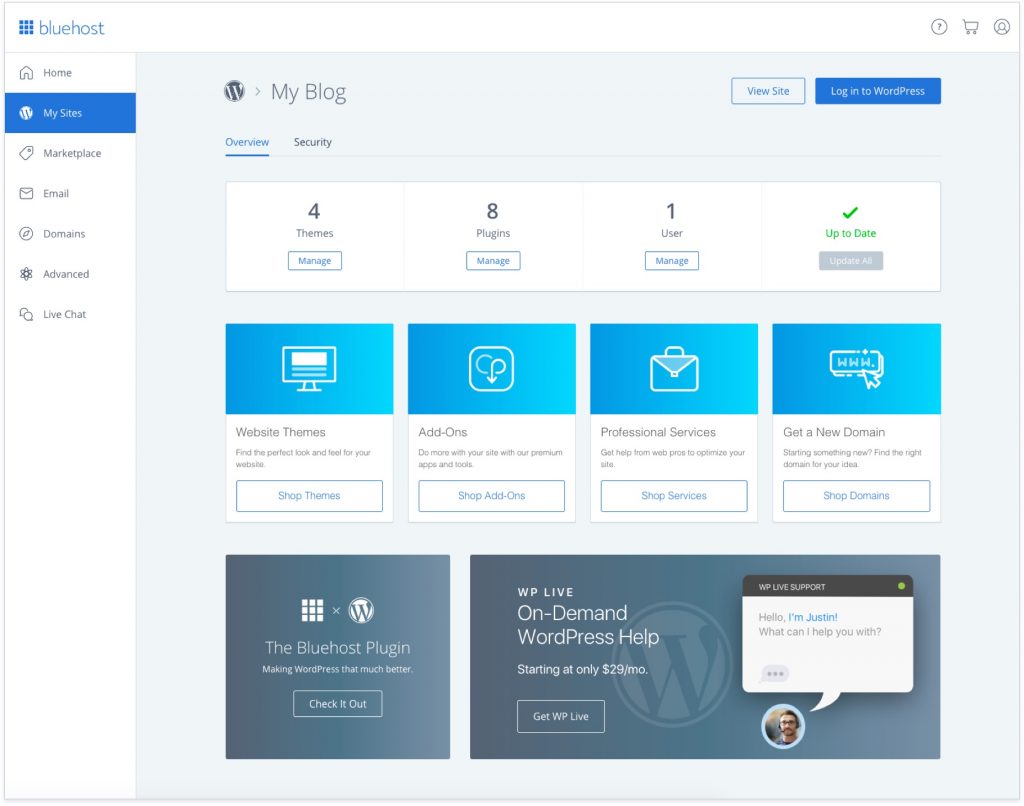 Recommend by WordPress.org
Only three providers are officially recommended by WordPress.org, the Content Management System (CMS) that powers a third of the web — Bluehost, DreamHost, and SiteGround. WordPress powers over a third of the web!
Matt Mullenweg, the guy who founded WordPress, and his team regularly review top web hosting companies and only choose a select few for their official recommendation. Speed and infrastructure are certainly a metric they look at, but Bluehost and others also give back to WordPress by helping develop the open-source software.
Free WordPress Migrations
Bluehost now offers free WordPress migrations! This means that they will transfer your WordPress website from another hosting company to Bluehost for you.
They used to charge $150 for professional website migration, but that is no longer the case (as long as you're using WordPress).
If you're not using WordPress, you're going to have to contact them to discuss alternative migration options. Providers like InMotion Hosting will migrate your website for free, regardless of size or application.
Cons of Bluehost
You'll feel like a number
Bluehost is huge so don't expect anything close to stellar support. You may get a rep or two who exceed expectations, but more often than not, Bluehost's support will leave something to be desired. This is okay if you're working with an experienced web developer, though. Your developer likely will know more than Bluehost's front-line support team.
We recently contacted Bluehost's support team via live chat. We waited on average five minutes between each response. That may be acceptable if the rep provided a comprehensive response for each question, but that wasn't the case. We felt like the rep wasn't quite sure what they were talking about – throwing around random tech lingo to provide the appearance that they do.
Renewals are high
We recommend getting started with Bluehost to take advantage of their phenomenal intro pricing — as low as $2.95/mo for 36 months! That really is a great deal.
When it comes time to renew your plan, however, expect some sticker shock. Your renewal may be 2x to 3x as much as you initially paid! This is one of the most frustrating aspects of the web hosting industry, unfortunately. Most companies get you in with incredible pricing and then jack up the rates at renewal.
This is all okay, if you go with Bluehost, though. Why? Well, we typically only recommend Bluehost if you're getting started online. After 2 to 3 years, your business will likely be ready for something more robust – like a Virtual Private Server. When that time comes, we'd recommend heading over to a provider like InMotion Hosting which offers fantastic pricing on their VPS plans, but free migration as well.
Bluehost Plans & Pricing
Bluehost offers all types of hosting plans. It's refreshing to see a provider investing in innovation — they recently launched Woocommerce plans, for example — instead of relying on the same old plans, they've been selling for years.
Shared hosting
Four shared hosting plans are offered, each offering unlimited storage and bandwidth with the exception of their Basic Plan (limited to 50GB):
Basic – starting at $2.95/mo
Plus – starting at $4.95/mo

Unlimited websites
Unlimited databases

Choice Plus – starting at $5.95/mo

Unlimited websites
Unlimited databases
Backups included

Pro – starting at $9.95/mo

Unlimited websites
Unlimited databases
Backups included
Dedicated IP included
Bluehost recommends their Choice Plus plan, and we tend to agree for most customers. Why? It includes backups. They call this CodeGuard Basic which allows you to make manual and automatic backups of your website.
WooCommerce hosting
Building on their line of Managed WordPress Hosting, Bluehost also has a product dedicated to Woocommerce, the popular eCommerce plugin for WordPress.
Starter – starting at $6.95/mo
Plus – starting at $8.95/mo

Unlimited stores
Unlimited storage
Backups included

Pro – starting at $12.95/mo

Unlimited stores
Unlimited storage
Backups included
SEO tools
Bluehost recommends their Plus plan if you're signing up for their Woocommerce solutions. We agree, simply because it includes backups – which are essential, especially if you're running a store online.
WordPress hosting
Bluehost, following the likes of managed providers like WP Engine, recently launched a new product line dedicated to WordPress. All of these plans allow you to host unlimited websites and there's no storage limit, either.
Build – starting at $19.95/mo
Grow – starting at $29.95/mo

Jetpack Premium
Expert support via tickets

Scale – starting at $49.95/mo

Jetpack Pro
Expert support via tickets and live chat
Bluehost's Grow & Scale plans include their premium expert support offering called Blue Sky. This is the main feature that makes their Managed WordPress different. Since it's not offered with their Build tier, we're hesitant to recommend that.
VPS hosting
Bluehost offers a standard assortment of VPS plans. All of them include cPanel running on top of Cent OS, which includes full root access.
Standard – starting at $18.99/mo (renews at $29.99/mo)

2 Cores
30 GB SSD Storage
2 GB RAM
1 TB Bandwidth
1 IP Address

Enhanced – starting at $29.99/mo (renews at $59.99/mo)

2 Cores
60 GB SSD Storage
4 GB RAM
2 TB Bandwidth
2 IP Addresses

Ultimate – starting at $59.99/mo (renews at $119.99/mo)

4 Cores
120 GB SSD Storage
8 GB RAM
3 TB Bandwidth
2 IP Addresses
Bluehost recommends their Enhanced VPS. We disagree and recommend their Standard VPS. It's affordable (even at renewal), and if you need more than 2 Cores and 4GB of RAM, you're likely better off going with a provider that actually specializes in advanced hosting setups.
Dedicated Server hosting
Bluehost offers an average line of Dedicated Servers, all offering cPanel and WHM. If you check out their product page, you'll quickly see that this line isn't Bluehost's strong suit. It really lacks information about their server specs, which should make you question going with them if you need this level of hosting. Nevertheless, here is a breakdown of their plans:
Standard – starting at $105.69/mo

4 cores @ 2.3 GHz
2x500GB Storage (RAID-1)
4 GB RAM
5 TB Bandwidth
3 IP Addresses

Enhanced – starting at $166.59/mo

4 cores @ 2.5 GHz
2x1TB Storage (RAID-1)
8 GB RAM
10 TB Bandwidth
4 IP Addresses

Premium – starting at $238.99/mo

4 cores @ 3.3 GHz
2x1TB Storage (RAID-1)
16 GB RAM
15 TB Bandwidth
5 IP Addresses
Summary & Our Recommendation
As we've alluded to throughout this review, Bluehost is a great option if you're just getting started. Their shared hosting plans are super affordable for the first term and are easy to use thanks to their attractive "Bluerock" interface.
We recommend going with another provider if you're looking for advanced hosting, like Managed WordPress or Dedicated Servers. It's simply not what Bluehost specializes in, and you'll really find their support lacking because of that.
Bluehost Alternatives
If you're a beginner and would prefer to go with another hosting provider, we recommend taking a look at the following hosting providers:
If you're a moderate to pro-level user, and you'll appreciate paying a premium for expert-level support, we recommend these providers: