What is EIG? Who are they? Full List + Alternatives
EIG is the world's largest web hosting company. Officially called Endurance International Group, EIG operates some of the biggest names in hosting – including Bluehost and HostGator. EIG didn't start these hosting companies, however. They acquired them over the years.
What are EIG alternatives?
If you're looking for an EIG alternative hosting company, we recommend taking a look at the following web hosts:
Is Bluehost owned by EIG?
Yes, Bluehost is owned by EIG. They acquired Bluehost in 2010. Considering Bluehost? Read our in-depth Bluehost Review.
Does EIG own GoDaddy?
No, GoDaddy is not owned by EIG. GoDaddy is a publicly traded company and has no ties to Endurance International Group.
Why don't people like EIG?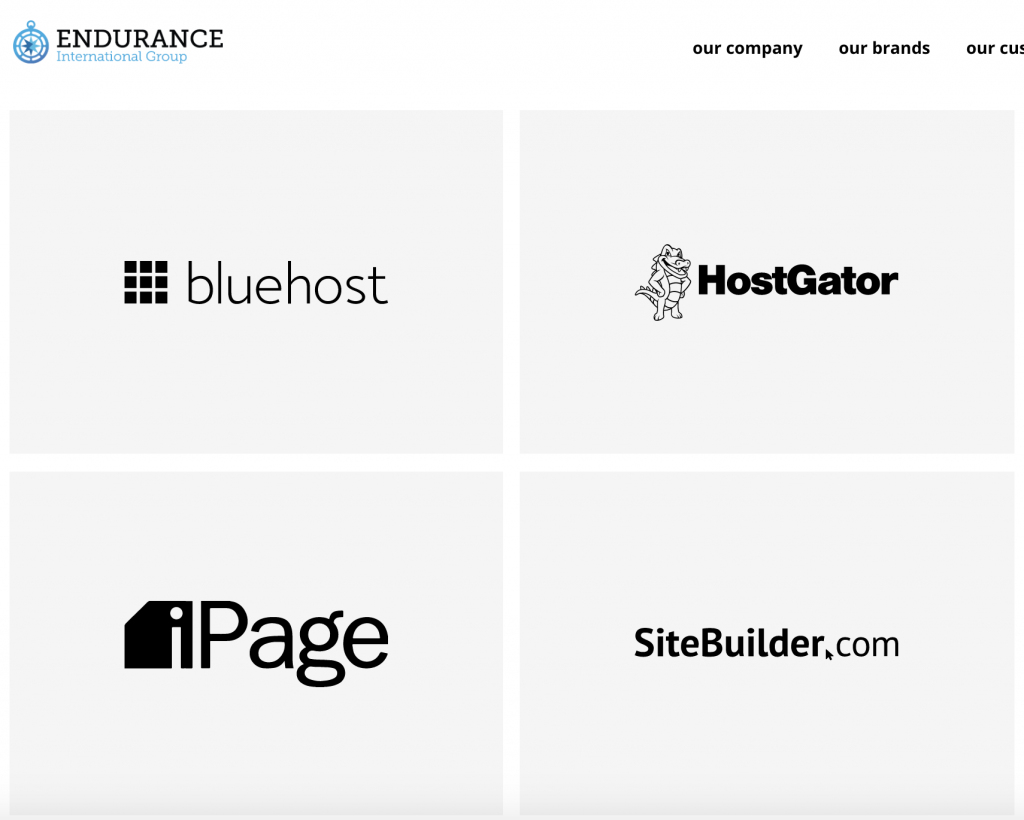 Throughout the years, customers have complained about the customer service and reliability of EIG-owned web hosting companies after their acquisitions. This is because, as a public company, EIG was encouraged to cut costs and redundancies.
Service and reliability has improved in recent years, though. This is partly thanks to new leadership and the commitment to focus on their key brands — Bluehost, HostGator, and iPage.
On November 2nd, 2020, Endurance International Group announced that it entered into a definitive merger agreement with Clearlake Capital Group in an all cash transaction valued at approximately $3 billion. That deal is expected to close in 2021.
What companies are owned by EIG?
In addition to Bluehost and HostGator, Endurance International Group owns over 80 other companies! Most of them are web hosts. Here is the list of their known brands:
AccountSupport
Arvixe LLC
A Small Orange
ApolloHosting
AppMachine
BigRock
BizLand
BlueBoxInternet
BlueDomino
BuyDomains
CirtexHosting
Constant Contact
Directi
Domain.com
DomainHost
Dot5Hosting
Dotster
easyCGI
Ecomdash
eHost
EmailBrain
EntryHost
Escalate Internet
FastDomain
FatCow
FreeYellow
Garin IT Solutions Co.
Garin Technologies
Glob@t
Homestead
HostCentric
HostClear
HostGator
HostNine
HostMonster
HostV VPS
HostGallo
HyperMart
IMOutdoors
Intuit Websites
IPOWER/iPowerWeb
IX Web Hosting
JustHost
LogicBoxes
MyDomain
MyResellerHome
MySocialSuite
NetFirms
Networks Web Hosting
Nexx
PowWeb
PublicDomainRegistry
PureHost
ReadyHosting.com
ResellerClub
Saba-Pro
SEO Gears
SEO Hosting
SEO Web Hosting
Site5
Southeast Web
SpeedHost
Spertly
Spry
StartLogic
SuperGreen Hosting
Typepad
Unified Layer
USANetHosting
vDeck
Verio
VirtualAvenue
VPSLink
Webzai Ltd.
Webstrike Solutions
Xeran
YourWebHosting