5 Best Webinar Software Platforms [2023]
Webinar software allows businesses to conduct online meetings that are live, on-demand, and automated. The software also helps companies create interactive conferences that are streamed to large audiences and it can generate and distribute recordings afterward.
Webinar is a mix of the words web and seminar that started becoming a popular method of business communication in the late '90s. Also known as online events, webinars are live presentations held on the Internet via video streaming.
Table of Contents
The Best Webinar Software for Most People
Livestorm is one of the best platforms to plan and launch live events thanks to its beautiful UI. You're able to use their software for recurring events and both pre-recorded and on-demand webinars. Since Livestorm is browser-based, your attendees can access your webinar on any device (this includes phones and tablets).
Top Features
Highly interactive – offer chat, Q&A, polls, and guest presentations
Custom branding – easily add your logo and brand colors
Embeddable – add your event's registration page directly to your website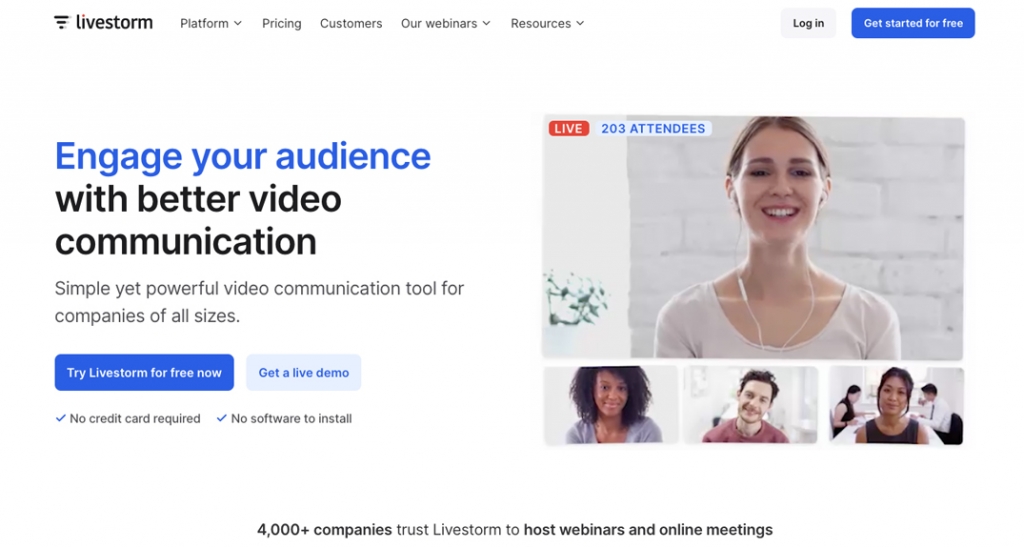 WebinarNinja is a user-friendly platform that makes it easy to create a webinar in seconds. They are trusted by well-known brands like AppSumo, Baremetrics, and Printful. Their paid plans start at $39/mo for 100 live attendees and up to two hour-long sessions and go up to $199/mo for 1,000 attendees for up to 8 hours long. WebinarNinja offers a free trial for 14 days.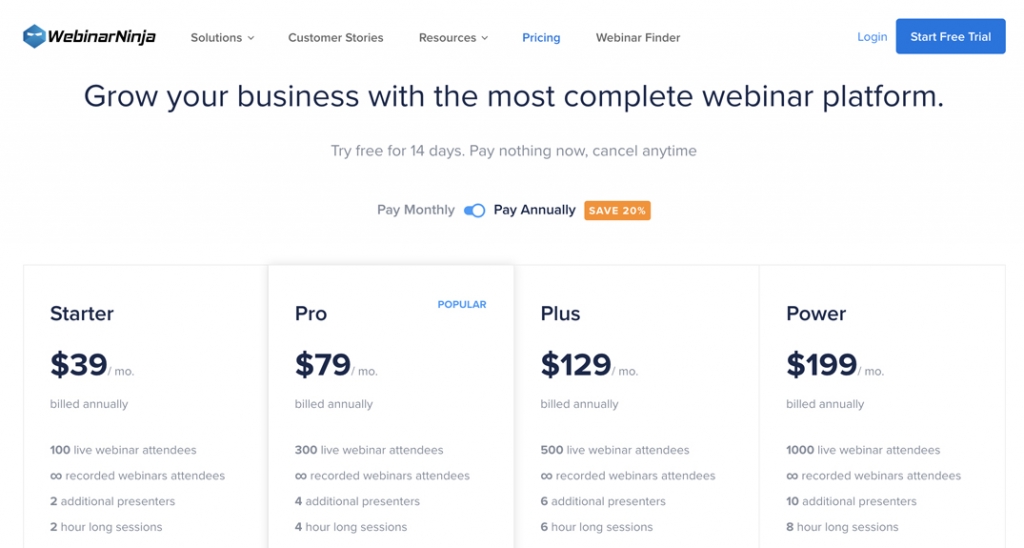 Demio is a browser-based webinar platform that performs seamlessly across all devices. With a modern and minimalistic UI, Demio provides an impressive user experience for both the host and the audience. Demio offers impressive features like customizable webinar registration forms and a variety of engagement tools that make events fun and engaging. Pricing starts at $49/mo for their Starter plan, which allows for up to 50 attendees.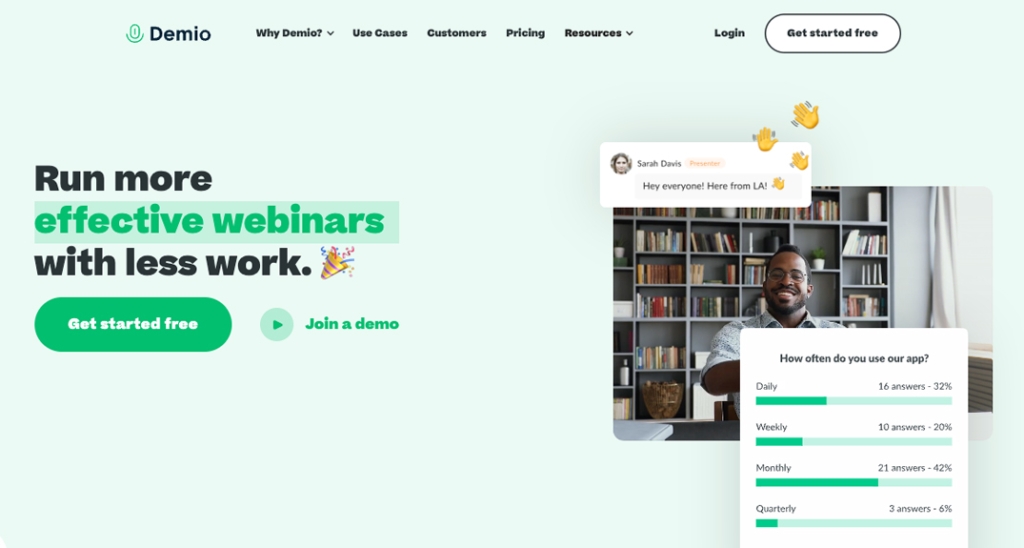 Zoho Meeting is a secure platform to host your online meetings and webinars. It comes with a simple interface and industry-standard security which means your interactive webinars will be much more engaging. Zoho's unique ecosystem and third-party integrations allow you to conduct online meetings in a way that works best for you. Zoho Meeting has a free plan that includes webinar capabilities for up to 100 attendees, for up to 60 minutes. Paid plans start at $8/mo.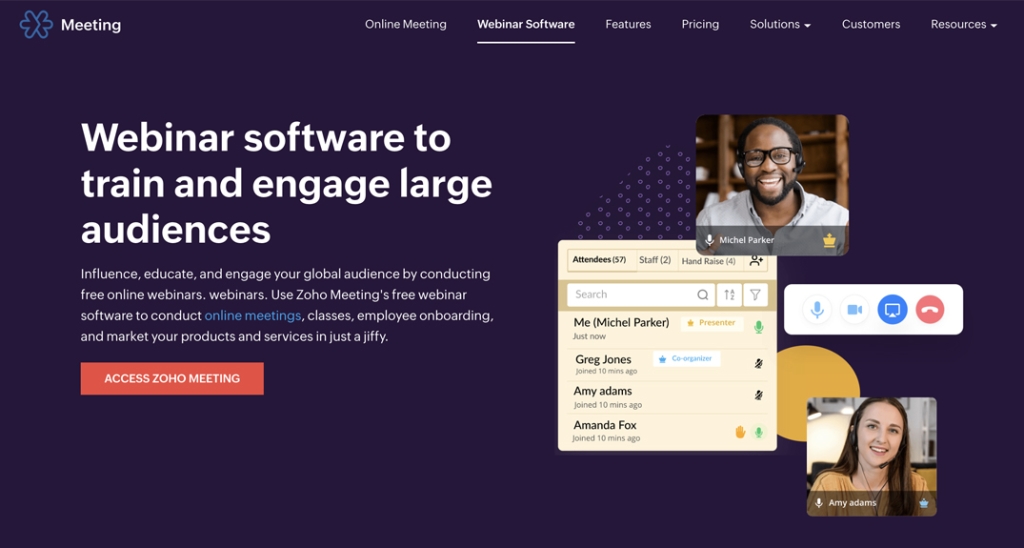 WebinarJam
WebinarJam lets you bring up to 5,000 people together and share your ideas in high definition. It is a browser-based webinar platform that means you can host events anywhere without the fuss of downloads. WebinarJam also lets you create professional registration pages, A/B tests, and includes fun features like polls and Q&A sessions. WebinarJam starts at $39/mo and includes unlimited webinar capabilities with all of their plans.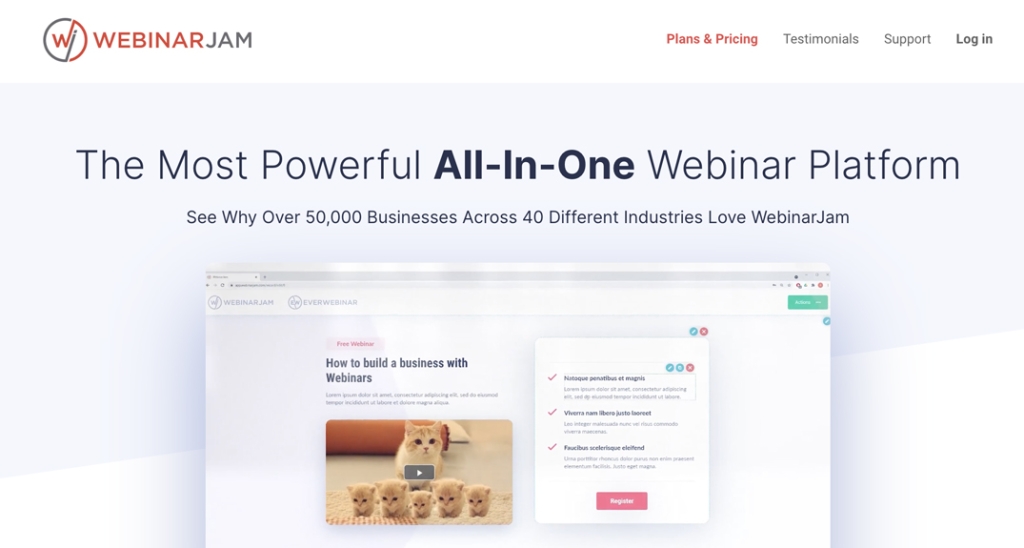 How does webinar software work?
Webinars are synchronous, meaning both the presenter and audience are online and engaging with each other at the same time. Webinars are typically educational, informational, or discussion-based but they can also be in other formats like workshops, training sessions, classrooms, and lectures.
During a webinar, a host or speaker uses audio-visual aid, such as a PowerPoint presentation, web page, video, or any other kind of multimedia content, to address their online audience.
The visual components of the webinar are shared through an Internet browser or a web conferencing tool, and the audio content is usually broadcasted from the host's computer. The attendees get an option to provide input via an on-screen chatbox. Some hosts may even allow direct calls or video calling in between or at the end of the presentation.
What are the different types of webinars?
Companies, colleges, and other organizations are using webinars for a range of purposes — especially with the current COVID-19 pandemic. Each organization has its own goals which means there are different types of webinars with varying formats.
eLearning Webinar: Also known as the Continuing Education (CE) webinar, this helps online learners keep field-based knowledge and skills up to date. eLearning Webinars offer the benefits of having a live instructor without the hassle of travel. Usually, during a CE webinar, the speaker presents a series of informational slides and videos.
Coaching or Training Webinar: This web seminar is often for employees and includes various lectures, instructions, and lessons. It is also referred to as free training. Often these are on-demand webcasts that can be recorded for future reference.
Customer or User Onboarding: This use case helps a customer learn about the new software or product they purchased. In return, once they've successfully onboarded, they become more inclined to retain information and open fewer support tickets.
Lead Generation Webinar: These webinars target customers who either are on your mailing list or registered via online advertising. The purpose of these marketing webinars is to inspire prospective attendees to make a purchase. It generally includes an appealing format, a compelling brand story, evokes emotions like urgency, and the benefits of the promoted product. A special deal or offer is usually offered to entice attendees to become customers.
Panelist Webinar: This format is an online conference with multiple industry experts who discuss selected topics. During this type of webinar, attendees usually get the opportunity to ask questions directly to the experts and/or type them into a chat box. Panelist webinars typically have a moderator, who acts as a medium between the audience and experts.
On-Demand Webinar: These are pre-recorded web seminars. The audience is able to access them after the original webinar or the host schedules them to run on designated time and days.
Interview or Q&A Webinar: This kind of web seminar is designed, developed, and delivered to answer attendees questions. It can be between hosts and interviewers or a company and its customers. The purpose of this webinar is generally to build relationships and spread awareness about a product, service, or organization.
What Features Should I Look for in Webinar Software?
Is your business considering purchasing webinar software? Consider these features to make the right choice for your organization:
Ease of use: When working with webinar software, no one wants to fidget around learning features that are too technical (especially your staff). This is why we recommend ease of use is one of the main factors to consider.
On-Demand Recordings: Web seminars are about live streaming, but its important to have an option for pre-recorded video. This allows your customers or employees to watch them during their own time. Not having on-demand functionality can lead to losing a potential audience.
Technical Features: Depending on why you need webinar software, consider one that offers campaign tracking, content library, enough capacity for all your attendees, space for more than one speaker/host, interactive functionality like chat box integration, engagement tracking, attendee behavior tracking, mobile access, branding, and customizability.
How Much Does Webinar Software Cost?
Webinar software pricing usually varies between $39 and $199 per month. On average, most people pay $129/month or less. Many webinar software providers offer a free trial.