How To Download YouTube Videos [Updated 2023]
Want to jump straight to the answer? The best way to download YouTube videos is by subscribing to YouTube Premium or using a tool like 4K Video Downloader.
YouTube is one of the most popular social media websites. The video-sharing website hosts billions of hours worth of content, with one video more intriguing and fascinating than the other. But what happens when your Internet disconnects?
There are many reasons why you might want to try downloading YouTube videos to watch them offline. The main is being able to access them even when your internet connection is spotty – like on a flight or on trips to places without reliable mobile internet access. Downloading videos can also be a great idea if you have a mobile plan with a limited data allowance.
Whether you want to know how to download music from YouTube or a video of your favorite YouTuber – this guide will help you do it. There are both free and paid options to consider.
But let's start with the most pressing question — is downloading videos from YouTube legal?
Is downloading videos from YouTube legal?
It depends. Downloading videos through the YouTube Premium app is legal, however, using unofficial methods may be against YouTube's Terms of Service.
What's the easiest way to download YouTube videos?
The easiest way is to subscribe to YouTube Premium, which is $11.99/mo.
Once you consider Google's Terms of Service for YouTube, you may find yourself in a gray area. The very first restriction applied to the users read that they are not allowed to download any part of the Service or any Content except:
Those that are exclusively authorized by the Service
The user who has prior written permission from YouTube
The respective right-holder
Watching videos offline with the help of free (read unofficial) applications or platforms takes the money away from Google and YouTube, which is why they address restrictions first. Breaching their Terms of Service can get you in trouble. However, through all these years, we're not aware of the platform showing a desire to do so.
So, does that mean you cannot download videos from YouTube? Hardly.
There are several ways to download YouTube videos to watch your favorite videos off the platform without committing a cybercrime.
Choose A Tool to Download YouTube Videos
There are many third-party applications and software that allow you to download YouTube videos in 2023. There are quite a few recommendations on Reddit. The official recommendation is simply to subscribe to YouTube Premium, but there are other options:
The easiest way to download YouTube videos is by subscribing to YouTube Premium which gives you access to your favorite videos, even without an Internet connection. However, the videos are automatically removed as a download after 30 days.
Reasons to consider subscribing to YouTube Premium include:
Authorized – Using YouTube Premium to download videos from YouTube is 100% authorized and legal.
Ad-Free Service – By paying for a membership, you also get ad-free streaming.
Uninterrupted Background Streaming – YouTube plays in the background, even when you start using another app.
How do I download videos with YouTube Premium?
Start watching the video that you want to download
Tap Download below the player
Select the quality, and the downloading starts automatically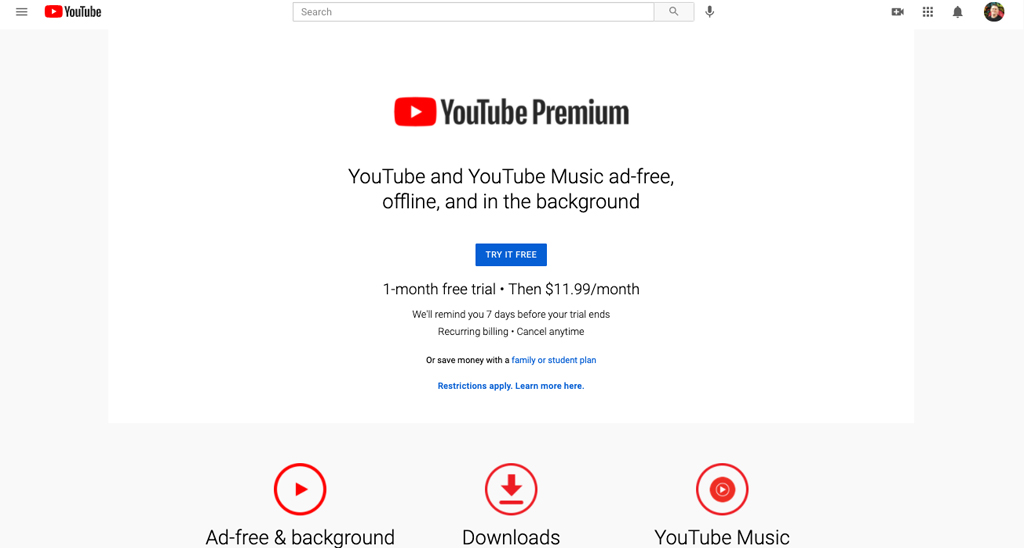 A third-party tool worth considering is 4K Video Downloader. It allows you to download videos from all popular video streaming websites. This multi-lingual platform offers a number of handy features, too — like the ability to download annotations and subtitles and convert YouTube videos to MP3 files.
As the name suggests, you're able to download videos in 4K resolution — all the way up to 8K. Apart from high-quality downloads, you can also download three-dimensional and 360° videos.
We also like that the tool offers these features:
Free Trial – You can download up to 30 single videos, 10 playlists, and 1 subtitle video a day with the free version. Upgrade if you'd like to download audio in high quality and enjoy an ad-free experience.
One-Time Payment – This tool has two paid plans – the Personal Plan for $17.54 and the Pro Plan for $52.62. The payments are one-time and not subscription-based, which makes the tool extremely affordable for everyone.
Highly Compatible – 4K Video Downloader works with pretty much every video website – including YouTube, Facebook, Tiktok, Vimeo, and Twitch.
Download Any Format – You're able to download videos in a variety of formats including MP4, MKV, OGG Theora, MP3, M4A.
4K Video Downloader is available on Windows, macOS, and Linux platforms.
How do I save a video with 4K Video Downloader?
Download and install 4K Video Downloader
Copy the link of the video, channel, or playlist you want to download
Press Paste URL in the 4K Video Downloader software
Select a quality type (higher is better quality)
Press Download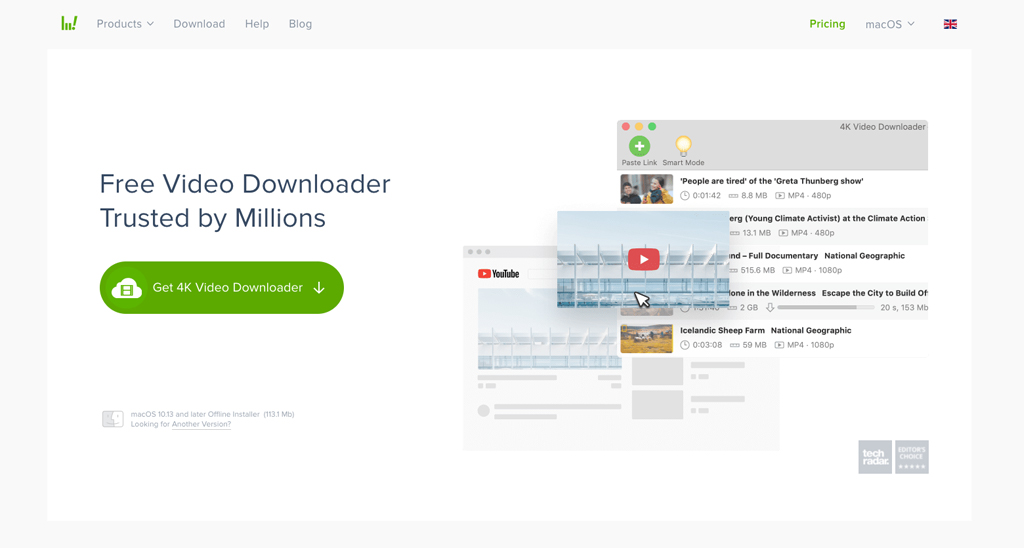 VLC Media Player is open-source software which means it is free to download and use! VLC Media Player works on all platforms and allows you to save any video without ads, spyware, or user tracking.
Unlike 4K Video Downloader, VLC Media Player is also available on your phone. It is supported by iOS, Android, Windows, macOS, and Linux.
This video tool is a no-frill, straightforward tool that does what it says (and not much more). The simple interface allows you to play and save videos without other confusing features.
Notable VLC Media Player features include:
Completely Free – VLC Media Player won't try to upsell you. Their software is free. You are able to donate to support them if you'd like to, however.
Mobile Support – This tool works on Android and iPhone devices. This is something not offered by other software.
Allows Customization – VLC Media Player isn't the most stylish. It has a basic user interface. The nice thing about it being open source is that there are options to change skins and install extensions made by the community.
File Format Support – VLC Media Player can play most, if not all, video or audio formats. This is arguably the best technical perk of this video downloader.
Steps to Download Videos with VLC Media Player
Download and install VLC Media Player
Copy the link to the video you want to download
Open VLC Media Player and click Open Media
Click Open Network Stream and paste the copied link. Click Play.
Windows – As the video plays, go to Tools and select Codec Information
macOS – As the video plays, go to Windows and select Media Information
Go to Location and copy the URL
Paste and search in the browser, then click save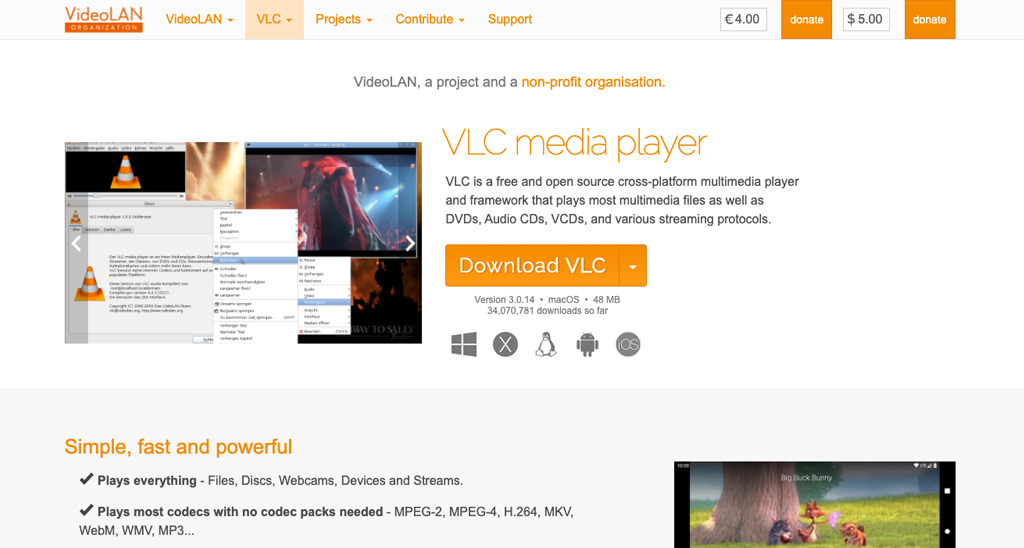 What Format Should I Save My Video In?
There are 4 main video file formats in which you can download a video — MP4, 3GP, AVI, and MOV.
MP4 — Also called MPEG-4 Part 14, this video format is one of the earliest and most popular ones. Most devices, software, and video players support this format. The biggest perk of this format is its high quality and relatively small size.
3GP — This media format aims at saving disk space, bandwidth, and data use. It is why 3GP is often seen created from and transferred between mobile devices. It is the standard format used for MMS and MBMS messages.
AVI — This video file format uses less compression than MP4 and MOV, resulting in a large file. It also offers the option to make a video lossless, which means it doesn't use compression. This results in consistent high quality and eliminates the use of codecs.
MOV — A popular file format designed by Apple to support the QuickTime player. It can contain audio with subtitles, timecodes, etc. Since MOV is a very high-quality format, it takes significantly more disk space.
Summary
There are certainly options to consider if you want to download YouTube videos. The easiest and most straightforward is subscribing to YouTube Premium, but there are third-party tools like 4K Video Downloader that offer functionality as well. MP4 is one of the most popular file formats, but 3GP, AVI, and MOV offer perks of their own to consider depending on your needs.