How to Create A Website – A Step-by-Step Guide [2023]
Are you looking to create a website this year? Now is the perfect time!
Thanks to tools like WordPress, SquareSpace, and Shopify it's easier than ever to create a website. You no longer need to be a programming expert to know how to get a website up and running.
With a little bit of guidance and an introduction to tools, you'll be able to create a website today – which is the first step to creating a business that pays dividends for life.
Ready to sign up for web hosting? Bluehost and Dreamhost are great choices for creating your first WordPress blog.
Why Do You Want To Create A Website?
Before you start a website, it's important to ask yourself "why."
Why are you creating a website?
Put some thought into your answer, and consider the following:
Are you looking to replace your day job? You will need to find a lucrative niche in demand. Ideally, there'll be little competition and positive growth outlook. An example would be a personal finance blog for millennials.
Do you want to become an influencer? You will need a niche that you like and have some level of expertise. If you're a movie buff, consider creating a blog about the latest Netflix series.
Do you just want to write? If you're just wanting an outlet to discuss what's on your mind, that's great! Not all websites need to make money, and many people enjoy journaling about their hobbies or family.
There's no wrong reason to create a website, but hopefully, now you're starting to see why it's important to understand why you're starting in the first place. You're setting expectations and thinking about how to grow it into a business.
Find Your Website's Niche
If you're looking to generate income and turn your website into a business through affiliate marketing or e-commerce sales, finding your niche is important.
It's not always easy to find the ideal niche, though. It's not uncommon for first timers to fail a couple of times before picking a niche that makes sense.
To find your website's niche, look at:
Your Passion
Your Expertise
Market Demand
Create a list of what you're passionate about. Do you like to travel? Great! Add it to your list.
Once you have a handful of topics, ask yourself if you're an expert about them.
I love sushi but there's no way I'm a sushi expert!
If you're not an expert on the topics you're passionate about, you're likely not going to be successful in creating a website about it.
You should now be left with one or two topics.
The last step in determining your niche is figuring out if there is demand for the topic.
While you can use tools like Google Trends to assist, you should be able to make an educated guess. For example, starting a travel blog in the middle of a global pandemic is likely going to be an uphill battle for the foreseeable future. It's hard to travel right now which means fewer people are looking for travel tips!
Pick a Domain Name
A domain name is how people find you online! It's what people type in the address bar to visit your website. Also known as an URL, it is basically your address on the Internet.
Domain names are usually free with the first year of web hosting and cost around $10 per year to maintain. As long as you keep paying, you'll continue to own your domain.
But how do you pick a domain name?
The easiest way is to use one of the many domain name generators online. A more professional way is brainstorming.
You want a domain that is:
Short and memorable – you want it to stick with visitors and encourage them to return.
Simple without hyphens, hashes, or numbers – Imagine if Amazon.com were Ama-zon#080.com… make your domain name short and sweet!
An appropriate domain extension or top-level domain (TLD) – While .com is the most popular domain extension, others like .net or .org are fine and region specific TLDs like .co.uk or .com.au work great, too.
Reflective of the content and personality of your website – Relevant creativity is the hardest part. You want a domain name that is attractive and related to what your blog is about.
If you're having trouble coming up with a domain name, you can always use your own name as your domain!
In the end, it is about getting a domain name that is unique and memorable with a hint of your website's personality. Picking it should be a thoughtful process because once you decide the winner, it can take quite a bit of work to change it, especially if you've been blogging for a while.
Purchase Web Hosting and Register Your Domain
Now that you have chosen your niche and domain name, it's time to sign up for web hosting. Web hosting is basically storage for your website's content (text, images, etc) on a server that allows people to access it on the Internet.
There are hundreds of web hosting companies out there at different price points depending on features and performance.
While top-notch features are important once you start getting loads of traffic, a cheaper hosting company will be just fine as long as the following is offered:
Free Domain Name – there's no need to pay for a domain name registration. Top web hosting companies usually provide one for free for the first year.
Free SSL Security – An SSL Certificate keeps the information on your website safe by encrypting sensitive information like passwords.
1-Click WordPress Installation – there are a number of technical steps required to manually install WordPress. If you're not familiar with managing databases and uploading files via FTP, it's important that your web hosting company offers automatic WordPress installation.
24/7 Customer Service – make sure your hosting company offers 24/7 customer service. This is going to be important because you're just getting started (your blog isn't your full time job) and you'll probably be working on it at odd hours. It will be a relief being able to call technical support if you're running into issues.
You don't have to spend a fortune to find the best web hosting for your new website.
Bluehost offers all of these features and that is why we recommend them. You can get started for $2.95/mo.
Getting Started with WordPress
WordPress is the best tool for creating a website.
You've probably stumbled across sites like Wix and Tumblr which may be a bit easier to get started with, but WordPress is what you'll want to use if you're serious about starting a website.
Why? You'll own your WordPress website since it is "self-hosted." You can take it with you. You're stuck using other platforms if you use them. Think big and use WordPress.
Here are the top reasons to use WordPress:
Easy to use – WordPress launched a new editing experience a couple of years ago that really makes the writing experience enjoyable. It offers the features you need to create, format, and edit without compromising its easy-to-use interface.
Control – WordPress offers a secured admin dashboard that allows you to control every aspect of your website. From managing the look and feel of your website to comment management, WordPress is the most straightforward blogging tool.
Monetization – since you own your WordPress blog, that means you can monetize it without having to worry about any pesky restrictions. You'll be able to run your website like a business by earning money through advertising or affiliate programs.
Themes and Plugins – WordPress has the most number of themes and plugins of any website builder. That means you can create a website that is as unique as you and your niche. Furthermore, you can expand functionality at any time with hundreds of free plugins.
Fun fact: WordPress powers over 35% of the web which means you're going to find tons of free tutorials and resources online on how to best use the platform. You can't beat that!
Install a WordPress Theme
As we said, since so many websites use WordPress, that means there are thousands of different themes you can install to make your blog your own. WordPress themes can be fully customized to include your logo, color scheme, and layout of choice.
To install a WordPress theme, you'll need to log in to your WordPress admin area. From there, access Appearance > Themes in the sidebar. Now click the Add New button.
We recommend trying a Featured theme to get started. If you don't find a theme that matches your personality, you can try searching for different themes in the search bar.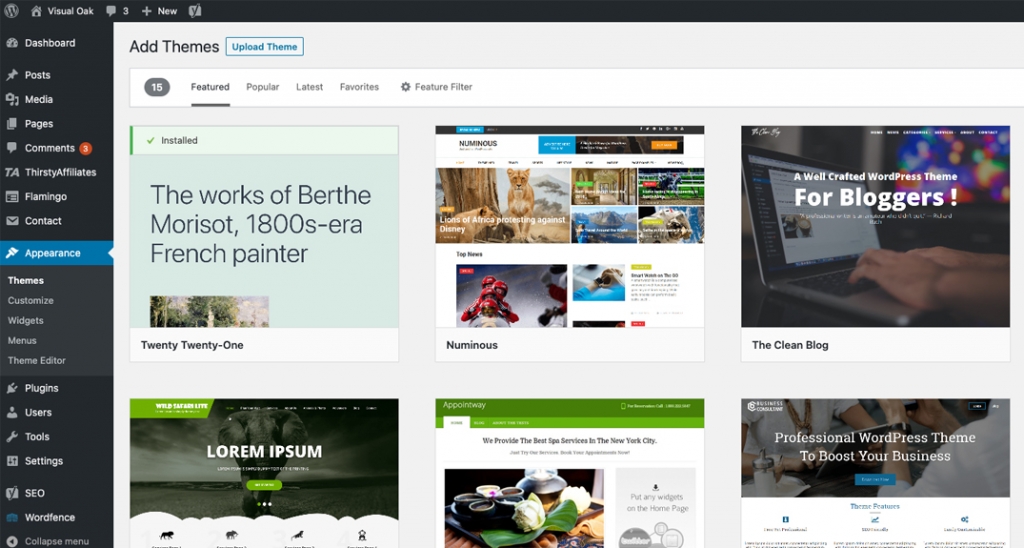 Install WordPress Plugins
A WordPress plugin basically provides your blog with extended functionality (such as a contact form). There are thousands of free WordPress plugins available.
It can be tempting to overload your website with dozens of plugins. Try to refrain from doing that so you don't slow down the performance of your website.
To get started, we recommend installing the following plugins:
Yoast SEO is the premier WordPress SEO plugin. It will come in handy if you're running your blog like a business and need to boost your search engine rankings. Yoast SEO includes features like page & post SEO, sitemap creation, and integration with Google Search Console.
WP Rocket makes your blog load fast with just a few clicks. It is recognized as the most powerful caching plugin by a number of WordPress experts. WP Rocket offers quick set up with minimal configuration needed to experience the benefits of caching, compression, and optimization on your blog. Highly recommended.
Wordfence will help protect your blog against hackers by adding an endpoint firewall and malware scanner to WordPress. The free version is sufficient.
Start Blogging & Build Your Following
Congratulations! You are done with all of the technical steps needed to start a website. It's now time to run your website like a business, focusing on the niche you decided on at the start of this article.
To run your website like a real business, you'll need to:
Create a content calendar and write 1 to 2 times per week. Consider using AI copywriting software like Jasper if you're experiencing writers block!
Understand the latest marketing trends and write content that is a blend of facts, information, "how-to's" and guides
Leverage your professional network for guest post opportunities and collaboration.
Focus on data by reviewing Google Analytics and Google Search Console reporting which will provide insight to what's working and what isn't.
Provide value to your readers by providing insightful content that is hard to find elsewhere.
Promote your website on social media networks like Twitter, Facebook, and Pinterest but don't be spammy!
The first three to six months of running your website should be solely focused on building your following. Write quality content that your audience will find helpful – Google will reward you (in time) by ranking your site higher.
Resources & Additional Information
It's easy to create a website, and shouldn't take you more than a day or two to set it up. You do not need to be a web developer expert to create the website of your dreams. But dedication is important, and with it, you'll even be able to turn it into a traffic-driving, money-generating business.