5 Best Online Course Platforms [2023]
Online course platforms are software-as-a-service (SaaS) applications used to create and distribute digital courses. These all-in-one platforms also help with marketing and selling the courses you create. Feature-packed platforms like Thinkific will be fully customizable and most will have an option to offer quizzes and tests to the students who enroll in your course. Some platforms offer advanced tools that allow you to upload media files, schedule classes, and automate content. Since online course software is a Learning Management System (LMS), you'll be able to update or make changes when needed if you'd like to modify your course to keep up with current events.
The Best Online Course Platforms
The best online course platforms make it easy for those with limited technical knowledge to create a course. Features like drag-and-drop course building make it possible for just about anyone to create an entire educational website. High-end platforms integrate Content Management Systems (CMS), email marketing, one-click templates, upselling automation, payment capabilities, and real-time insights to become a one-stop-shop for serious online educators.
Top Features:
1-month Pro Plan free trial
Thinkific doesn't charge transaction fees
Ability to remove branding (white-labeled)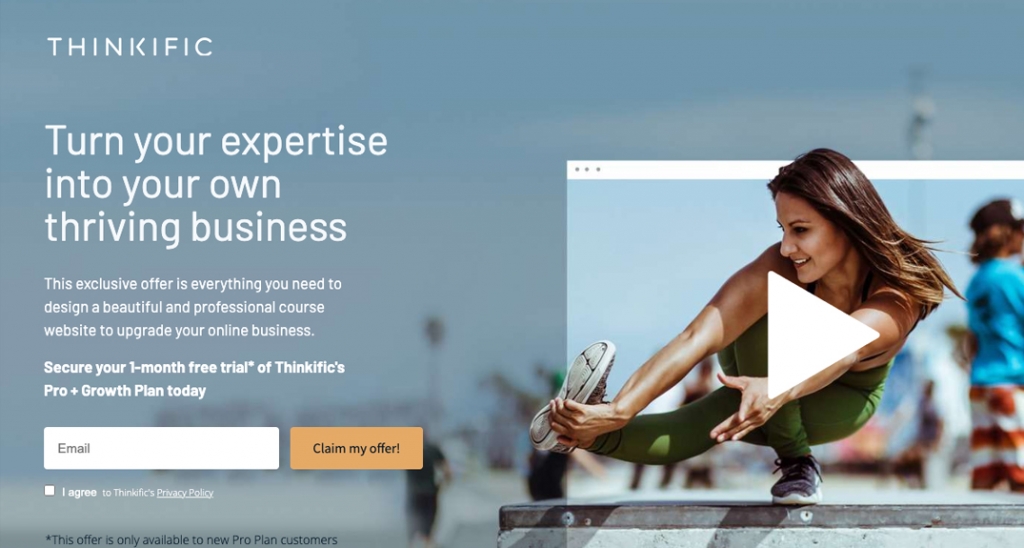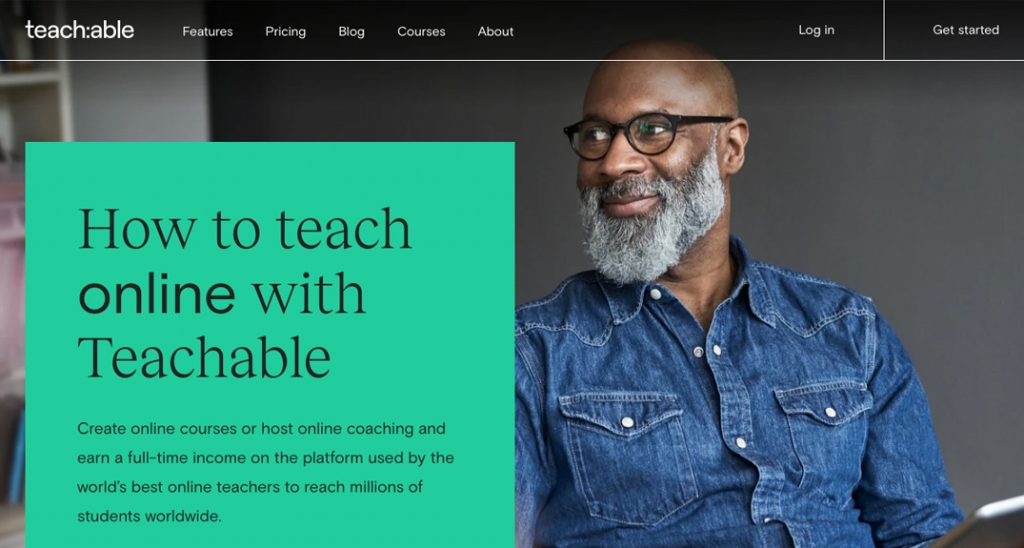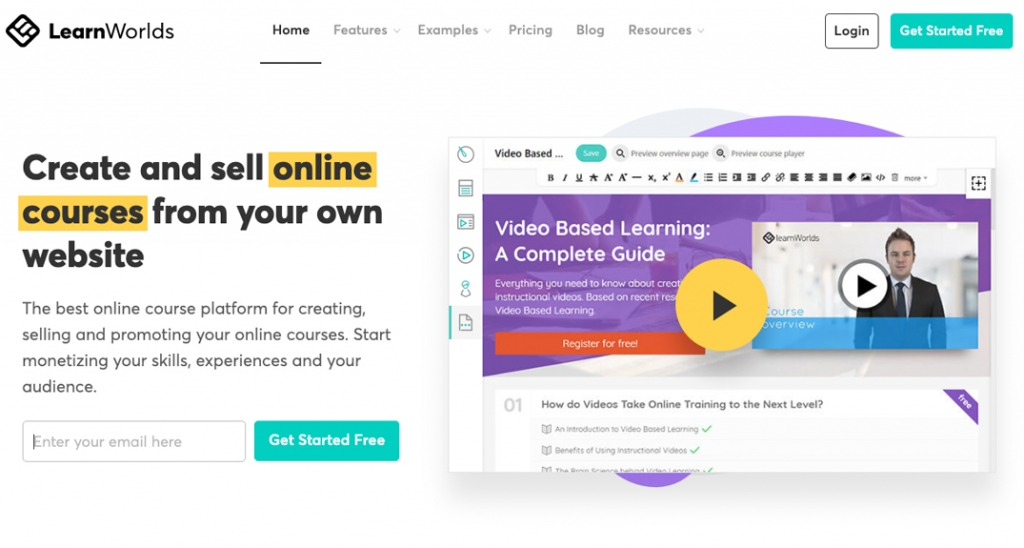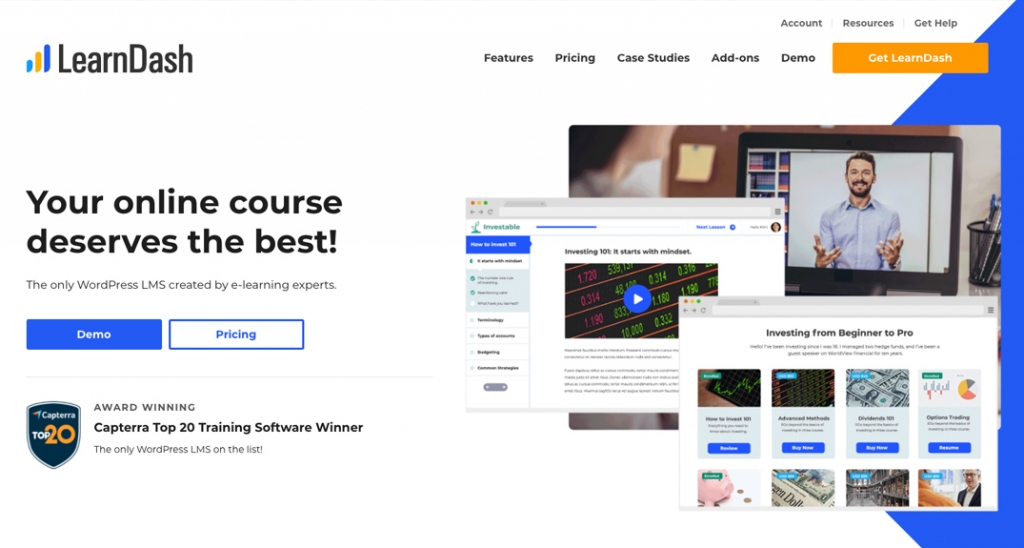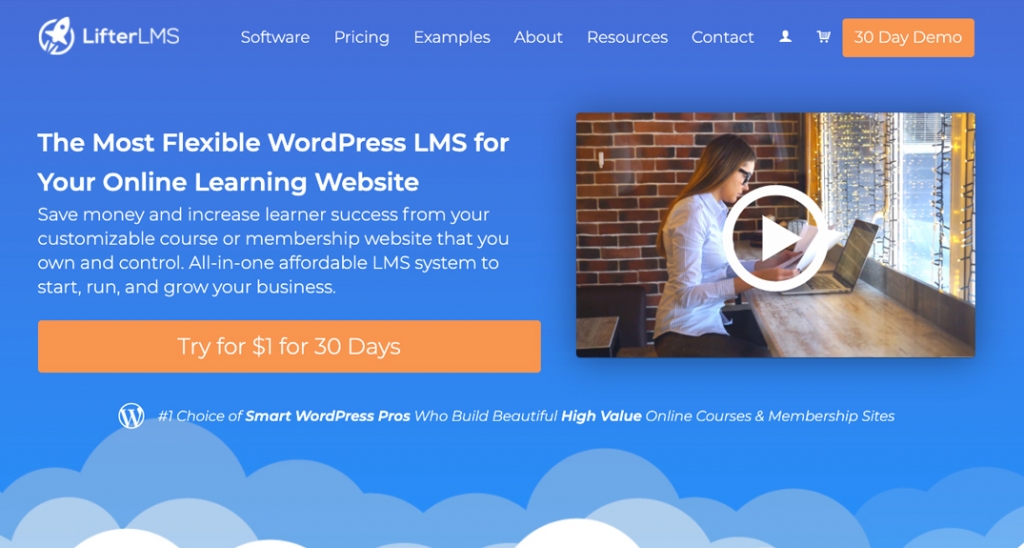 How do online course platforms work?
Online course platforms combine the functionality of a Content Management System (think WordPress) and eCommerce software (like WooCommerce) to allow entrepreneurs and educators to easily create and publish an online course while monetizing it at the same time.
Most platforms include a drag-and-drop website builder that is designed to help you create the space that houses your educational content like multimedia lectures, coaching sessions, quizzes, and other downloadable material. Similar to a CMS, online course software includes versatile tools to make an impressive home page and as many custom pages bespoke to your needs.
If you're overwhelmed at the thought of creating your own course from scratch, you'll be relieved to know that most platforms also offer a number of pre-built sections and templates available which will give you a head start at creating your online course.
However, there is a difference, too.
Unlike sites built with WordPress, courses created with an online course platform are essentially gated. This means that only those who are granted access can see what's inside.
Typically, there are three kinds of log-ins:
Admins – have access to tools and settings
Teachers – are able to assign and review course work
Students – have access to content and quizzes
Within this gated site, you have the ability to facilitate two kinds of interactions with students – online or blended.
Blended learning mixes aspects of digital and traditional learning methods. Tutors and students meet physically, but online course software is used to support learning by creating a space to store/organize materials and give assessments. Teachers and students can also interact on blogs, forums, and discussion boards.
Features of online course software include:
An internal messaging system
Course management
Self-marking quizzes and tests
Ability to automatically grade work
Student data & progress tracking
What are the benefit of using an online course platform?
Thanks to numerous intuitive features, online course platforms offer the following benefits to entrepreneurs and e-learning professionals:
Streamlines the Learning Process – Many consider that the biggest advantage of using online course software is that it makes grading tests and managing student work significantly simpler, quicker, and more accurate.
Organizes the Workplace – Online course platforms create a central, organized space that houses messages, profiles, submissions, and results.
Encourages More Engagement – In addition to text content, you're able to integrate media files like videos, images, infographics, charts, and animations which helps improve engagement!
Complements Interaction – Online courses allow personal interactions via features like live chat and messages. Unlike the review-comment sections, these features provide students a medium to ask questions and get solutions to their queries in real time. It also ensures that neither students nor teachers depend on having to see each other face-to-face.
Ability to Track & Record – Fast data recording and tracking options are included with most platforms. This means that things like test results are automatically scored and stored in one location; it will become easier to access and review them for future reference.
Why should you create an online course?
With over 5.03 billion people actively using the Internet, there is no doubt that the world is online. It is estimated that over 1 billion of those people will take an online course at some point in their life.
The online learning industry is expected to accelerate at a rapid speed! In the US alone, the online course industry will grow to $6.22 US billion by 2022. So, what does it mean for you? Enormous opportunity to reach more customers than ever before and earn immensely by sharing your knowledge online.
That's not all… There are many more reasons why you should create and sell an online course:
Easy to Manage – As mentioned, the primary advantage why you should create an online course is easy management. With a comprehensive platform, everything from building courses to marketing your business becomes easier and quicker.
Freedom & Flexibility – Another main benefit of becoming an entrepreneur and selling your course online is that you get to choose the place of work. Even if the classes are going to be live, you have the freedom to decide the best time to schedule your sessions. Traveling through cities, or even countries, will not affect your work life. All you need is a laptop and internet connection!
Low Cost – Many platforms allow you to get started with a free trial of their software. Unlike traditional courses, you won't have additional costs of manufacturing, delivery, marketing, or shipping, either.