LifterLMS Review – Pros & Cons [2023]
LifterLMS is a learning management system that runs on top of WordPress, allowing you to build an online coaching platform relatively easily. This feature-packed plugin is excellent for creating multimedia lessons to turn your expertise into a revenue source. LifterLMS includes a simple drag-and-drop course builder that allows you to incorporate dynamic content and quizzes. While LifterLMS is impressive, it may have some flaws that you need to consider before moving forward with the tool. In this review, we will highlight the top features, and pros and cons of LifterLMS to figure out whether the platform is worth it. Let's go!

Top Features of LifterLMS
LifterLMS has quite a few features. We've highlighted the top features here, and explore the benefits.
Course Creation Tools
When it comes to teaching something online, you need to build intriguing courses that will lure the potential audience. The process should be simple so that anyone willing to build a course can go through it. Here are the features you need to know about.
Drag and Drop Builder – Putting course elements into one place is the trickiest part of the whole process. But LifterLMS makes it a lot easier, even for users with low to no experience. The intuitive drag-and-drop course builder lets you design course elements with a few clicks of the mouse. But the customizability isn't that great in our opinion. Some of its competitors offer even more control over course creation.
Drip Content – Instead of putting all the course content in front of the learner, you can choose to make them available over a specific course of time. This will help the audience to be focused on their lessons.
Prerequisites – When all lessons in a course are available, the audience might get distracted or even bored with so many lessons. This feature allows you to lock lessons until the previous lessons are completed. It can also be used for different courses where learners need to finish one course to unlock another related course.
Quizzes and Assignments – The learning process can be made more engaging for the audience by adding quizzes and assignments to courses. In LifterLMS, you can create multimedia quizzes that appear dynamically between lessons to test the progress of learners. But the assignment feature isn't that developed till now. We hope this feature will be enriched with manual grading.
Student Dashboard – Learners should have a clear idea of the progress they have made on various courses. The student dashboard on LifterLMS lets learners check their activity in real time so that they know about their accomplishments and challenges.
Multi-Instructor Capabilities – Some courses may require multiple instructors, i.e., subject matter experts alongside the course creator. In such cases, you can assign instructors to various courses and teach in teams.
Import and Export Courses – This feature comes in handy when you want to back up or migrate courses. Exporting a course for backup or licensing and importing backup or migrated courses are extremely easy on LifterLMS. But you can only import or export LifterLMS courses for now.
Form Integrations – You can add various form plugins to collect multiple types of data from the audience. But the design of these forms seemed so outdated to us. We suggest the platform should upgrade the designs to attract users better.
Course Reviews – Testimonials from successful learners increase the chance of selling more courses to a great extent. You can collect reviews of your courses on the platform.
Sales & Marketing Tools
Learning management systems aren't only about making courses. You need to market these courses to generate sales and make the academy profitable. Here are the marketing and sales tools you can use.
One-Time & Recurring Payments – Whether you sell a single course or memberships, setting up the payment process is a breeze on this platform. You can take one-time payments for small courses. And recurring payments are outstanding for extended courses to make the business sustainable.
Payment Plans – The chance of getting a boost in sales highly increases when you have a payment plan for the users to share. But many of the learners might not be accustomed to this option at first glance.
Unlimited Pricing Models – Selecting the best pricing model is often a huge challenge for online course creators. But LifterLMS allows users to leverage Access Plans, which is a robust pricing and access engine. It allows users to set the desired pricing model for the best exposure. And the suitable pricing model will lure more traffic to the academy, increasing the chance of a conversion.
Subscriptions – Selling subscriptions effectively builds a stable revenue stream where your customers will pay recurring fees over a certain period. With LifterLMS, you can sell subscriptions to various courses at your desired price.
Course Bundles – Selling courses in bundles is always better than selling a single course. As bundles are more cost-effective for learners, they tend to choose bundles over single courses. Though it might seem less profitable for the academy, learners actually buy bundles that are pricier than single courses. So, it is a win-win for both parties. And you can easily create bundles on LifterLMS to increase your revenue.
Private Coaching Upsells – Offering private content or coaching is an effective way of providing unique value to learners while earning more in return. LifterLMS lets you easily offer upsells.
Coupons – Offering coupons can result in more sales. You can create various types of coupons to increase buying activity.
Affiliate Marketing Capabilities – Affiliate marketing is one of the most powerful tools in any content creator's arsenal, where you have a massive group of people promoting your content in exchange for a commission per sale. In LifterLMS, you can use this feature to boost sales.
Multiple Countries & Currencies – You can sell courses on the platform regardless of your physical location or currency. LifterLMS supports multiple countries and currencies to encourage online coaching across the globe.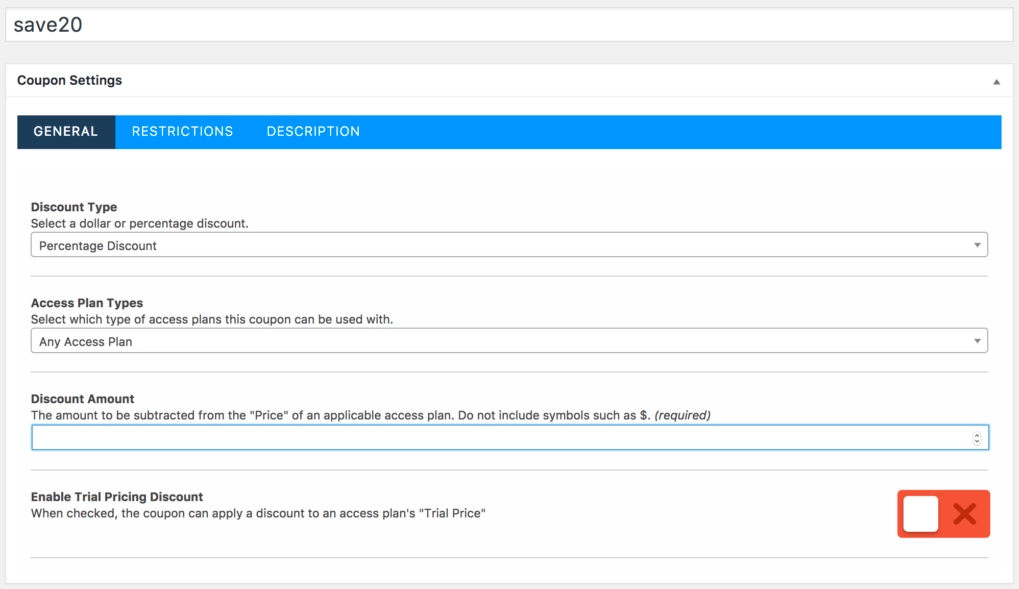 Third-Party Integrations
A learning management system becomes efficient only when you can connect your existing tools to it. Here is a quick breakdown of third-party integrations available on the platform.
Payment Gateways – Taking payments for your courses from all over the world is no more a headache. LifterLMS offers integrations with PayPal, Stripe, and other prominent payment gateways to receive money in multiple currencies.
Email Marketing Tools – Collecting leads through signup forms and organizing them into a helpful list is made easy on the platform with email marketing tool integrations. You can use multiple email marketing tools here to build better connections with your audience.
CRM Software – LifterLMS focuses on managing customer relationships better to leave a more significant impact through your courses. You can sync courses and memberships with your CRM software of choice.
Pros & Cons of LifterLMS
There are a few drawbacks to be aware of with LifterLMS. Here are the pros and cons.
Pros
Drag-and-drop course builder is intuitive to use
Supports multimedia lessons
Drip content keeps learners engaged
Informative student dashboard
Multiple pricing models and payment plans
Upsells, bundles, and affiliate marketing tools
Cons
Many features are add-ons
Requires web hosting
Doesn't offer monthly billing
LifterLMS Plans & Pricing
LifterLMS offers three different bundles, all are billed annually.
Earth Bundle – starting at $149/year
Universe Bundle – starting at $360/year

Up to 2 tech support accounts

Ecommerce add-ons
Design add-ons
Marketing & CRM add-ons
Form add-ons

Infinity Bundle – starting at $1,200/year

Up to 3 tech support accounts

Ecommerce add-ons
Design add-ons
Marketing & CRM add-ons
Form add-ons
Advanced features: quizzes and assignments, private coaching, social learning, custom fields, group courses
Access to weekly mastermind and private Facebook support group
Our Take on LifterLMS
With so many features, LifterLMS is one of the best tools to build an online course business. We like that it runs on top of WordPress, and bundles in a drag-and-drop course builder. You're able to incorporate a variety of different types of content to keep your students focused. LifterLMS' quizzes and assignments are designed to make learning engaging and encourage the best possible outcome. We really like the wide variety of sales and marketing tools available, which allow you to build a profitable course business. You're able to offer one-time and recurring payments in multiple currencies, which makes it easier to sell more and market your courses globally. While LifterLMS offers attractive bundles, it can get expensive if you only need a handful of features since add-ons are charged separately otherwise (this can also be inconvenient). LiferLMS starts at $149 per year for the Earth Bundle, and they offer a 30-day money-back guarantee.