Ready to start your very own podcast? Well, one of the first things you'll need to do is sign up for podcast hosting. This will be the home of your podcast (where it's stored on the internet) and allows listeners to find your shows on podcast directories like Apple Podcasts and Spotify. Without podcast hosting, listeners won't be able to discover you which means you won't be able to grow an audience.
Table of Contents
What is podcast hosting?
Podcast hosting is the process of storing and distributing your podcast audio files with the help of a hosting provider. In a simple sense, it is an outgrowth of blogging and quite similar to website hosting.
Podcast hosting providers generate an RSS feed of all your episodes and submit them to directories like Apple Podcast.
Analytics, scheduling tools, web players, and other features are usually included when you sign up for podcast hosting. These features help you easily publish and grow your podcast.
The Best Podcast Hosting for Most People
Buzzsprout is the best podcast hosting provider if you're looking to start your own podcast. They offer a free plan, easy-to-use software, and helpful customer service. Advanced customization and reporting options are available. Buzzsprout distributes your podcast to all major providers and even allows you to embed an audio player directly on your website.
Top Features
Podcast Directory Submissions
Website Integration with Embed Player
Advanced Podcast Statistics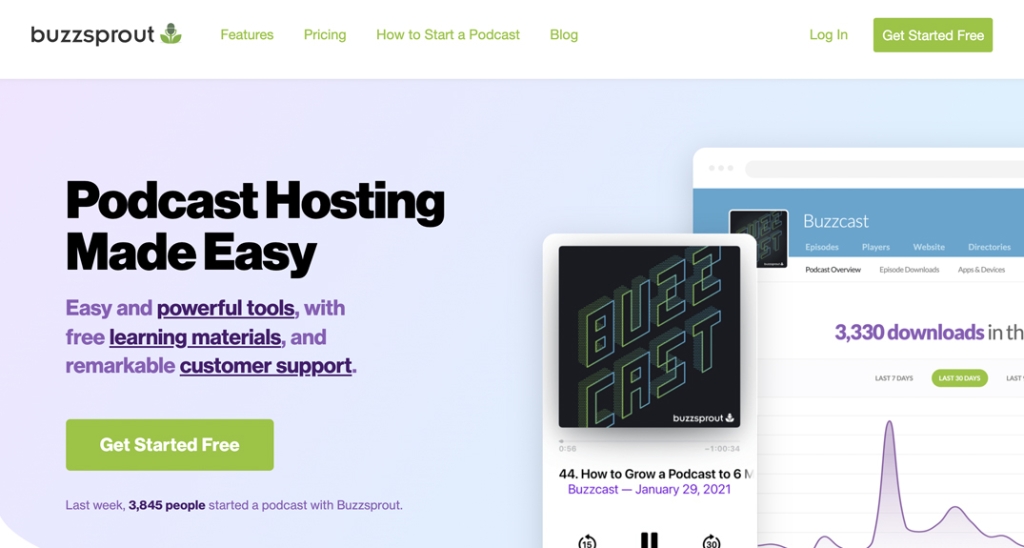 Spreaker makes it effortless to create and broadcast impactful content. They have been hosting podcasts for over ten years. Their Free Speech plan is free forever and lets you host multiple podcasts. Spreaker's paid plans add attractive features like customizable RSS feeds, programmatic monetizations, and paid subscriptions.
Top Features
Podcast Recording App
Wide Podcast Distribution Network
Real-Time Analytics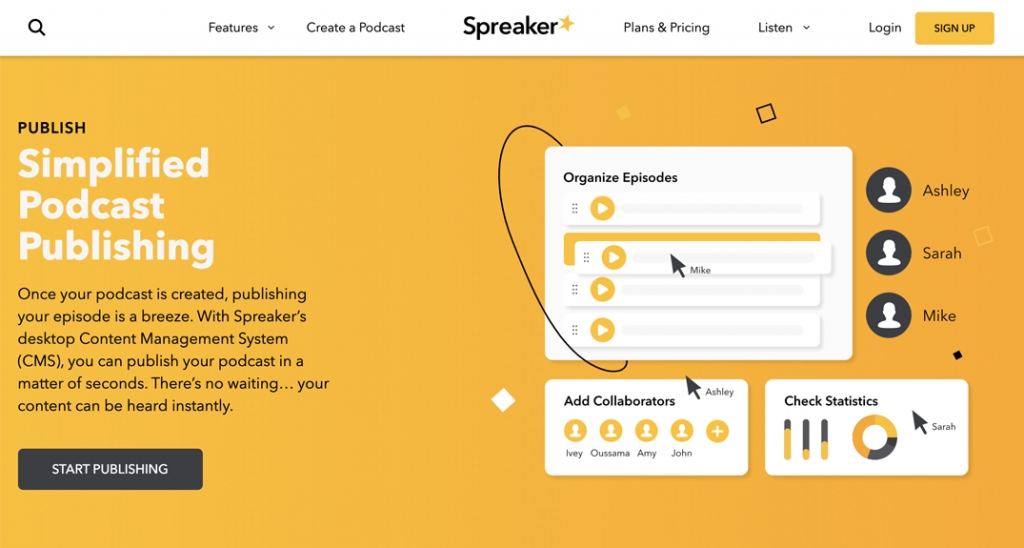 Captivate is the world's only growth-oriented podcast host. With their podcast hosting platform, you can host unlimited shows and all of their features are included with every plan. While they don't offer a free tier, every plan does come with a 7-day free trial. Captivate's analytics & intelligence reporting make this platform stand out over other providers.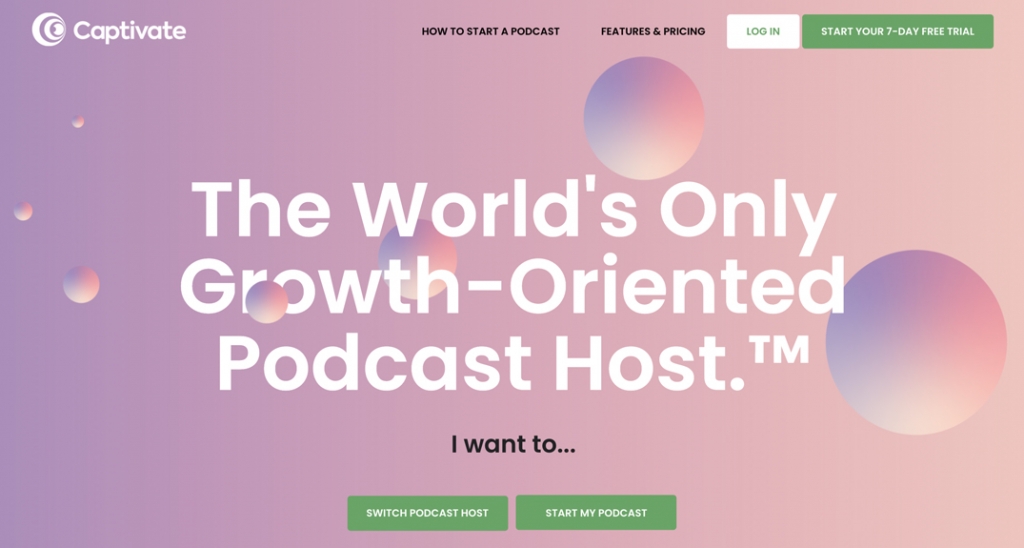 Transistor is a podcast hosting startup built for people who are serious podcasters. While they don't have a free plan, you CAN try any of their plans free for 14 days (and get an additional two months free when you prepay for a year). All of Transistors plans let you create unlimited podcasts, offer advanced analytics, and live customer support.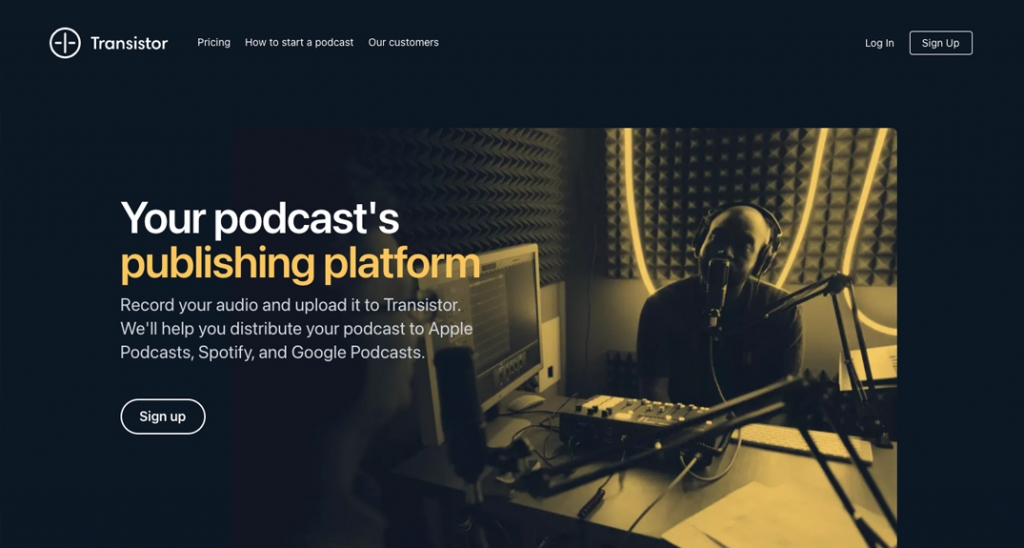 PodBean is another great podcast host that offers unlimited storage and bandwidth. This means you won't have to worry about exceeding any limitations. This is great, especially if your podcast takes off overnight. Podbean also offers a number of built-in advertising options which makes it easy to monetize your content.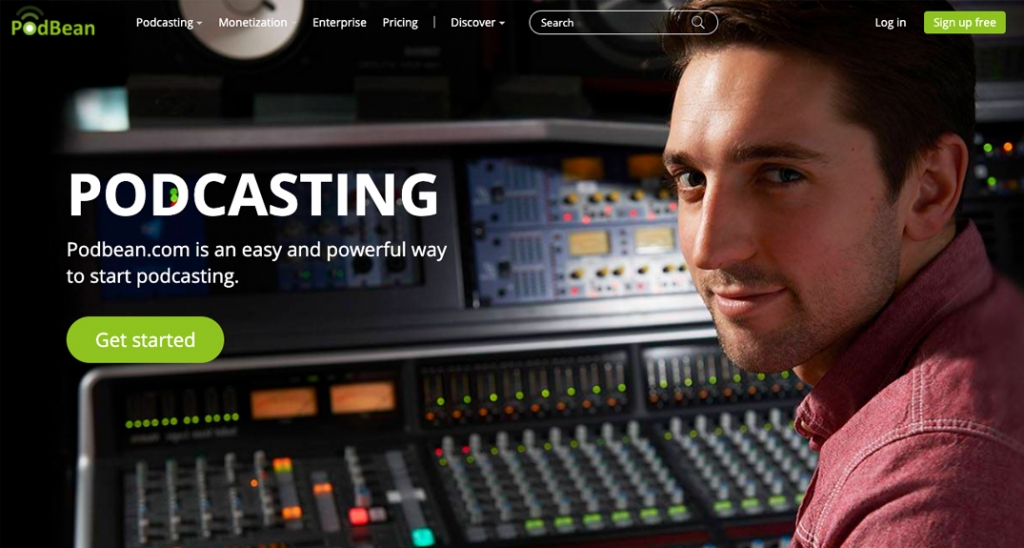 How does Podcast Hosting work?
Podcasting hosting might seem technical, but it is what simplifies the steps between creating podcast episodes and reaching people. A host acts like a middle person between the podcast and its subscribers. It also works as a centralized, online storage facility where you can keep all your audio files in the form of a single webpage, the RSS feed.
Why do you need it? Can't you simply upload the audio files on podcast directories? Well, no. Platforms like Apple Podcast and Spotify are great places to find new subscribers, but they do not let you store the podcasts on their servers. They use your podcast RSS feed links to display the content. And as mentioned, podcast hosting creates this feed to bridge the gap between your podcasts and your audience.
By generating RSS or XML files of the audio podcasts, the hosting will create links to information like audios, videos, images, titles, and descriptions. Further, by embedding these links to podcast directories, you reach the (potential) listeners of your audios.
The audio file is embedded in the podcast RSS feed with the help of an enclosure, a string of code that points to the audio file. Further, this enclosure within the XML causes the podcast to download automatically to the device of the subscriber.
If you made changes – say to the title of the podcast episode – the host will update it on the directory display and notify your subscribers of the updated information. Notifications will be sent whenever you upload the enclosure to a new episode.
Initially, it was assumed that subscribers would listen to these audios on their iPods. So, this was broadcasting designed for iPods. Hence, the term podcasting.
Today, many other platforms are popular hubs of podcast listeners, iTunes being the most popular. Therefore, while a typical podcast RSS feed will include a code for the enclosure that points to the audio file, it is a good idea to add extra iTunes-specific tags to make the podcast display properly on the platform.
Apple has put up a dedicated page to help Podcasters learn which tags they will need to embed to their podcast RSS feed. There are other iTunes RSS technical edicts that you must adhere to be Apple compatible. These include details like:
URLs that complies with the specifications of RSS 2.0 and are public without passwords
Unique enclosure for each episode
RFC 2822-conforming date and time on the feed
Correct casing
Once the host creates your podcast RSS feed with all essential codes and links, you will be able to distribute your episodes and attract more subscribers.
How much does Podcast Hosting cost?
Podcast hosting typically costs between $5 to $25 per month. Pricing varies based on bandwidth, storage, and available tools. Most podcasters spend less than $20 per month, but some larger podcasts require enterprise podcast hoisting which can be more expensive.