Spreaker Review – Pros & Cons [2023]
Spreaker is a full-service podcast platform that is owned by iHeartMedia, one of the largest media companies in the United States. Spreaker makes it easy for content creators of all sizes to host and distribute audio content.
Is Spreaker a good option for podcast hosting in 2023? Let's dive in!
In this review, we'll cover:
Spreaker Features
Spreaker has a handful of unique features that makes it a platform worth considering.
Recording App
One of the top features of Spreaker is its podcast recording app which makes it easy to record and edit your podcast. Their app is available for both iOS and Android.
Distribution
Spreaker has a wide podcast distribution network which means your podcast will be available on all major podcast platforms and directories. This includes Apple Podcasts and Spotify.
Analytics
If you plan to make a business out of your podcast, it is important to be able to review and analyze your podcast performance. With Spreaker's Analytics tools, you'll be able to know how your podcast is doing in real-time.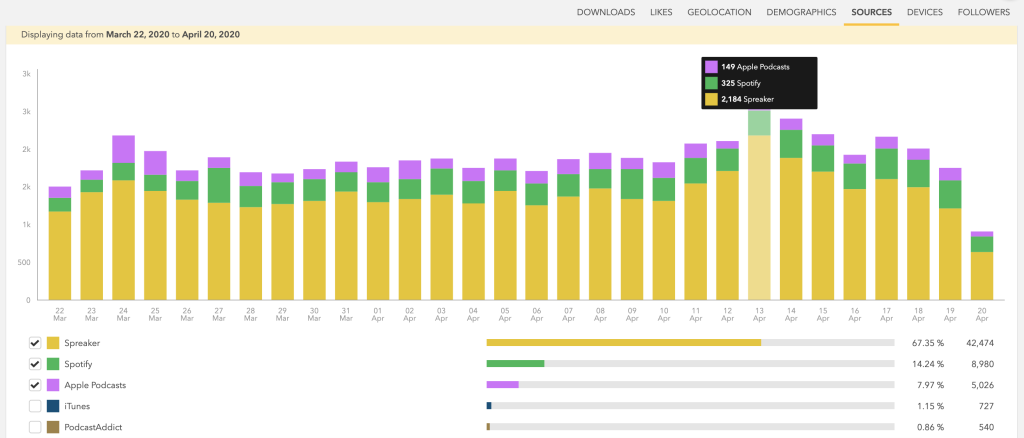 Spreaker Plans & Pricing
Spreaker has two tiers of plans – Professional and Enterprise – all with non-traditional names.
Free Speech – Free
On-Air Talent – $7/mo
Broadcaster – $20/mo
Anchorman – $50/mo
Publisher – $120/mo (Enterprise Plan)
Spreaker's free plan lets you use the platform without a credit card, but limits you to 5-hour audio storage and only 10 episodes. To unlock additional storage and unlimited episodes, you'll need to upgrade.
If you're serious about podcasting, you should consider the Broadcaster plan at a minimum. It includes important business features like advanced statistics and monetization tools that allow you to create subscriptions for your podcast.
Alternatives to Spreaker
While Buzzsprout is a solid podcast hosting tool, here are some others to consider:
What we think about Spreaker
Spreaker is a decent podcast hosting provider. It is backed by the media company iHeartMedia. With Spreaker's advanced mobile app, they lower the barrier to entry by making it easy to record, edit, and publish your podcast.
We like that Spreaker has a plan that is free forever – no credit card required. This lets newbies get started without any up-front cost.