PodBean Review – Pros & Cons [2023]
PodBean is a podcast hosting platform that is considered to be one of the best options available. Popular shows like True Crime Garage use it to power their shows and it is also trusted by The Daily Telegraph. Like Buzzsprout, PodBean also makes it easy to distribute your podcast on popular platforms like Spotify, Apple Podcasts, and Google.
Is PodBean still a good podcast host in 2023, though? Let's find out…
In this review, we'll cover:
Top PodBean Features
Features can make or break a platform. Fortunately, PodBean has a pretty impressive set of features that will be helpful while building your podcast.
Podcast Publishing
You're able to publish a podcast within five minutes of signing up for PodBean. They are one of the easiest platforms to use if you're just getting started.
The podcast platform also provides a free website with your account along with several professional themes to customize its look. Podbean also has an app that also lets you publish your episodes directly from your phone.
Since their hosting is unlimited (no limit to the number of downloads, episodes, or recording time), it's also reassuring that you won't have to worry about storage after publishing your first podcast.
Podcast Distribution
Podbean has ties with the most popular podcast directories, which in turn offer exposure to your episodes. If you have long-term plans for your podcast and want your show to have a big audience, Podbean can help achieve your goals.
Two types of embedded players are also available which let you embed single tracks or multiple tracks to your website. With their customizable options, you can even change the look of your player to match your brand.
Analytics & Statistics
One thing I've noticed with podcast hosting platforms is that the level of reporting isn't up to par. Fortunately, Podbean offers in-depth statistics into who is listening, what episodes are most streamed, and your subscriber retention.
We really like that PodBean offers podcasting insights like downloads by the time of day, listener location, and listener engagement.
PodBean also offers Engagement Intel, an optional add-on. This tells you if listeners are finishing the episodes or leaving mid-way. Their intel provides information if the listeners are dropping off because of the ads in the beginning. This reporting isn't available with the free plan.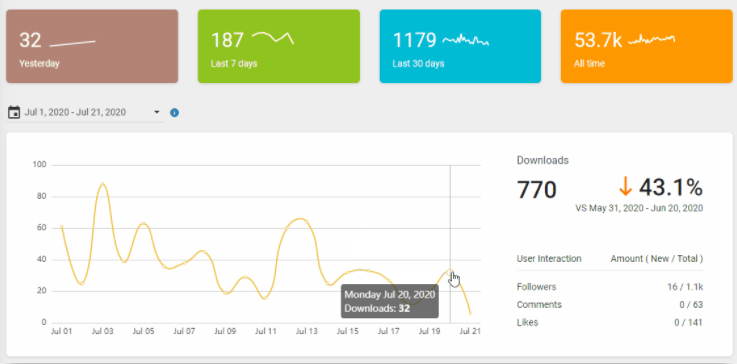 Monetization with PodBean
If you're trying to make money online, you're probably wanting to monetize your podcast.
Podbean has a few options that you'll like to help with that. They include an advertising marketplace, a donation feature, and paid content via premium subscriptions.
All three options are in-house, so you won't have to keep track of various logins and credentials. Integration and ongoing management is super easy.
PodBean Plans & Pricing
It's free to get started with PodBean but they have a number of paid plans that you should consider upgrading to.
Basic – Free
Unlimited Audio – $9/mo
Unlimited Plus – $29/mo
Business – $99/mo
The PodBean free plan only supports the MP3 file format and is limited to 500MB of storage and 100GB of bandwidth (which roughly translates to 7k to 10k downloads).
PodBean's paid unlimited plans start at just $9/mo when billed annually and offers endless amounts of storage and bandwidth. They also let you choose a branded or mapped domain name, custom site design, and monetization. You'll need the Unlimited Plus plan ($29/mo) if you're looking to upload videos.
Businesses should consider the Business Plan that is $99/mo annually or $129/mo when billed on a monthly term. This plan is built for large networks and offers dedicated customer support. Furthermore, the Business Plan offers multiple user logins, content segmentation, and advanced engagement stats that large companies would expect from a SaaS platform. The Business Plan is also the only plan that allows the removal of Podbean's branding.
Alternatives to PodBean
While Buzzsprout is a solid podcast hosting tool, here are some others to consider:
What we think about PodBean
PodBean is one of the best podcast hosting platforms. Its biggest perks are unlimited hosting and a basic plan that is more than just a limited-time trial.
There are a few important limitations to be aware of, however. The biggest is that you're not able to do video podcasting unless you buy their more expensive plans. Other limitations are you only get seven days to request a refund and there is no feature to create podcast backups.
PodBean is one of the most affordable options out there and with their generous free plan, you can try their main features with zero investment which is why we recommend you consider PodBean for hosting your podcast.