Castos Review – is it REALLY the best? [2023]
Castos is a podcast hosting platform that lets users create unlimited podcasts, grow their audience, and monetize content. This can be used as a standalone tool or a WordPress plugin for your websites to create and manage audio and video podcasts. No matter the experience you have in podcasting, Castos makes it easy for all levels of creators. The platform comes with a private podcasting feature where you can monetize your podcasts. But is Castos the right podcast host for you? And what about the pricing plans? We'll find out decision-making factors to help you choose your desired hosting platform. Let's dive in!
Top Features of Castos
Though Castos comes with tons of features, we picked the top features for this review.
Host Unlimited Podcasts & Unlimited Episodes
Not having any upload limit is the absolute bliss of Castos. You can host unlimited podcasts and unlimited episodes on the platform. As there are no storage limits, you can experiment with longer podcasts or increase the frequency of publishing podcasts.
Every podcast you upload on the platform will have a unique RSS feed. And you don't need to pay anything extra to avail of this feature. Thanks to the no storage limit, you can even migrate unlimited podcasts to the platform. Experienced podcasters with hundreds of podcasts can benefit from this.
Private Podcasting
Private podcasts are a great way to share exclusive knowledge with paid subscribers or run corporate training. You can limit access to private podcasts with passwords. Monetizing podcasts is one of the most useful features of this platform. You can take payments from subscribers, thanks to the Stripe integration.
And the Castos mobile app can play a significant role here. Unlike regular podcasts, you don't need to share the RSS feed in this case. So, the chance of your podcasts getting leaked is meager. Your audience won't also get distracted as they do while using other podcast apps.
Seriously Simple Podcasting (WordPress Plugin)
This is a very handy WordPress plugin for podcasters with a WordPress website. With this plugin installed on your website, you won't need multiple tools to manage your podcasts. The plugin lets you upload your podcasts right from your WordPress dashboard.
Even if you have multiple podcasts, you can manage them all from the same dashboard. This plugin can also create multiple feeds for your podcasts and check analytics. So you don't need to switch between tools anymore. From importing content to improving SEO, Seriously Simple Podcasting helps you efficiently manage the workflow
Personalized Podcast Webpage
If you don't have a website and find it too technical to build one, there is nothing to worry about. Castos offers personalized podcast webpages for all your podcasts. There will be multiple sub-pages on the website with detailed information about podcasts, episodes, and the host.
The website is highly customizable. You can customize the themes and colors of the website to match your brand. Using social media connections and necessary buttons is also possible.
And if you already have a domain, that can be used in the website to make your podcast brand more recognizable. The websites provided by Castos are responsive, which means your audience will be able to view it on any device.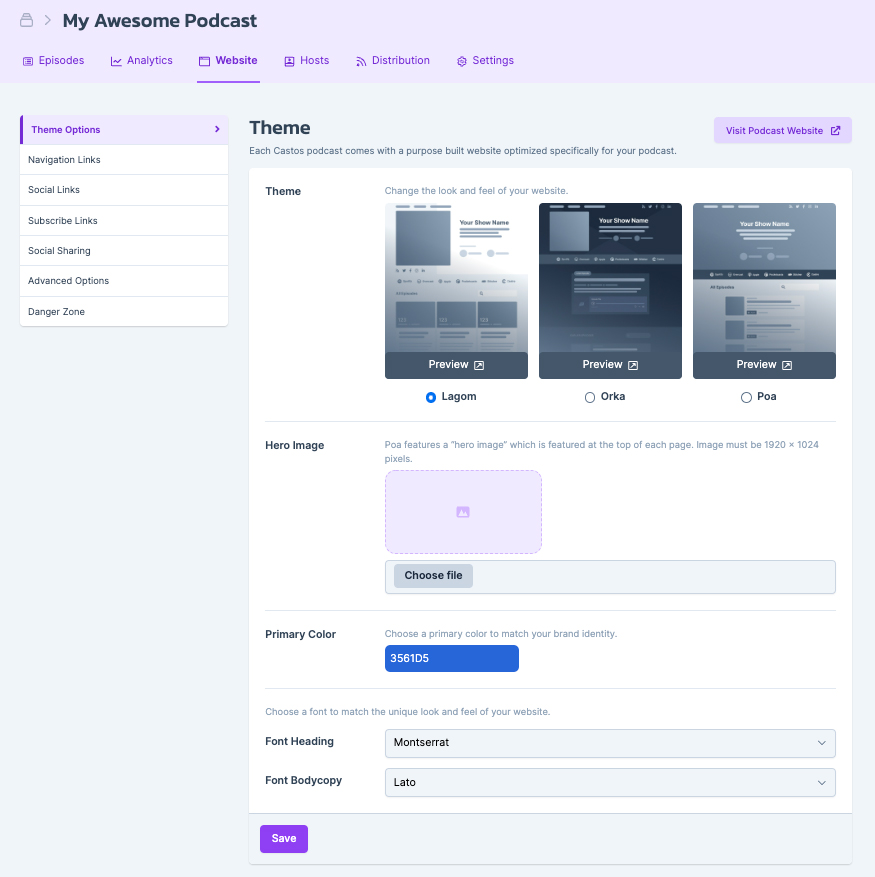 Publish on Multiple Platforms
It is crucial to list your podcasts on major podcast platforms to get better exposure. And publishing your podcasts on multiple platforms is very easy with Castos. You just need to select the platforms, and the tool will automatically publish podcasts on those platforms at once. Castos supports publishing podcasts on platforms like Apple Podcasts, Google Podcasts, Spotify, Tuneln, Overcast, and more.
You just need to set this up once. The tool will automatically publish your podcasts through these channels from that point onward. And it is highly beneficial for new podcasters who want to gain exposure faster.
YouTube Republishing
Ranking higher on search results by publishing a YouTube video is way easier than publishing a podcast. But repurposing audio podcasts for YouTube may be a big hassle for many podcasters there. Castos comes with an ingenious feature called YouTube republishing to fight this situation.
After connecting the YouTube channel to the Castos account, you just need to choose a background image for your videos. Once the audio podcast is uploaded, Castos will automatically create a video using that audio and image to republish it on the YouTube channel. It helps you in SEO, and you will get better exposure.
Transcribe Podcasts with Castos
Creating transcripts of your audio or video podcasts might seem too difficult. But having transcriptions of the podcasts is of great benefit. On Castos, you can directly upload your transcripts. But what if you don't have transcripts, and writing them might incur a lot of expenses?
Well, Castos offers an integration that you can use to transcribe podcasts. As a result, your content will reach a greater audience, especially people speaking a foreign language or having impaired hearing.
It also becomes much easier for search engines to understand your content and rank your sites higher on search results. But as this is done by an integration, transcribing your podcasts will have an additional cost.
Embeddable Podcast Player
The podcast player on Castos has so many unique features that might help you grow your audience. It is an embeddable player, so you can place the podcast player anywhere on the website. As the player is responsive, it will work on all devices, so mobile users can easily listen to your podcasts.
It even has enough customizability so that you can choose different themes or color schemes to match your brand. The player has light and dark themes. You can also add customized buttons to the podcast player to encourage listeners to subscribe.
Free Migration Service
If you already have your podcasts hosted somewhere, importing those podcasts to Castos is just one click away. And migrating podcasts from other hosting platforms is totally free.
This feature might be beneficial for experience podcasts who have already produced a lot of content and hosted them on other platforms. They can import all podcasts to Castos at once.
Third-Pary Integrations
Castos has multiple integrations to increase the functionality of the platform. And these integrations help you handle a variety of tasks without exiting your Castos account. From creating titles for your podcasts to transcribing them, from taking payments from subscribers to editing your podcasts, every necessary integration is available on the platform.
And if Castos doesn't have the integration you're looking for, they provide a REST API so that you can build native integrations to make the best use of this platform for your use case.
Mobile App
Though your audience can listen to your podcasts on multiple platforms, they can stick to the native app to get the best listening experience. All your private podcasts will be available on the mobile app so that users can directly listen to them without getting distracted by a variety of content. This is a great way to keep your audience focused on your podcasts.
Pros & Cons of Castos
Like all podcast hosts, Castos has its pros and cons. Here's a quick overview:
Pros
Seamless integration with WordPress
Automated podcast transcription
YouTube republishing helps podcasters get better exposure
Easy migration from other hosting platforms
Private podcasts to monetize content
Upload unlimited podcasts and episodes
Cons
Video podcasting is only available in higher tiers
There is a monthly cap on downloads
Transcription and other integrations may cost extra
Castos Plans & Pricing
Castos offers four pricing plans, with different features depending on which option you choose.
Starter – starting at $19/mo

Unlimited podcasts and episodes
In-depth listener analytics
Up to 100 private subscribers
Up to 20,000 downloads per month

Growth – starting at $49/mo

Video republishing to YouTube
Headliner Audiogram integration
Up to 250 private subscribers
Up to 75,000 downloads per month

Pro – starting at $99/mo

Video file hosting
Advanced analytics
Up to 500 private subscribers
Up to 200,000 downloads per month

Premium – starting at $499/mo

Custom contracts and invoices
Single sign-on
Increased limits
Dedicated account manager
Alternatives to Castos
While Castos is a solid podcast hosting tool, here are some others to consider:
Our Take on Castos
Castos is a great choice for podcast hosting since you can upload unlimited podcasts and episodes! Besides standard podcasts, creators can upload private podcasts to monetize their content and generate a stable revenue stream. All your podcasts will have personalized web pages with all the details of the episode and podcast — you can even customize these web pages to match your brand. And if you use WordPress sites, the Seriously Simple Podcasting plugin works like magic. You can upload and manage podcasts from your WordPress dashboard. It also shows analytics on the dashboard to check the performance metrics. The tool even republishes your podcasts on YouTube for better reach. Though migrating your podcasts from other platforms is easy, there is a monthly download cap, which can be a hassle for podcasters with a bigger audience. The pricing starts from $19 per month, which makes the tool highly affordable for a broad group of users.