How to Post to Instagram from Your PC or Mac – Step-by-Step [2023]
Instagram is one of the most optimized mobile apps. It was literally built to quickly take and upload photos from your cell phone. While this is quite convenient for most users, savvy users may prefer to post to Instagram from their PC.
Posting to Instagram in this way has many advantages, especially if you are a social media manager.
Many companies store their branded assets on internal servers which means marketing managers typically use their computers to produce content first, anyways. It's also usually easier and faster to type a caption for Instagram using a computer keyboard instead of tapping away on your phone.
If you're already relying on your computer to produce a post, why not also use it to upload the post to Instagram, too?! This guide will save you that extra step.
Before we dive into how to post to Instagram from your PC, let's learn about something new, which this entire article revolves around: User-Agent Spoofing.
What Is User-Agent Spoofing?
Most websites today are responsive which means one application is used for both desktop and mobile devices. This means that websites respond to your device's screen size and scale the layout based on those dimensions.
Since the same browsers we typically use for our PC are available on our phones, we're able to use a feature called User-Agent Spoofing to trick the website that we're using our phone while on our PC.
User-Agent is the type of device we're on. Spoofing means to imitate. User-Agent Spoofing means we're imitating the device we're using to visit a website… in this case, Instagram.
Using secret browser settings, marketers can quickly customize their PC's browser to render Instagram as it would be on their phone.
How To Post To Instagram From Different Browsers
Since all popular browsers are cross-platform, posting to Instagram from your PC or Mac is the same. The difference comes when you change browsers.
Use Chrome to Post to Instagram
Head over to https://www.instagram.com and login with your username (or phone number) and password. You can allow the device to remember you by saving your login details to your browser. If you do this, the next time you open the website, it will take you directly to your Instagram account.
Click the three vertical dots on the top-right-hand side of your Instagram home page. A drop-down list will appear.
Scroll down the menu until you find More Tools and click on it.
Under More Tools, select Developer Tools.
Click the Mobile button on the Toggle Device Toolbar.
Select the device you would like to use from the drop-down list that will appear towards the center top of the page. Instagram's interface will morph to the device you've selected.
Next, click the + sign on the bottom of Instagram and select the picture you want to upload.
Edit the picture with the available tools as per your preference and click Next on the top right side of the screen.
Caption the picture, tag people, and click Share on the top right hand side of the screen.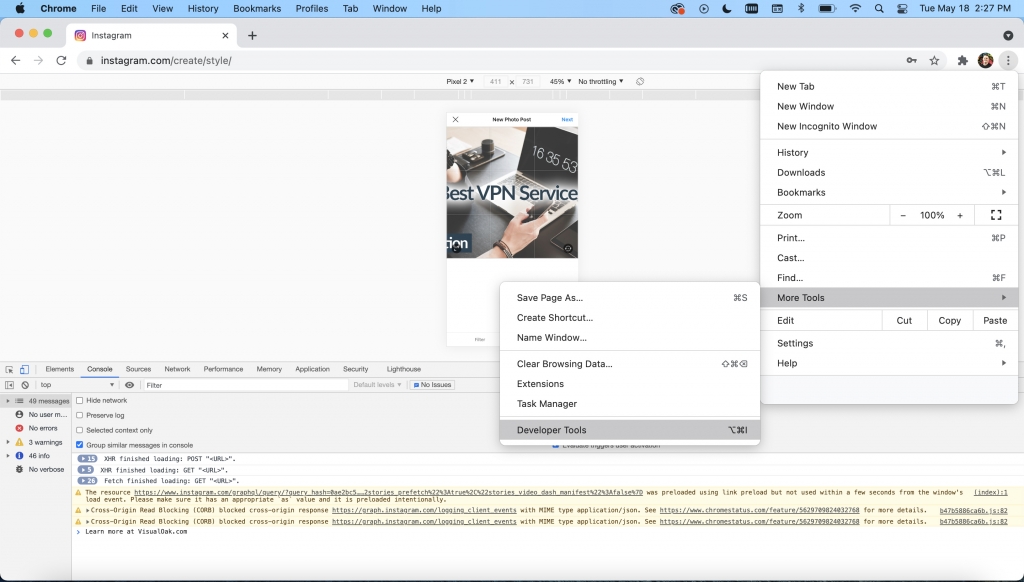 Use Safari to Post to Instagram
Log in to your Instagram account by visiting Instagram.com from Safari.
Click on the Safari tab and select Preferences in the drop-down that appears.
Under Preferences, select Advanced Features.
Check the box Show Developer Menu in the menu bar.
Go back to the menu bar and click the Develop tab.
Select User Agent on the drop-down menu that appears.
Refresh the page, and the user interface will resemble what you see on a smartphone.
Click the + sign on the Instagram screen.
Select the picture you want to upload and edit it using the available tools.
Caption the photo, tag people, and share.
Use Firefox to Post to Instagram
Log in to your account by visiting Instagram.com from Firefox.
Go to Firefox's main menu
Select Tools and in the menu that appears, then select Web Developer
Under Web Developer select Responsive Design
Refresh the page, and the mobile interface will appear
There is a bar on the top that says, 'No Device Selected.' Click on it and select the device with the screen size you prefer.
Summary
With a little technical magic, you can easily post to Instagram from your PC. There are some limitations to keep in mind, though. For example, you can't upload multiple pictures and videos at once. This feature is only available in the app. It is also impossible for you to tag people in the photo when you upload from the computer, but a workaround is tagging them in the comments. PC and Mac uploads don't allow you to edit your photo captions, either. You will have to edit them from the app. The ability to post to Instagram from a PC or Mac can save you a lot of time and make posting easier, though, so the limitations may be worth it.