How to Cancel Bluehost and Get a Refund [2023]
You may be wondering how to cancel your Bluehost account. It may be because you found a better web host or you simply don't want to have a website anymore. Whatever the reason, it is easy to cancel Bluehost and even get a refund in certain situations.
3 Steps To Cancel Bluehost
It's easy to cancel Bluehost – in fact, it only takes two steps!
Back up your website — once Bluehost cancels your account, they delete your website files. It's important to download a backup, especially if you're going to migrate to a different hosting company.
Ensure your email is correct — review the Profile section of your Bluehost account and make sure it has a valid email address on file.
Call 888-401-4678 or use Live Chat and ask the customer service representative to cancel your account. They will ask you for the last four characters of your password to process your request.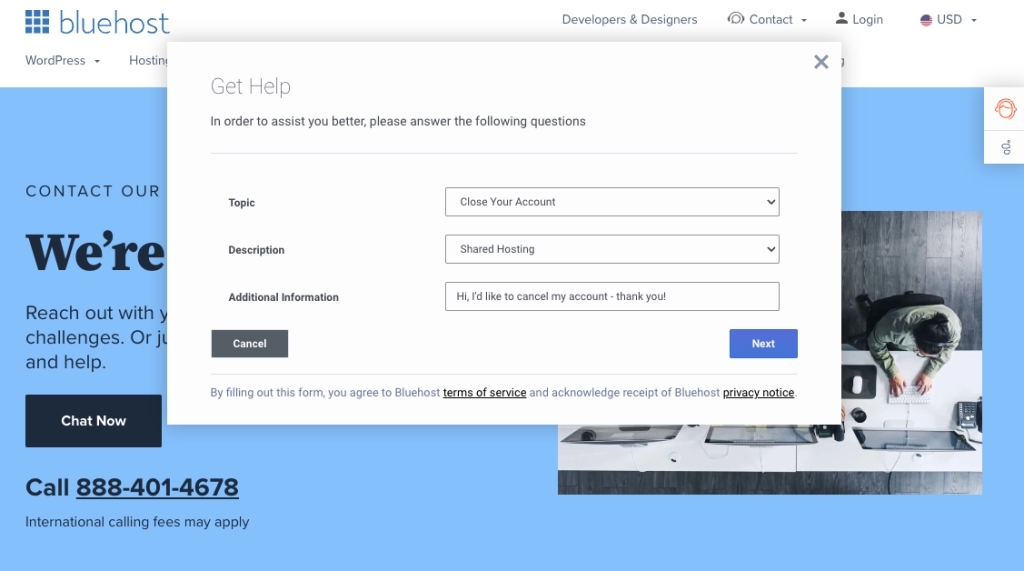 FAQs
What is Bluehost's refund policy?
Bluehost offers a full refund if you cancel within the first 30 days.
Does Bluehost offer refunds after 30 days?
No, refunds are only available within the first 30 days of signing up for Bluehost. You can still cancel your account so it doesn't automatically renew, though.
Bluehost Alternatives
If you're looking for an alternative to Bluehost, we recommend staying away from Newfold Digital brands since Newfold owns Bluehost. The best alternatives to Bluehost are: