10 Types of Email Marketing Campaigns that Boost Sales
If you are a marketer in today's fast-paced world, then email marketing is an invaluable tool for you. In fact, stats suggest that the number of email users is projected to grow to 4.6 billion by 2025. With emails still so widely popular, why waste the immense marketing potential they possess?
With promises of high ROI, an effective email marketing campaign can help you receive almost 4200% ROI. However, these campaigns cannot be launched on a whim. Basic personalization and a general message in your emails will only get you so far.
If you are looking to nudge your email marketing campaigns in the right direction, you are in the right place. In this article, take a look at the top ten types of email marketing campaigns that boost sales.
10 Email Marketing Campaigns To Skyrocket Your Sales
The most important thing about successful email marketing is crafting the right campaign strategy. The below-mentioned list isn't definitive; you can pick the campaign types and tailor them to your organization's overall email marketing strategy. Let's dive in!
The Welcome Email Series
How do you initiate conversation when you meet a new friend or a colleague? Well, introduce yourself! Similarly, if you have a new subscriber, it's only polite to introduce yourself first. One of the most common yet effective email campaigns, the welcome email series, is all about welcoming your customer. Initial contact prospects are usually unready to do business and need to be nurtured for a while before they buy.
In fact, only 25% of leads are ready to buy immediately, and over 50% are qualified but not prepared to buy. In that case, build familiarity with your subscriber first. Here are some things you must include in your welcome email:
Introduction
Link your social media
Get to know them (their birthday, preferences in email, how they found you, etc.)
Educate them about your brand mission and values.
A very common example of a successful welcome email campaign is the one launched by Adidas. Their welcome sequence has you complete your profile so that they can send you customized recommendations and event invitations. Adidas also includes a limited-time 15% savings coupon with their three welcome emails.
Just remember to wow your customers, give them something, showcase your brand, and thank them for their interest. About time you start working on an effective welcome email series if you haven't yet.
The Round-up Newsletter
Do you maintain an active business blog? Or are you a magazine or a media outlet? Irrespective of the category, sharing a roundup digest of the top articles or stories on a monthly or a weekly basis is a great way to nurture your audience base towards sales. Such roundup newsletters work well to educate your prospects about your best content or products.
With a round-up newsletter, you can nurture your leads so that your company is the first name that pops in their head when they are in need of a product or service in your industry.
These emails can have a simple hero image paired with a headline, followed by short story summaries (or product descriptions) and links to your web pages for further reading. Include relevant and appealing graphics to entice recipients to click through and engage with your content.
See an example from Litmus below: the blocks of color help break up the newsletter into easy-to-read sections.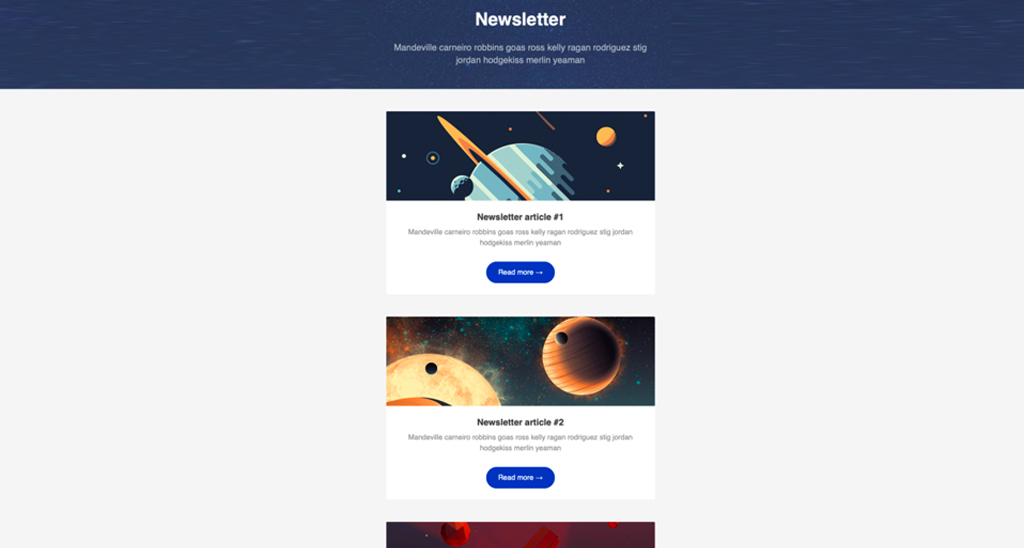 Product Updates
Product update emails can be a little tricky to navigate, essentially because there are a lot of unsaid rules attached to them. Product emails are vital, but people don't like receiving them often. Won't take you long to end up in the spam mailbox then. On the other hand, they aren't as engaging as regular emails, but it is of the essence that you keep them simple and to the point.
Instead of sending product emails often, monthly product updates are better to keep customers up-to-date with all the latest features and functionalities that your company offers. Individual product updates and constant emails are a big no as they will eventually get on the customer's nerves, leading to unsubscribes.
Simply put, a round-up of new updates periodically (monthly or quarterly) is the way to go. Remember that no matter how much a customer loves your brand, it is still vital for you to walk them through how the new features work or why a new product is possibly worth their investment.
Event Campaigns
Email invites are one of the best ways to invite people to an event your company promotes or hosts. But remember that if you want to try and invite your contacts to an event and want them to register, you must give them a compelling reason to.
One of the best ways to go about this is using aesthetically-pleasing visuals that illustrate the event details. Make an attractive party invite, cut down the copy, and include appropriate visuals to entice customers to attend. If something pleases their eye, it will definitely spark an interest to sign up.
Co-marketing campaigns
Co-marketing is one of the most effective ways to increase your reach. Essentially, it is called co-marketing when two or more complementary companies partner up for promotions and mutually beneficial tasks. These co-marketing campaigns can introduce your company and its services to the customer base of the partnering company, in turn increasing your reach. This partnership can include a strategic campaign announcement or a simple joint seminar.
Let's take a look at how email campaigns make a difference to co-marketing campaigns. If you decide to conduct a joint seminar, the invite will be sent out to the email lists of both companies. Note that this invite is going to a different subset of people as well, who are not a part of your original email list. This boost in reach is one of the key benefits of a co-marketing campaign.
Make sure that these emails include the logos and copies from both companies.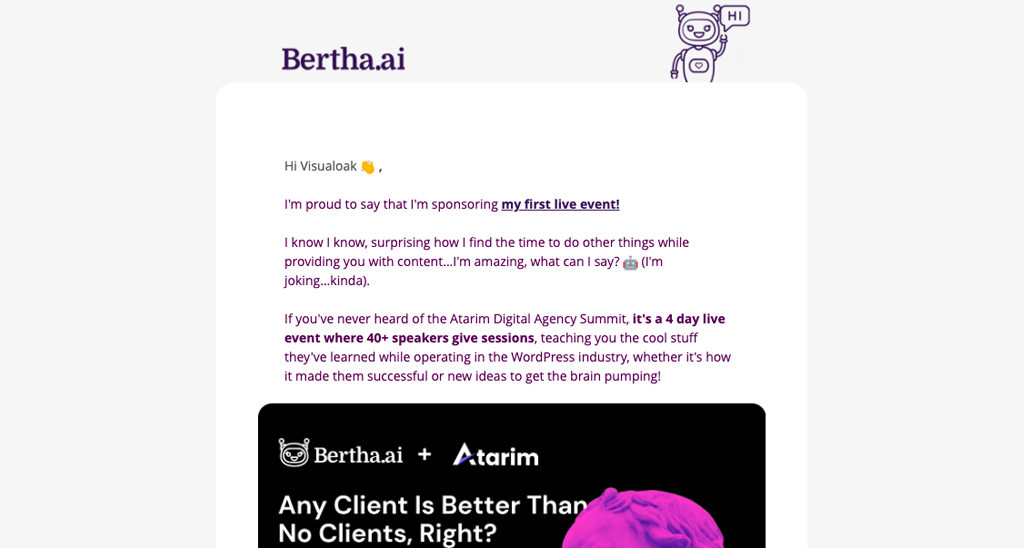 Reminder Campaigns
Reminder campaigns can be their own mini-marketing campaigns. These reminder emails are vital to bringing prospects back to the product you want to follow up on, thereby driving customer re-engagement.
The most common type of reminder email is an abandoned cart email. These automated emails are triggered when items are added to the shopping cart but are not bought. On top of that, if you want to incentivize the customer and happen to offer a discount on the product in their cart, you can shoot over an email saying something like, "Hey, looks like this product is still in your cart. Here's a 10% discount. Grab it before it's too late!"
These types of emails usually have high open and conversion rates. You might have noticed this type of email marketing is practiced by major eCommerce giants such as Amazon.
Post-sale Drip Campaigns
Post-sale drip campaigns play a large hand in customer retention and brand loyalty. These are sent with the intention of selling something, but rather as a simple follow-up email. 
For instance, let's say you have bought a new vacuum cleaner. A tech-savvy email marketer could set up an automated trigger to send you emails that reinforce your purchase decision and build brand loyalty.
For example, the first mail might inform you on how to care for the product; the second one might talk about the more unconventional uses of your particular vacuum cleaner, and so on. If the customer feels that your brand is delivering value even after the sale, you build customer loyalty.
Targeted Campaigns
Targeted email campaigns are one of the most effective forms of email marketing. But for a successful and engaging email copy, you need to have a 360-degree view of the target audience to understand their needs better. Although collecting accurate customer data like name, birthday, gender, age, profession, buying habits, interests, online behavior, etc., can be tedious. However, advanced analytics and CRM software can make this task achievable.
With targeted campaigns, you can pander to customers in different segments and offer to solve their woes in the most suitable way. By diversifying and targeting your email marketing campaigns, the customer will get a feeling of exclusivity and better connect with your brand.
Seasonal Campaigns
Seasonal email campaigns are a part of promotional email marketing and are launched during festivities and holidays. This doesn't just call for popular holidays such as Valentine's day. A smart marketer knows how to leverage less popular holidays such as Father's day to their advantage. From the build-up of the event to the follow-up mail, there are a lot of opportunities to send well-crafted emails to incentivize your customers with seasonal sales and offers.
Here are some pointers you should remember while planning seasonal campaigns.
Know the holidays and festivals of the country you are marketing in.
Start early to stay ahead of the holiday emails received by the customer.
Offer time-limited discounts on holidays.
Make sure the theme of the email matches the colors associated with the holiday. (for, eg., red and white for Christmas)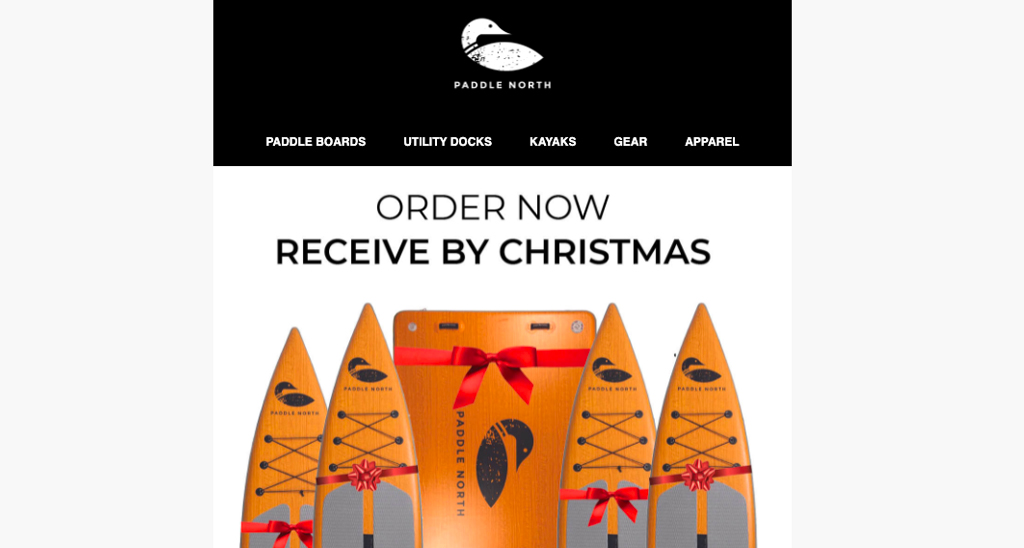 Automated/Triggered Email Campaigns
In simple words, automated/triggered emails just make a marketer's work easier, given that they are set upright. These emails are triggered when the customer performs a certain defined action. They then receive a series of targeted and relevant emails that helps the customer take the right action.
These actions can be anything from an abandoned shopping cart, response to a survey, downloading a piece of content, etc. In fact, over 75% of total email revenue is generated via automated/triggered email campaigns. You need to invest in the right email marketing software to set up automated emails.
Over to You
Now you're aware of the top 10 email marketing campaigns you can use to boost your sales in 2022. Invest in the right email marketing software, understand which strategy works best for your company, and get started right away!