Brevo (previously known as Sendinblue) allows you to automate email marketing, SMS marketing, and more. It provides all of the marketing and sales tools you will need for your small businesses. It also offers a Sales CRM, marketing automation features, and transactional email capabilities. More than 300,000 businesses around the globe use this platform to improve engagement with their customers and build better relationships.
How does this platform compare with its competitors?
Let's dive into our Brevo review to go over top features and pricing plans to give you a better idea of how this platform can help your business grow!
Brevo Features
Brevo offers tons of different features, but we think these are the ones that really stand out:
Email Marketing
As Brevo is highly popular as an all-in-one email marketing platform, you can leverage its features to create and manage email marketing campaigns according to your needs. Creating a professional marketing email is no big deal here. You can create an email from scratch or choose a readymade template from the library and customize it. All the necessary building blocks are there so that you can design the perfect email for your audience.
You can even personalize emails to impact your audience better. Managing the contact list is also easy on this platform. You can filter contacts and send emails to groups based on different criteria.
Once you leave the campaign to Brevo, it will intelligently determine when to send the email. A/B testing is also a great feature of this platform to ensure only the best email is sent.
SMS Marketing
This is another robust marketing tool from Brevo, which you can use to send bulk SMS to promote your products or services. You can also set up transactional SMS using APIs.
After you write the message, choose the contact list, and schedule the message, Brevo takes over and ensures the messages are sent in due time. Automated messages like shipping updates can also be handled on this platform.
Live Chat
Whenever a visitor on your website has any queries, you can answer them in real time with this live chat feature. You can customize your website inbox to match the theme of your business. Setting up the live chat feature isn't that difficult. You just need to customize the chat box and copy the code to your website.
CRM
Brevo CRM can be a helpful tool to manage the movement of customer deals. Creating opportunities and tracking them throughout sales funnels become a lot easier with this feature.
And you can track every bit of the customer interaction to identify where you can quickly close deals.
Marketing Automation
You can save time by using the marketing automation feature of Brevo. It will create an automated workflow for your marketing needs so that you don't need to do repetitive tasks.
With this feature, you can run your email or SMS marketing campaigns on automation. The tool will update and manage your contact list to send your campaigns for better conversions. It can also create workflows to drive more visitors through the sales funnels.
From following up with customers to luring them with rewards, it will handle everything required to boost sales.
Transactional Email
Brevo can handle transactional emails with high reliability. It guarantees a whooping 97% deliverability, which is crucial to building a more significant opportunity for the business. And you can use various technology stacks to send transactional emails.
Reports
No matter how many features you get, you won't understand whether the campaigns have become successful until you see the detailed report. Brevo creates detailed reports with all critical metrics for your consideration.
For example, you can have a look at the open and click-through rates of your emails. The platform also does A/B testing to ensure the correct email is sent to the audience. It optimizes the sending time so that the open and click-through rate increases.
Integrations
You have a lot of different integration options on this platform. Various plugins for WordPress, Shopify, Stripe, BigCommerce, etc., can be used here. You can also use APIs to run your SMS marketing campaigns.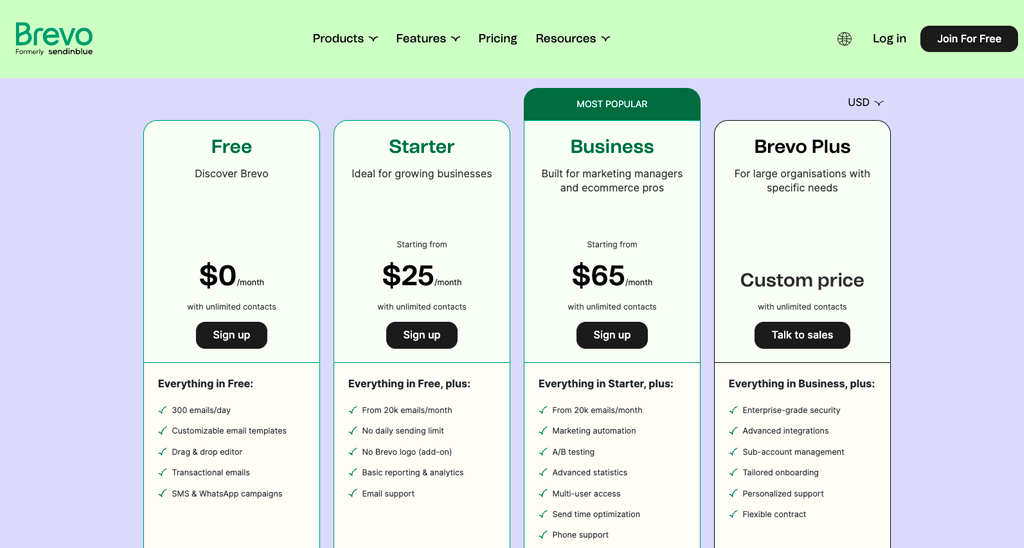 Brevo FAQ
What is Brevo?
Brevo (previously known as Sendinblue) is a complete marketing platform with specializations in email marketing, SMS marketing, CRM, Facebook ads, marketing automation, and more. The most common feature is email marketing, and Brevo makes it easy with its drag-and-drop editor.
Can I try Brevo for free?
Yes, Brevo offers a free plan that works for most small businesses. You can send up to 300 emails per day, and this includes transactional emails and even SMS messages.
Pros & Cons
Pros of Brevo
Affordable subscription options
Reliable email deliverability
Omnichannel with SMS capabilities
GDPR compliant
Cons of Brevo
Not the best for beginners
Lacks phone support for entry-level plans
Plans & Pricing
Brevo offers four different plans, all offering a different set of features.
Free – send up to 300 emails per day, including transactional emails and SMS sending capabilities. Also includes basic live chat functionality and reporting.
Lite – starting at $25/mo – send up to 100,000 emails per month, with no daily sending limit. Upgrade to the Lite+ add-on for A/B testing, white labels, and advanced statistics
Premium – starting at $65/mo – send up to 1 million emails per month and get the best features – including marketing automation tools, landing page creation tools, and telephone support.
Brevo also offers Enterprise plans for marketers with advanced needs. Their Enterprise plans require working with their sales team for a quote (since it is customized to your individual business needs). It includes everything in their Premium tier along with multi-user access, SSO, and a dedicated customer success manager.
Summary & Our Recommendation
Brevo eliminates the need for a bunch of marketing tools with its all-inclusive feature set. It offers email marketing, SMS marketing, CRM, marketing automation, and many other tools to that modern businesses need for digital transformation. Brevo has flexible pricing plans which means your budget for email marketing can be predictable. The free plan offers a huge number of features that is sufficient for many small businesses. As you grow, you can upgrade to the Lite plan (starting at $25 per month) to scale your marketing operations.
Click here to send 300 emails/day free with Brevo!