How to Create an Outline in Google Docs [2023]
An outline is similar to indexing your documents. When you work on long documents with tens or hundreds of pages, navigating through the document becomes challenging. With an organized outline, you can quickly go to the desired section with a few clicks. To do this, you need to create an outline first.
In this guide, we will talk about what an outline is and how to create an outline in Google Docs. Besides showing the step-by-step process, we will also show you how you can create an outline using your phone, too! Android or iOS. Let's get started!
What Is a Document Outline?
An outline is the core structure of a document. For example, you may be working on a document related to your company policy. In this document, there should be a title, and individual policies or rules should be mentioned in paragraphs under headings. Some policies may even have sub-sections that will be marked with their own subheadings.
When someone sees your outline, they can quickly understand what content is inside the document which is why an outline is essential when for a wide array of business documents. You can also think of it like the index in a textbook.
Google Docs has an outline feature to help you create a more organized document quickly and easily!
An outline has several benefits including:
With an outline, a document looks more organized and professional.
Readers can easily extract the content of a document by checking the outline.
Going to any specific section is convenient with an outline.
Creating an outline is no big deal, but if you are new to this, check our helpful guide below.
How to Create Outlines in Google Docs (Step-by-step)
Step 1: By default, the outline icon should appear in the top left corner of the white space. If you click it, the outline pane will expand on the left side of the document.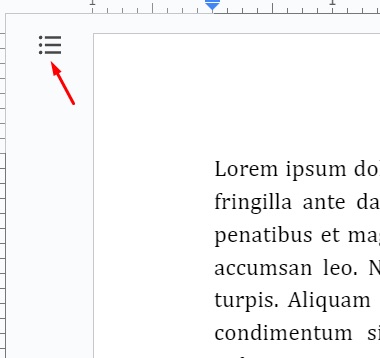 If it isn't there, you can click the View menu. Then, click on Show outline, and the outline pane will appear. You can also use keyboard shortcuts to view the outline. Press and hold Ctrl + Alt, and then press A + H. It will make the outline pane visible.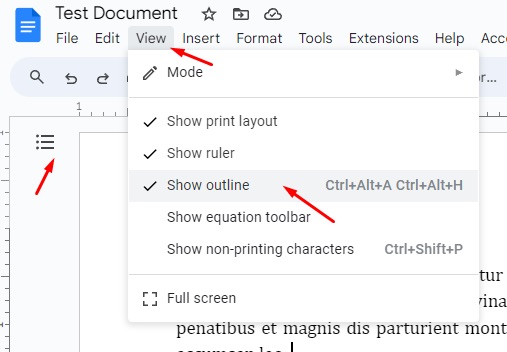 Step 2: We didn't create an outline yet. To create an outline, we need to make headings of various types in our document. Let's select the text we want to use as the most significant heading. Then, click the drop-down menu beside Normal text and select Heading 1 from there. This will be applied to the highlighted text.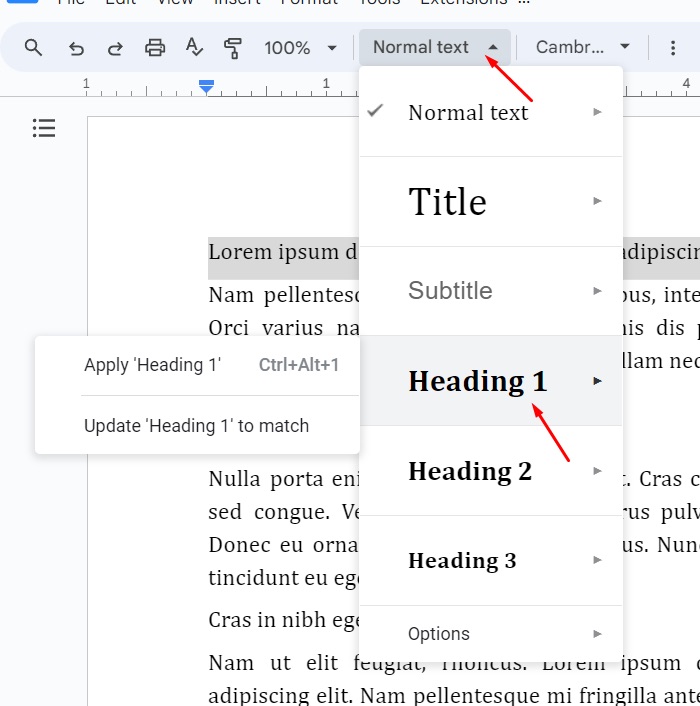 You can see that Heading 1 is applied to your text, and appears as a heading in the outline.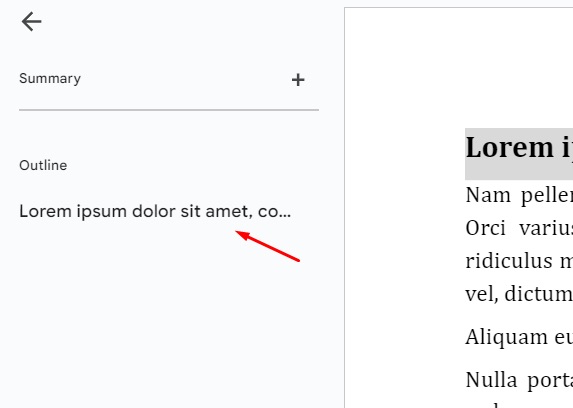 Step 3: You need to follow a similar process for the next heading. After selecting the text, you need to click the drop-down menu and select Heading 2 from there.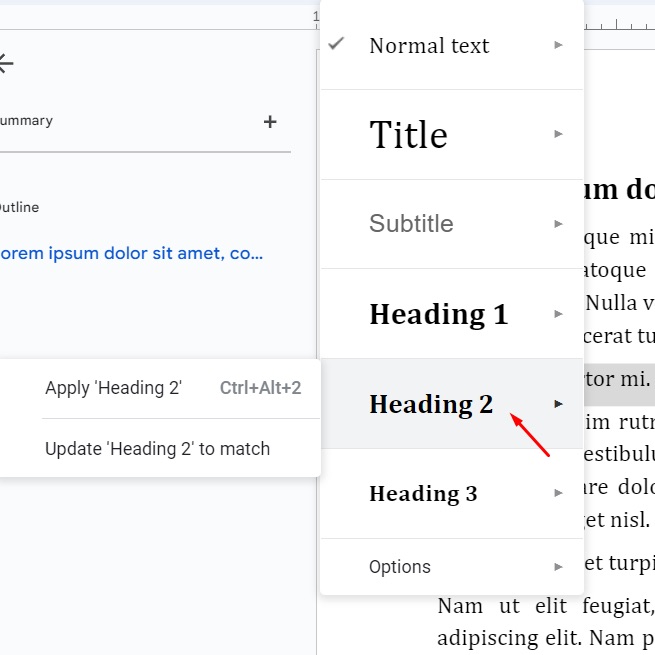 Heading 2 has been applied to the highlighted text, and it appeared as Heading 2 or a subheading under Heading 1 in the outline.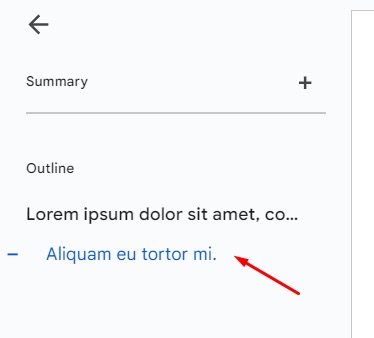 Step 3: For the next heading, select the desired text and click the drop-down menu beside Normal text. Then, select Heading 3 from the menu.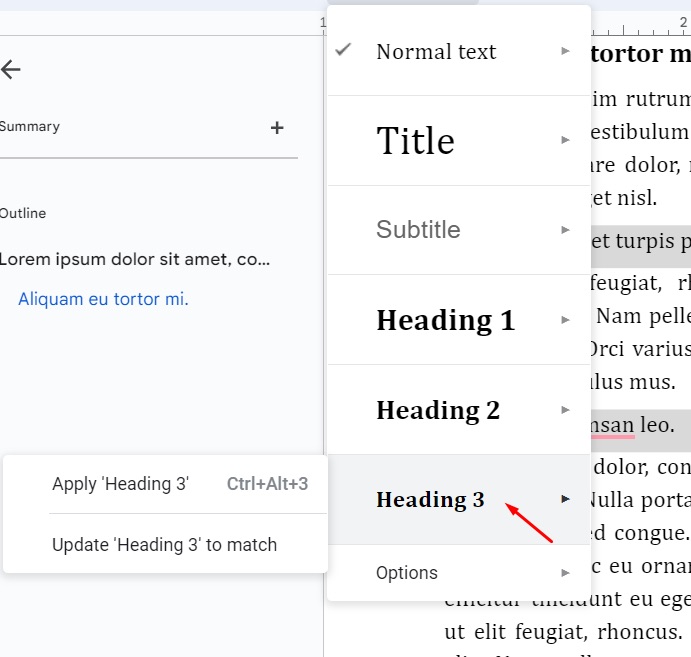 Heading 3 has been applied to these two headings, and they appeared in the outline as subheadings under Heading 2.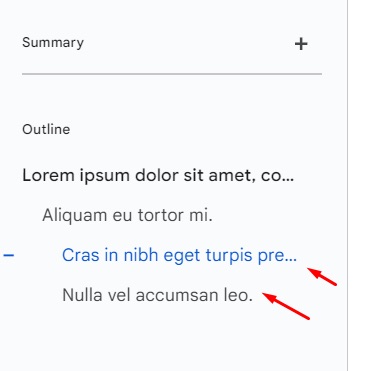 Congrats! You've successfully created an outline in Google Docs on your computer! 🎉
How to Create Outlines in Google Docs on Android
You can use the Google Docs mobile app on your Android smartphone or tablet. In this case, you need to follow these steps to create an outline in Google Docs.
Step 1: Open a document in Google Docs. Click the pen icon in the bottom right corner of the screen to start editing the document.
Step 2: Select any text you want to use as a heading. Then, tap the Format icon in the top navigation bar.
Step 3: Select Style from the menu and apply the desired heading to the highlighted text.
Step 4: Click three vertical dots in the top right corner of the screen. This will open the menu, and tap Document Outline from the menu. Your outline will be visible now.
How to Create Outlines in Google Docs on iOS
If you use an iPhone or iPad to edit documents in Google Docs, the following steps will be helpful for you. Check them out.
Step 1: After opening a document in Google Docs, enter editing mode by clicking the pen icon.
Step 2: Select your desired text and tap on the Format icon. Then, go to Style and apply the heading you want.
Step 3: Now, click three vertical dots and select Document Outline. The outline will be shown at the bottom.
Final Thoughts on Google Docs outlines…
An outline is a crucial element of any organized document. They help make the document more accessible to readers; creating an outline in Google Docs is super easy.
You just need a few mouse clicks or simple keyboard shortcuts to create the outline. In this guide, we showed how to create outlines in Google Docs on multiple operating systems, and we hope it helps you create impressive documents.