How to Assign Tasks in Google Docs [2023]
Google Docs is a very popular tool for creating, editing, and sharing documents online. So, it's commonly used to collaborate with friends, teammates, or colleagues. When multiple users work on a document, it's crucial for everyone to know if they need to make any changes to the document or take any action that is mentioned in the document.
This can be simplified by assigning tasks to specific users. In this guide, we will show you how to assign tasks in Google Docs so that you can streamline your workflow and collaborate better with other users.
Benefits of Assigning Tasks in Google Docs
When working on a project or planning a tour, assigning tasks to specific users helps to break down the work pressure.
Users get notified about the assigned tasks, so they can easily check what they need to do.
Once the assigned tasks have been completed, assignees can mark them as complete, which is visible to everyone.
How to Assign Tasks in Google Docs
Step 1: Open the document and write down your tasks anywhere in your document. For example, we have written two tasks in our document. Now, one or more tasks according to who you want these tasks to assign to. Then, click the Comment icon in the toolbar.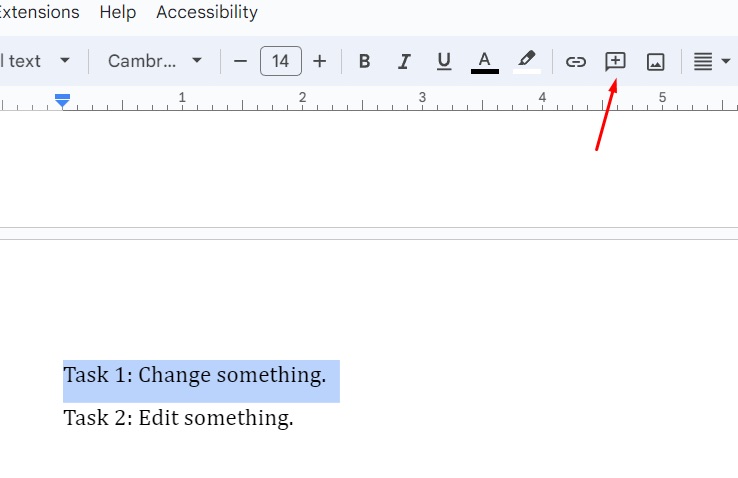 Step 2: The comment box will appear in the white space on the right side of the document. In the comment box, you need to type (+) first and then type the Gmail address of the user.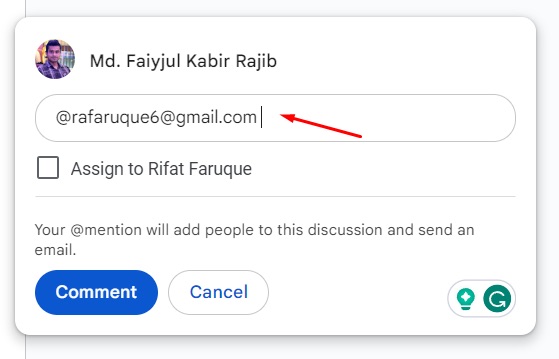 Step 3: After typing the user's address, you will see a checkbox named Assign to [User] below it. Click the checkbox to tick it. Then, click the Assign button at the bottom.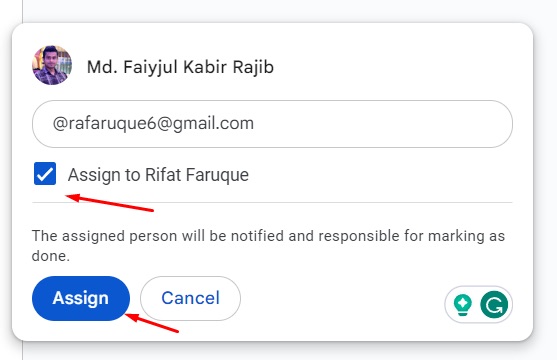 This will assign a task to the mentioned user, and they will be notified about the task through email.
How to Delete Assigned Google Docs Tasks
If you feel that the assigned task is no longer required, you can delete that task. Here are two ways to delete assigned tasks:
For tasks assigned using checklists, hover over the user's icon beside the assigned task. Once the task detail pops up, you can click the Delete icon, which looks like a trash bin, to delete the task.
If you have assigned tasks using comments, you can click the tick mark on the comment to resolve it.
Final Thoughts on Assigning Tasks in Google Docs
Assigning tasks is a simple yet essential feature in Google Docs. With this feature, you can instruct users to perform specific actions and assign a due date. This is helpful when multiple people collaborate on one document. In this guide, we showed you how to assign tasks in Google Docs. You can now easily assign tasks to other users and improve your workflow using these two methods.