Gravity Forms Review – Pros & Cons [2023]
Gravity Forms is an online form builder with unique and advanced features that make the form creation process super convenient (it's a WordPress plugin). Gravity Forms brings a drag-and-drop form builder directly to the WordPress admin area, which lets you create engaging forms in minutes. The forms are fully responsive on all devices. One of our favorite things is that you can use conditional logic to improve user experience and collect precise information. There are some drawbacks with Gravity Forms, though and some features could be improved. Let's find out how well this tool performs, its features, pros, and cons.
Top Features of Gravity Forms
To understand Gravity Forms' features better, we have organized them into several sections. Let's dive in!
Form Builder Features
The form builder (or editor) is simple to use. This form builder has a minimalistic design so users can quickly locate all the features, including:
Drag-and-Drop Builder – A drag-and-drop editor is probably the easiest way to create online forms without any coding knowledge. You can simply drag items from the left sidebar to the form builder and play with their orientations, appearance, sizes, etc. You have multiple items inside this tool to make your online forms stand out. Though some alternatives might offer more elements, what you get is enough for creating attractive forms.
Form Import and Export – You might need to fetch existing forms to this platform in many cases. If you create a form on this platform, you might need to export it elsewhere. Whatever you need, Gravity Forms has solid import and export features to import from and export to multiple platforms easily.
Multi-Column Layouts – Adding more than one column to your forms is no longer a big deal. You can have as many columns as you need in your forms and customize their dimensions to make them look good. Dragging elements to the new column is also easy; we didn't see this feature on many form builder tools.
Save and Continue – This is a must-have feature if you want to recover data from users who left the form without submitting it. With this feature, you allow them to save their progress and come back later to complete that submission. It's helpful for both users and the website owner.
Paginated Forms – If you have a very long form, a one-page form may not be appealing to users. When you break the form down into multiple pages, submitting each segment becomes easier. You can do this with Gravity Forms which helps improve the user experience.
Responsive Forms – You never know which device a user will use to fill out a form. So, it's wise to set up responsive forms that are easy to view and fill out from any device. You can generate fully responsive forms that adapt to any device.
Conditional Logic – To make forms clutter-free and more relevant, conditional logic is utterly beneficial. You can use conditional logic to show or hide specific fields, sections, or pages depending on how users interact with each question. Setting up the conditional logic might seem a bit difficult for beginners. Some alternatives offer a simpler interface for the conditional logic part.
Language Support – Though Gravity Forms have foreign language support, this service may not be as good as other online form builders. It will inherit the general setting of your WordPress website, but some alternatives may support translations so users can fill out a form in their native languages.
Custom CSS – Though expert professionals create all form designs, they might not always suit your needs exactly how you want. In such cases, you can use your CSS knowledge to write custom codes to customize forms. This allows you to align all forms to your brand voice.
30+ Form Fields – Gravity Forms offer more than 30 fields to include in your forms to collect detailed information from users. Form fields include basic fields like single line and paragraph text, to more advanced fields like file upload, multi-select, and quizzes and surveys.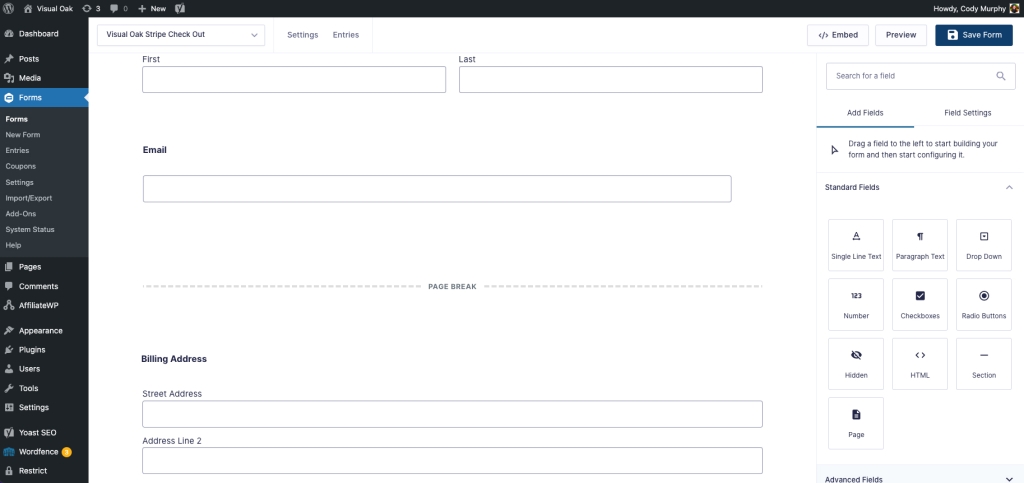 Data Collection
Collecting submitted data is a big part of the process. Gravity Forms has multiple features to make this process easier. Here is a detailed overview.
Email Logic – Sending email notifications and confirmations requires sound email logic to be set up. With Gravity Forms, you have the ability to use email logic to automate complex workflows. This system can detect responses from a user and take different steps to send emails.
Field Validation – Collecting data is a struggle for a lot of people with invalid data when using traditional forms. With field validation on Gravity Forms, you only get the data that is extractable and usable.
API and Webhooks – Though we didn't see as many free integrations as other tools on this platform, you have the REST API and webhooks to create native integrations for your forms. This software is mainly a developer thing, so we don't think general users will benefit from this feature.
Data Routing – Instead of submitting data through forms, you can take data to submit to different platforms, such as CRM tools or emails. Setting this up might be a bit difficult for new users.
File Uploads – Providing information becomes easier when users can upload files. With Gravity Forms, you can add fields for uploading files, and users can upload files from their devices or cloud storage, but you need to use specific integrations to upload files from cloud storage.
Dynamic Field Values – Users don't need to fill out all the fields manually. With dyanimic field values, inputs can be generated dynamically depending on what users select or what data they input. Similar field types can also fetch values dynamically to make the process faster.
Digital Signatures – When filling out forms, users can give electronic signatures to make the submission legally binding. Many other alternatives have this feature too, but digital signatures aren't available on low-tier plans.
E-Commerce & Payment Capabilities
Managing different aspects of e-commerce is straightforward with Gravity Forms. Here are a few examples:
Automated Payments – Easily create and manage subscriptions with recurring payments using your preferred payment processor.
Payment Processor Integration – Gravity Forms offers multiple integrations for payment processing including Stripe, PayPal Checkout, Square, Mollie, Authorize.net, and 2Checkout.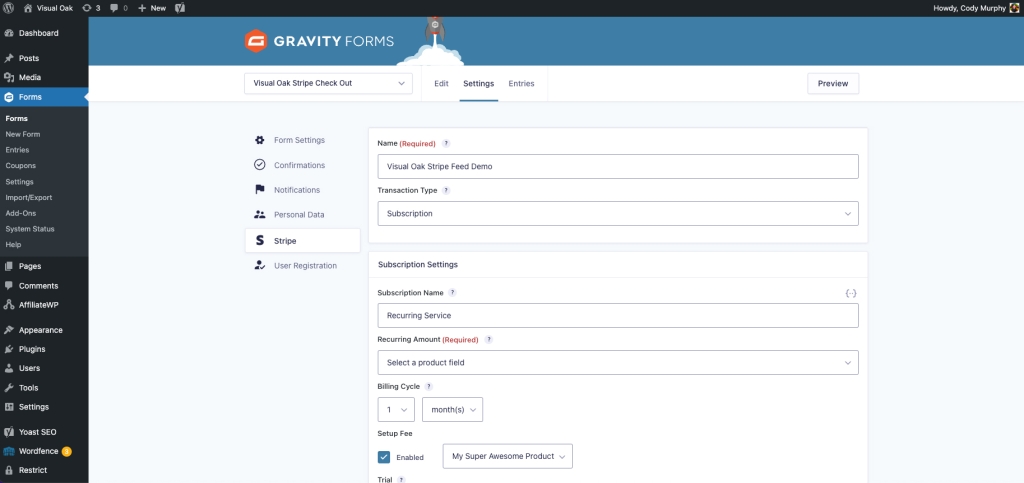 Security
Online forms should have enough security to give users a sense of safety. Gravity Forms boasts all the necessary security features.
GDPR Compliant – From managing user consent to handling personal data securely, Gravity Forms is GDPR compliant which is essential for many internet businesses.
Google reCAPTCHA – To prevent bots and spammers from crowding your servers, Google reCAPTCHA has an easy integration with Gravity Forms.
Pros & Cons of Gravity Forms
While Gravity Forms offers many helpful features, there are a few drawbacks to be aware of. Here is a quick list:
Pros
Most features are easy to use for non-technical users
More than 30 form fields are available to create unique and engaging forms
Setting up conditional logic and email logic helps improve user experience and automate workflow
Form field validation and spam prevention help collect the correct information
REST API and webhooks are available to create native integrations
Cons
Some advanced features require a bit of a learning curve
Customizing forms with CSS codes might not be easy for everyone
Many features are subject to the pricing plan you use
Gravity Forms Plans & Pricing
Gravity Forms offers three pricing plans. Here is a quick overview of these plans.
Basic License – starting at $59/year

1 site
Standard support
Active Campaign add-on
Campaign Monitor add-on

Pro License – starting at $159/year

3 sites
Standard support
Stripe add-on
Dropbox add-on

Elite License – starting at $259/year

Unlimited sites
Priority support
WordPress multisite
User registration add-on
Gravity Forms FAQ
Does Gravity Forms have a free version?
No, Gravity Forms doesn't offer a free version. You'll need a paid license, that starts at $59/year.
Who owns Gravity Forms?
Gravity Forms is owned by a company called Rocketgenius. They have been part of the WordPress space for years!
Our Take on Gravity Forms
Gravity Forms is an online form builder tool that you can use to create eye-catching and responsive forms for all devices. Gravity Forms allows you to include more than 30 form fields to collect various data from users. These fields can be validated automatically to ensure you only receive the necessary data for your purposes. Gravity Forms offers different features to make form submissions easier for users. They can save their progress and complete the submission later. Conditional logic is one of the powerful features of this tool, but it might take some time for beginners to get familiar with it. The language support isn't as good as other form builders. And there are no visual buttons or editing options to customize the form elements without writing CSS codes. Their pricing starts from $59 per year, which is a great value compared to other online form builders.