Best Business VPN for Security & Compliance [2023]
A business VPN is a secure connection used by businesses and other professional organizations to create an encrypted channel that connects workforces and users to a company's internal network. Usually, businesses use these types of VPNs to securely give their remote employees access to internal apps and data. This helps them create a single shared network across multiple company locations.
A business VPN may also be known as a corporate VPN, company VPN, or enterprise VPN. They are notably different than a consumer VPN.
There are three types of Business VPN solutions, namely:
Fixed VPN — Also called static or dedicated VPN, it gives each user a unique IP address from a list of IPs assigned to your business. These single IPs will not be used by other employees or clients. It is an ideal VPN for businesses that restrict resource access to the company network.
Network VPN — This VPN comes with a kill switch and integrates directly to the router or any specialized server used by the business. Generally, the Network VPN is managed by an in-house IT department. This type of VPN is perfect for businesses with a large workforce using multiple devices, and want to eliminate the risk of unsecured traffic.
VPN Service — VPN service offers VPN functionality through the cloud and routes traffic from the VPN provider's tunnel. This is a more affordable option and provides enough tools for startups and small businesses.
The Best Business VPNs for Most Companies
Perimeter81 is the best VPN provider for businesses and is specifically designed for the security and privacy needs of organizations. Perimeter81 provides end-to-end encryption for employees and allows your business to control access, similar to only allowing authorized people to enter your office building.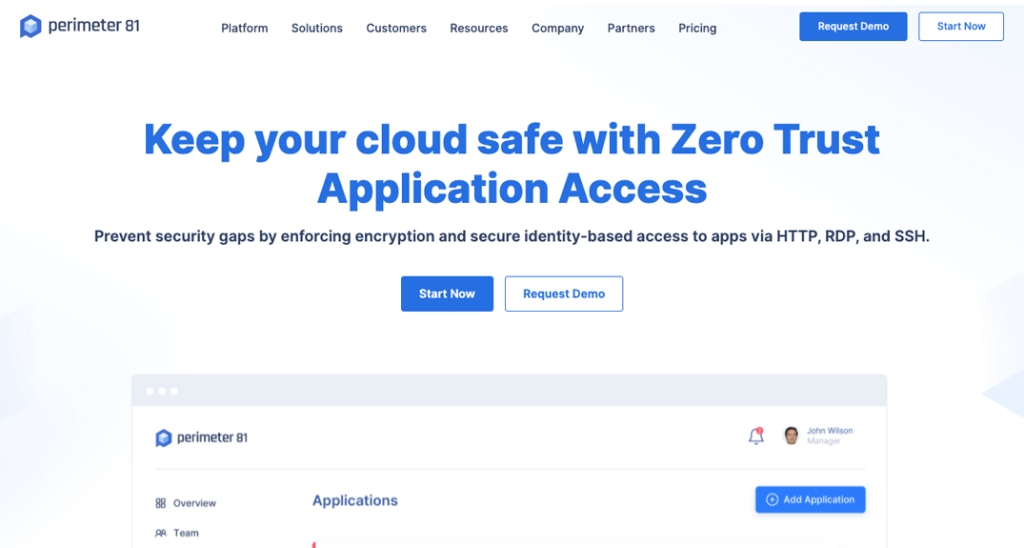 What are the Benefits of a Business VPN?
Any business – big or small – can easily fall prey to cybersecurity breaches. A business VPN can help mitigate their impact. By allowing anonymous connections, a VPN will keep all important documents, files, apps, and passwords safe.
That's not all; even beyond cybersecurity, a business VPN can help organizations of all sizes in several ways. Let's find out how.
Heightened Data Security — Business VPNs encrypt and pass the data through a secure tunnel for maximum protection during web sessions. Some also provide malware detection in downloaded files downloaded.
Increases Employee Productivity — A VPN rides on any internet network you connect to and provides ubiquitous private network access equally. This ensures access to enterprise applications from a mobile network or open Wi-Fi. This can increase productivity when employees are away from office locations.
Ensures Client's Data Security — Be it a client, a customer, or a patient, data collection poses several risks when you are not operating through a secure VPN. Getting a business VPN will certainly ensure necessary data protection. Educating your clients about your data security policy in layman's terms will help build trust and increase business opportunities.
Affordability — VPN costs may vary but one thing that is apparent in today's cyber-centric work culture is the need for data protection. You can choose from a variety of packages or even go for a free service to suit your business needs.
Geo-Independence — Employees who travel to countries with restricted internet access may be blocked from any corporate resource they need to work on the internet. Business VPN allows internet access from a remote location anywhere around the world. However, it is necessary to check whether your VPN service provider is not logging your data extensively. Read the privacy and login policy before buying any VPN for your business.
BYOD Compatible — BYOD policy is popular among 85% of the companies. The policy may pose security threats but contributes greatly to reducing infrastructure costs. To ensure total data security, a reliable VPN service can be purchased that will protect employee, company, and client data even when the device is connected to an unsecured network.
Anonymity — A VPN service provider permits employees to use its IP addresses for internet browsing, ensuring online anonymity. This also prevents hackers from tracking or stealing data on their devices. Privacy preference settings are there to protect the corporate network from any breaches.
How Do Business VPNs Work?
With the pandemic forcing businesses to shut down location operations all over the world, the shift to hiring a remote workforce has happened at a lightning-fast pace. Almost 30 million Americans work remotely during these times 4-5 days a week. Companies are benefiting from this as their location costs are saved.
This is where Corporate VPN services step in, helping route an employee's online activity through a server so they are directly connected to their company's network. The data is put into a VPN tunnel or pathway on a private network like a company's intranet for optimum security. Anyone outside the VPN tunnel is not allowed access to a user's IP address or the traffic on the network. The network is under the surveillance of IT admins who have the authority to allow users access to the network.
These data tunnels are generated through encapsulation in which data packets are positioned inside additional data packets. These packets are then encrypted for protection from unauthorized access without restricting data movement inside a private network.
Whenever a connection is established from the client's location to the point of access (internal network of a company), those data packets can be opened only by interfaces with permission to open the concerned data packets.
For companies having far-flung branch offices and a remote workforce, VPNs come in handy when transmitting data securely and quickly over a private network. This model is highly effective in allowing companies to expand the number of remote employees and add new locations without risking data security.
Top Features To Look For In A Business VPN Provider
Here are some features that you should look for while getting a business VPN for your company:
Multiple Server Locations
For accurate tracking of geographic location, a VPN service should have servers at multiple locations where companies can store their data for easy access to employees. This also ensures efficient operation and prevents server overload or slow connection issues. A service with few server locations detects the IP address of the web browser which may cause security concerns.
Centralized Management
A centralized management console is necessary to control access permissions and manage user accounts. If possible, look for "gateway" management or role-based access facility in your VPN. These ensure users access only to those parts of the network that they need to do their job.
Data Log Clearing Policy
VPNs log some user data to limit device connections to the server. Mostly VPNs log the IP addresses and session times. However, some VPN services also log the downloaded files, website addresses, and the software used by the employee. Therefore, you must read the Data Log Clearing Policy of a VPN service to know that they are transparent about their data logging.
Integrated Kill Switch
Multiple layers of protection are needed on a network to ensure maximum security. An Integrated Kill Switch makes sure that IP leaks are prevented in case there is a failure due to VPN service overload. The switch cuts off the network access on devices to stop the transfer of any data that is unencrypted.
Regular Mobile App Updates
First, you need mobile support in a VPN service so your entire device fleet is protected. Secondly, a VPN must offer regular updates to the app for efficient functioning.
Support For Multiple Protocols
VPN protocols are rules that connect the VPN client/software and the VPN server. Some of the most common protocols available out there are PPTP, SSL, SSTP, IPSec, OpenVPN, and SSH. You can choose from a wide selection of these and many other protocols to suit your organization's requirements. User accounts can be removed or set up from the IT admin's console along with tracking of software and devices that users are being used to access the VPN.
How Much Do Business VPNs Cost?
Many VPN services offer discounts on long-term contracts. However, the average cost of a Business VPN service ranges between $2-$10 per user, per month. Signing up for a year costs a bit less than the monthly package. However, a 2-3 year VPN service contract costs two-thirds less than what you pay in a month. Also, you can go for free VPN services depending on your business requirements.