Rocket.net Hosting Review – Pros & Cons [2023]
Rocket.net is a fully managed WordPress hosting platform launched in 2020 with the mission to deliver WordPress as close as possible to visitors around the world. Powered by Cloudflare Enterprise, every WordPress install on their platform benefits from a built-in CDN, dual Web Application Firewalls (WAF), and built-in HTTP/2 and HTTP/3 support. This means that Rocket.net websites are delivered from the edge as fast and as securely as possible.
Performance comes at a cost, though. Is Rocket worth it? Let's dive into our Rocket.net review and find out…
Table of Contents
Rocket.net Features
Hosting Control Panel
Rocket.net's control panel is beautiful and the dashboard shows key metrics like disk usage and bandwidth at a glance. While this shows you the amount of hosting resources being used, it's also useful to gauge how well your website is doing in a given month. We're all trying to grow traffic, right?
They offer one-click access to the WordPress Dashboard, too, and it's easy to add additional sites if you're on a Pro or higher plan.
Unlike cPanel-based web hosting companies like InMotion Hosting, you can create and view support tickets from the same dashboard used to manage your hosting account. Nice!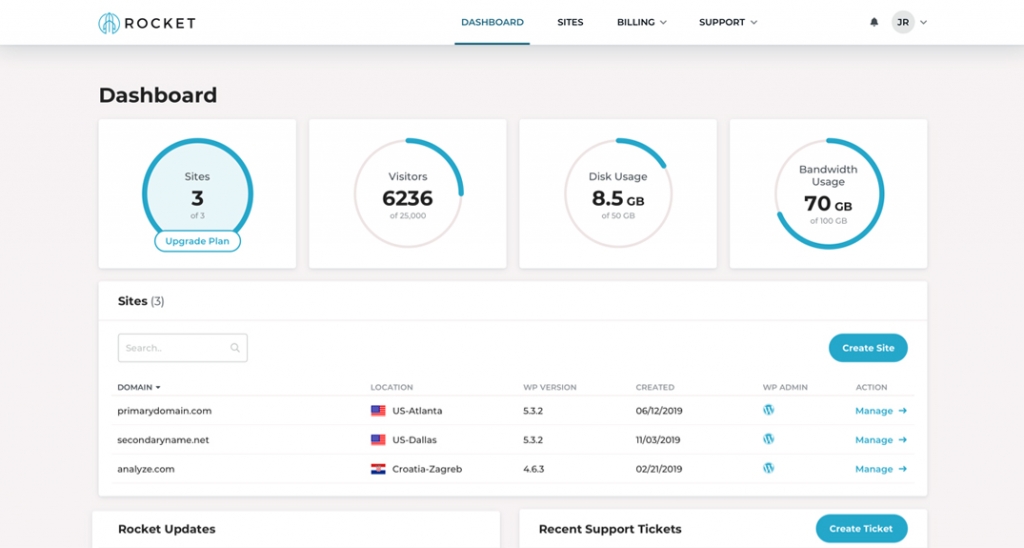 Cloudflare CDN
All traffic to their platform is delivered by Cloudflare Enterprise. Yes, that means your website will be able to leverage benefits that usually cost larger organizations over $6,000 per month.
What are the benefits of this, though?
With Rocket, you're able to leverage all of Cloudflare's Points of Presence with priority routing. This means your website can take advantage of premium markets like Australia and India and your website is prioritized over all other traffic globally.
Website Firewall (WAF)
Two Web Application Firewalls power the Rocket.net network. The first uses Cloudflare and, once traffic passes that firewall, requests are passed on to their in-house Imunify360 WAF. This robust protection protects your WordPress against SQL injection, malicious file upload, cross-site scripting (XSS), and even comment spam. No plugin is required.
Expert WordPress Support
Unlike EIG hosting which leaves something to be desired when it comes to support, Rocket.net's team is comprised of true WordPress experts (remember who the founders are?). Rocket offers 24/7 support via phone, chat, and email, and their team will even help you optimize your WordPress website for no additional cost. That's truly managed WordPress hosting.
Plans & Pricing
There are four different Rocket hosting plans to choose from, with the main difference being the number of available WordPress installs.
Starter (1 install) – $30/mo
Pro (3 installs)– $60/mo
Business (10 installs)– $100/mo
Agency (25 installs) – $200/mo
Rocket offers monthly and annual billing terms. You'll get two months for free if you pre-pay for a year upfront.
Click here to try Rocket.net and get your first month for $1
Rocket.net FAQ
Does Rocket.net offer phone support?
Yes, they offer 24/7 support via phone, chat, and email.
Does Rocket.net offer free WordPress migrations?
Yes, their team will migrate an unlimited number of WordPress sites to their platform for no charge.
Can I use a caching plugin with Rocket.net?
Yes, Rocket is fully compatible with every WordPress plugin – including caching plugins.
Pros & Cons of Rocket.net
Rocket.net is a great option for managed WordPress hosting, but like every service, there are both pros and cons.
Pros
Easy control panel
Cloudflare Enterprise
WAF protection
Experienced support (truly managed)
Cons
Expensive for individual websites
Executive Summary
Rocket.net is arguably the best WordPress platform thanks to Cloudflare Enterprise, dual firewall system, and numerous WordPress optimizations like HTTP/3 support with brotli compression. They are an independent hosting company and offer 24/7 support via phone, chat, and tickets. You'll have to budget for Rocket hosting, though, but that should be expected given the amount of cutting-edge technology they use for their platform.
We highly recommend Rocket if you're serious about WordPress. Their platform provides the best hosting experience for small businesses, agencies, and WooCommerce sites alike.
Click here to try Rocket.net and get your first month for $1