Otter.ai Review – Pros & Cons [2023]
Otter.ai is a transcription tool that helps you convert your audio or video files into text documents. This tool can identify speakers by name and generate automated summaries for you. Besides the live transcription feature, you can also use the live notes and captioning feature for Google Meet. From cloud recordings from Zoom or audio/video files from Dropbox, Otter.ai can automatically sync all of your files for transcription. While the platform offers tons of other features to quickly transcribe content, it isn't without its drawbacks. In our Otter.ai review, will give you an in-depth overview of its features, pros, cons, and pricing plans. Let's go!
Top Features of Otter.ai
We picked some of the top features for this review and showed you how they benefit all levels of users. Watch closely.
Automatic Transcription – Otter.ai uses advanced speech recognition technology to detect English speech and convert it into text within minutes. This tool can even understand different accents, but the lack of multi-language support is one of the biggest shortcomings here. This would be better if the tool could work with multiple languages.
Speaker Identification – When you transcribe an audio or video file with multiple speakers, Otter.ai can accurately identify speakers and put labels accordingly to make transcriptions more understandable. Though many other transcription tools have this feature, Otter.ai works more efficiently.
Automated Summary and Word Clouds – In some cases, you might want to generate the summary of a large audio or video file. Otter.ai can handle this task to create summaries accurately. This feature is still in BETA, so you might not expect high accuracy or efficiency from this, but we hope this improves over time.
Live Transcription, Notes, and Captioning – This is a must-have feature for any good transcription software. Otter.ai boasts a live transcription service where you can record audio with the Otter app and generate its transcriptions right away. Besides, you can use the live notes and captioning feature for Google Meet. So, next time you have a business meeting or pitch an idea on Google Meet, you can have Otter.ai back you up with live notes.
Automatic Sync of Files from Cloud Storage – Importing large files from places for transcription is a big hassle. Otter.ai eliminates that hassle by automatically syncing to various cloud storage services. So, you can easily access your audio or video files on Dropbox or cloud recordings on Zoom without exiting the Otter.ai account; making the whole transcription process more efficient.
Otter Assistant – One unique feature of Otter.ai is the Otter Assistant. This is an AI-powered tool to join meetings and take notes on your behalf. Though the number of concurrent meetings the Otter Assistant can handle differs based on which plan you subscribe to, this feature comes in handy when you have a lot of engagements and still need to take notes or transcriptions.
Unlimited Real-Time Recordings and Transcriptions – Though the length of audio and video files you transcribe varies depending on which pricing plan you are subscribed to, you get to record and transcribe unlimited real-time meetings. This is very helpful when you mostly need to record and transcribe business meetings; content creators might not find this feature as attractive.
Import Pre-Recorded Files – If you want to directly import pre-recorded audio or video files to the platform from any of your devices, that is possible on Otter.ai. Low-tier plans have a limited number of imports, but high-tier plans offer unlimited imports. This tool is convenient when you need to work with pre-recorded audio or video files for quality issues.
Custom Vocabulary – Otter.ai lets you create custom vocabularies for names, jargon, or acronyms to bring variation to your transcripts. This comes in handy when you have specific terms in your speeches and want the tool to recognize them quickly. Though this feature needs some improvement, the option is at least there to improve the quality of your transcripts.
Editable Text and Time Codes – Once the transcription is generated, you can take control and edit the generated text to your liking. You can also edit time codes to fine-tune the transcription. Besides, Otter.ai also offers real-time annotation, such as highlights, comments, text notes, etc.
Web and Mobile Recording
Besides recording audio on the mobile app, you can also use this tool on your browser to record audio. Though the sound quality might not be as good as it would be with dedicated recording setups, you still have the opportunity to record something on the go, this makes Otter.ai a good tool for transcription when you are traveling.
Audio Input from Bluetooth and AirPods – Using the built-in mic of your device is a common feature that most transcription tools have. Otter.ai goes one step ahead to support audio input from Bluetooth and AirPods, so you can easily record audio on your mobile devices. The audio quality is comparatively better, but you should not expect anything extraordinary.
Advanced Search with Conversation History – This feature allows you to search content by speakers, date range, and other filters to find the proper document needed. The search feature is pretty accurate and helpful. We should also mention that you have unlimited conversation history on all plans except Basic.
Variable Playback Speeds – If you set playback speeds to slower or faster than usual, Otter.ai can easily detect the speech and convert them into text accurately. The Basic plan supports only standard playback speed, whereas other plans support 0.5x to 3x playback speeds. This is helpful if you want to tune up or tune down your audio for a better transcription.
Organize and Share Files
You can organize your files in different folders, becoming effortless to work with large numbers of files. You can share these files in private groups or using public links. Sharing in public groups is also possible.
Various Formats for Export – Be it an audio or text file, you can export in various formats. Otter.ai supports MP3, TXT, DOCS, PDF, SRT, etc., so exporting your transcriptions becomes easier. You can also use the bulk export feature to generate more outputs at once.
Advanced Analytics with Reports – Otter.ai has advanced analytics to measure all your performance metrics. This tool also keeps you updated with easy-to-understand reports so you have a better visual of everything you do on this platform. User management features are also helpful, but these features are only available on high-tier plans.
Highly Secure – Otter.ai uses TLS and AES-256 encryption to keep all your content secure. Plus, this tool has two-factor authentication, so no one can access your account or intercept your files on the platform. A single sign-on feature is also available, but that is limited to the Enterprise plan.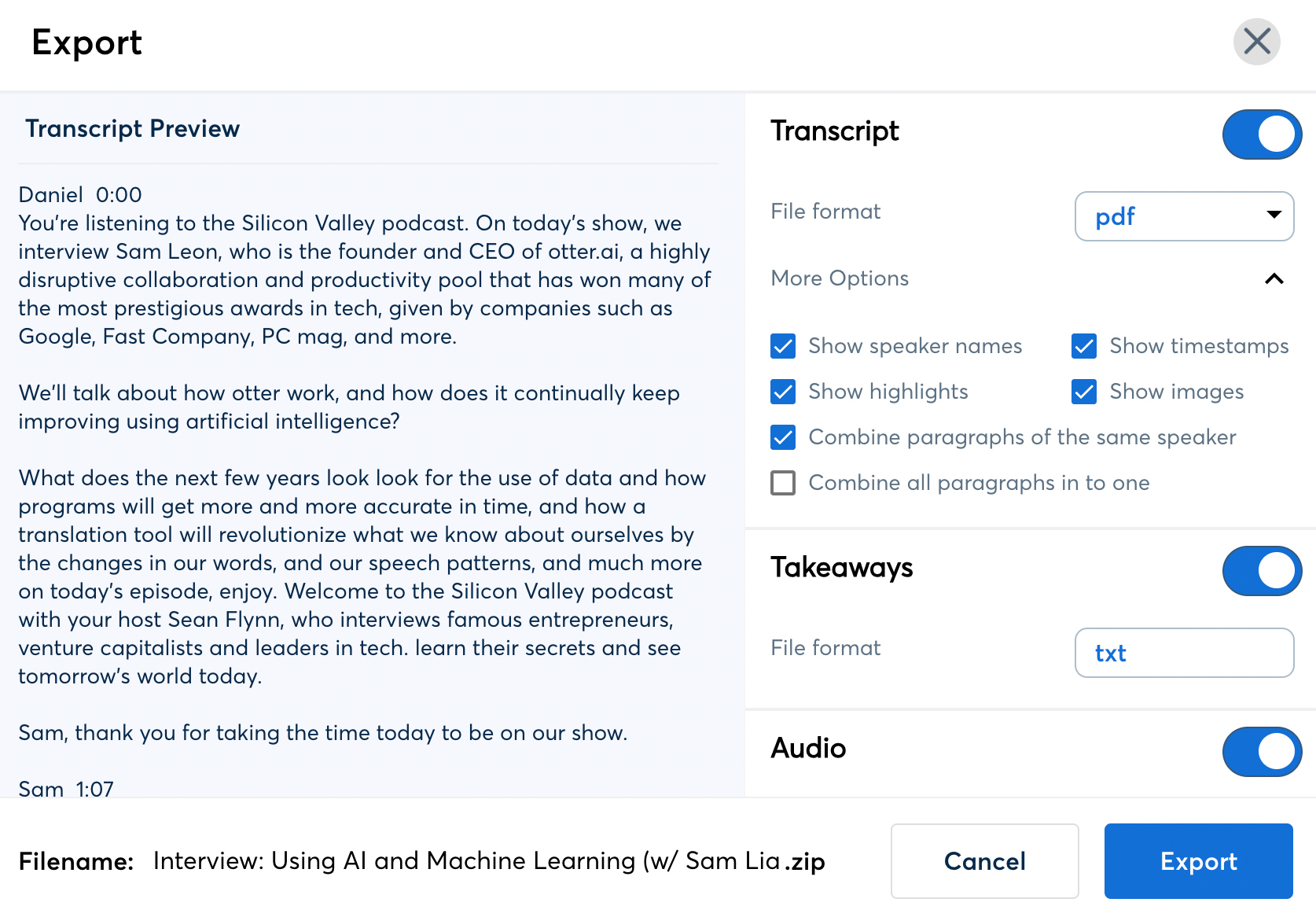 Pros & Cons of Otter.ai
Like other transcription tools, Otter.ai isn't free of drawbacks. Let's have a quick look at the platform's pros and cons.
Pros
Generating transcriptions for conversations or virtual meetings is very easy
The turnaround time is faster than other tools
Integrations with Zoom, Dropbox, Google Meet, etc., are very helpful
Otter.ai is excellent for taking notes and captioning
Real-time transcription is super easy
The app is compatible with multiple operating systems
Otter.ai is very affordable
Cons
Otter.ai only supports English and its accents
Otter. ai seems to not perform as it's expected in many cases
Speaker identification is sometimes inefficient
The accuracy rate should be improved for automatic transcriptions
Otter.ai Plans & Pricing
Otter.ai offers four pricing plans, and one of them is free. Let's take a look at these plans:
Basic – starting at $0/mo

Record and transcribe your meetings in real-time
Otter Assistant joins Zoom, Microsoft Teams, and Google Meet
Takeaways and automated summary
300 monthly transcription minutes

Pro – starting at $8.33/mo

Import 10 audio or video files per month
Advanced search, export, and playback
1200 monthly transcription minutes

Business – starting at $20/mo

Import unlimited audio or video files
Team features
Admin features
6000 monthly transcription minutes

Enterprise – ask for a quote

Single sign-on
Organization-wide deployment
More payment methods
Our Take on Otter.ai
Otter.ai is an AI-powered transcription, note-taking, and captioning tool that lets users convert their audio or video files into text documents. After conversion, users can export text documents in various formats. They can also import pre-recorded audio and video files to the platform for transcription. Plus, Otter.ai offers in-app recording on both mobile and web apps; generating transcriptions on the go is a breeze. Though the transcription speed is good, the accuracy is lower than popular transcription tools. Otter.ai's accuracy should at least be 90% to keep with the standard, but you have the option to edit the transcriptions manually. Supporting only one language is one of the major drawbacks here. Otter.ai has a free plan, which is great for testing its features. The Pro plan starts at $8.33, and the Business plan costs $20 per month.