DottedSign Review – Pros & Cons [2023]
DottedSign is an e-signature tool for all of your signing needs and offers enterprise-grade security for your documents. Signing documents, or getting documents signed becomes effortless, paperless, and faster. You can create legally binding documents using this e-signature solution. From inviting multiple signers to guiding them where to sign, every scenario is possible with this tool. You also get customizable branding to adorn your business documents. Digital audit trails are effective for legal compliance. DottedSign does have some drawbacks though. In our DottedSign review, we'll explore the features, pros, cons, and pricing plans of this tool. Let's get started!
Top Features of DottedSign
DottedSign boasts tons of useful features. Here is a detailed overview of DottedSign's top features.
Create and Personalize Signatures
Having that reflection of your personality on your electronic signature is essential. DottedSign lets you create signatures by drawing free-hand. Once the signature is created, you can save it as a template to use for future documents. You can also customize the attributes of your signature to make your signatures more professional.
Invite Signers
When you need a document signed by someone, you can simply invite the person to sign your document. They receive an OTP to confirm the identity and send the signed document back to you. The process is pretty simple, but beginners may need some time to familiarize themselves.
Make Stamps
If you are not comfortable signing on the screen, you can sign on paper instead and turn it into a reusable stamp to sign future documents. To do this, you need to go to Settings and select the Stamp option. This lets you capture images through the camera or upload photos from your device. Once the signature is captured, you can add your initials and save it as a stamp for future use. If the captured image has a background, you can automatically remove that on DottedSign to get a clear signature. Adding the stamp to various documents is straightforward. This is a solid feature for most users.
Pre-Fill Information
DottedSign comes in handy when you don't want to fill out the same information over and over again. If your profile is completed, you can bring the information to any document with a few clicks. While signing, you can also check if the information is okay by clicking just one button on the right side of the page. This saves time and effort.
Adjust Signatures and Initials
Whether your profile information, stamps, or other texts; you can adjust their sizes to fit the document. Text alignment allows you to format the documents professionally. These features are available on the interface, so you don't struggle to find them.
Multi-Party Signing
With DottedSign, you aren't limited to only one or two signers. In fact, you can bulk send the document to multiple parties, and everyone can sign the document where necessary. This becomes helpful when you are using the tool in large businesses. Freelancers or small business owners might not benefit as much from this feature.
Remote Signing
When you send a document to multiple parties, you can assign fields to specific signers so they know the correct order to sign. For example, if different levels of officials need to sign a file, you can guide them by assigning fields. Plus, you can customize the required fields with various colors so that signers know where to sign. This can be helpful if you are sending a document to a signer who didn't use electronic signatures before.
Reusable Templates
Once you create a document and sign with the necessary stamps, initials, or text, the document can be saved as a template. So, creating a similar document in the future becomes more efficient. You can simply select these templates and customize them to avoid starting from scratch.
Track Signers' Activity
You can never wait an eternity to get documents signed online. It's crucial to know the signature status of the document. When you send a document to signers on DottedSign, you have the visual progress bar to monitor the signature status and take the necessary actions. If you feel it's too late, you can cancel the signature request to void the access of signers to that document.
Signature Alerts
When sending a document for signing, you can set up the required timeframe. This can be done in two stages. The first step is to set an auto-reminder period. If the signer doesn't sign the document within this period, they will automatically receive an alert to sign the document. The next step is the expiration date, where the signing request will automatically be canceled if the signer doesn't sign the document within the deadline. You can customize these settings according to your needs. Getting familiar with these settings might take some time.
Custom Message
Sometimes it's essential to contact signers regarding the documents. If you want to convey a message to the signers, you can use the custom message feature on DottedSign. This tool lets you send messages to all signers available.
File Management
As DottedSign is a cloud-based tool, you can easily upload documents to the platform and share them with others. You can even share the templates with your teammates. These documents stay organized, and you can find the necessary document using the search tool. However, it would be better to have more search filters to find documents faster. Overall, we are satisfied with the file management.
Customizable Branding
Businesses need to have a brand presence on every document they share with others. This becomes easier with customizable branding on DottedSign. When you send documents to signers, you can add your logo or other necessary information to be consistent. This addition might not be useful for individual users.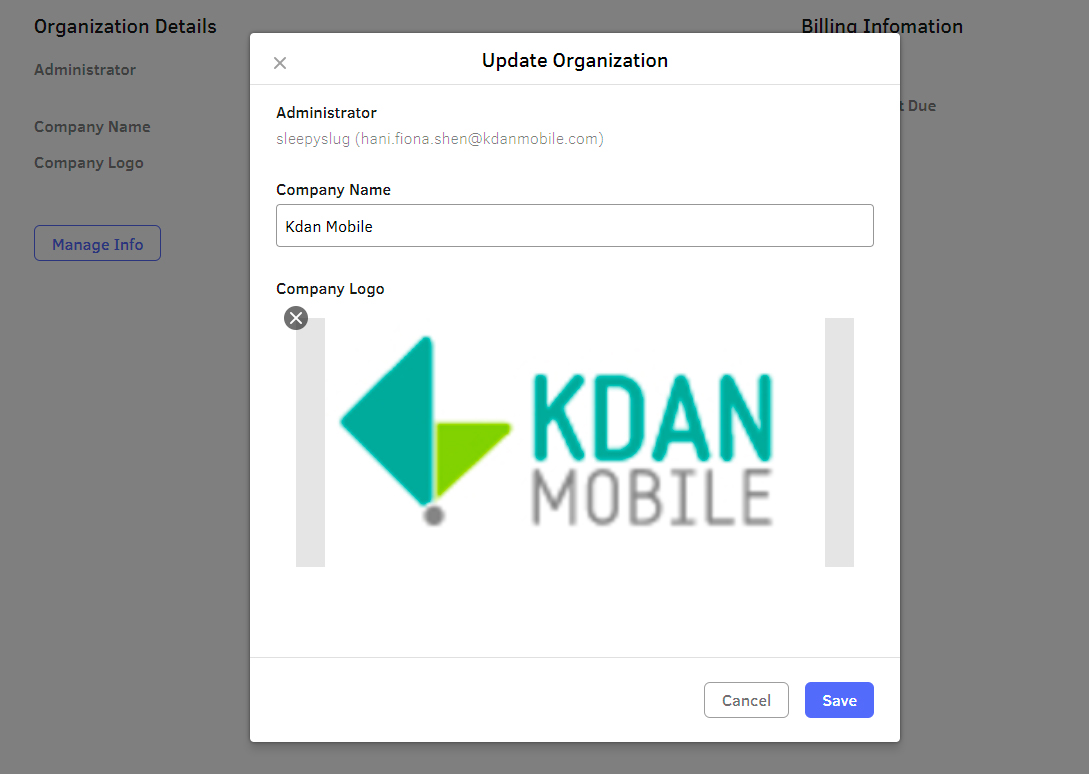 Multiple Integrations
DottedSign has notable integrations to make your workflow more convenient. For example, you can add signers directly from your contact list, as DottedSign has a Google Contact integration. You also integrate with Google Drive, Dropbox, OneDrive, and Kdan Cloud to import documents from just about anywhere. This tool can also be connected to CRM tools to sign hundreds of documents much faster.
Digital Audit Trails
This tool keeps track of every action you make on your document; auditory compliance is a breeze with DottedSign. DottedSign conforms to various acts, such as ESIGN ACT and Uniform Electronic Transactions Act, to make electronic signatures valid.
Excellent Security
DottedSign uses TLS/SSL, AES-256, and RSA-2048 encryptions to make sure your documents remain secure on the cloud. Before signing a document, two-factor authentications are required to log in to the DottedSign account. This ensures no one can intercept your documents or tamper with them. DottedSign even has a single sign-on feature to improve the security of your documents.
Pros & Cons of DottedSign
You might already understand how beneficial this tool is, though DottedSign has downsides too. Check them out.
Pros
Collecting signatures from multiple parties without being present
Adding custom signatures, initials, or stamps
Drag and drop editor for convenient signature placement
Color-coded guide for remote signers
Legally binding documents are easily traceable
The user interface is clean and minimal
Third-party integrations are helpful
Signing documents on the go is a breeze
Auto reminder to send notifications to signers
Cons
Users need to click on the icons to know the features
There is no quick overview of the pages, so users need to scroll manually
More pre-built templates for documents would be better
DottedSign Plans & Pricing
DottedSign comes with four pricing plans. Here is what they offer:
Free – starting at $0/mo

Sign unlimited documents yourself
Send 3 free documents for signature
Tamper protection with digital certificates
Mobile app

Pro – starting at $8/mo

Sign and send unlimited documents
1 template
One-time password via email and SMS
Google Workspace, Zapier, and Microsoft Teams

Business – starting at $15/mo

Invite 1-4 users to your team
5 templates per user
Bulk send
Team management and reporting analysis

Enterprise – ask for a quote

Customized number of users and templates
Dedicated customer success manager
API integration
Our Take on DottedSign
DottedSign has almost all the features you need to eliminate paper signs from your workflow. DottedSign lets you create stamps using the camera and adds them to various documents using the drag-and-drop editor. You can also drag your profile information into the documents while signing. Sending documents to multiple signers at once boosts your productivity. While you are waiting for someone to sign, the progress bar tracks the latest activity. All changes made to documents are tracked for auditory compliance. DottedSign has multiple third-party integrations to streamline your workflow. Importing documents from cloud storage services and sharing them with teammates is super easy. Icons don't have captions, so beginners might have a hard time recognizing what the icon does. Scrolling large documents manually can also be a pain. There is a free plan with basic features, and the Pro plan costs $8/mo.