Writesonic Review – Pros & Cons [2023]
Writesonic is AI-powered copywriting software that empowers the world to write. It provides the users with comprehensive AI assistance features for creating anything from a short description or E-mail subject line to full-fledged white papers. Writesonic generates unique (plagiarism-free), grammatically correct, engaging content for any type of business. Once you have added a few lines of text to the software, Writesonic will create ads, landing pages, product descriptions, blog posts, and more in a matter of seconds. Does it live up to the hype, though? Let's find out…

Writesonic Features
Writesonic comes with multiple features that bring its command of language and tone closer to human writers. It is the versatility of this AI writing tool that has the potential to surpass human results.
AI Blog Writer
From small posts to 1500+ word research-based articles, Writesonic can create content that meets the needs of a business. The long-form article assistant dubbed the Sonic Editor uses GPT-3 technology, and further helps edit, polish, and refine the generated content.
The articles and blogs generated by Writesonic are not only detailed but also well-structured with titles and headings. Writesonic picks an applaudable choice of niche-based words to ensure a natural sentence flow.
You can customize and re-customize how you want your content's structure to ensure everything is to your liking. If you're not sure about structure, the tool provides outline suggestions.
AI Paraphrasing Tool
The paraphrasing feature from Writesonic helps anyone to rewrite and enhance content within seconds. What sets it aside from other online paraphrasing tools is that while avoiding plagiarism, it also maintains the original meaning of the content without sounding generic.
This tool also works great for those undergoing writer's block. You could spin a copy of your draft and watch Writesonic add a little spark to it. The software will also provide feedback on your original writing to see what needs improvement.
Text Expander
Another handy feature is Writesonic's ability to instantly expand text from a sentence into a longer paragraph, blog, article, essay, or social media post. Like any other feature, this one also ensures that the content is unique and reflects human reasoning.
If unhappy with the results, you can re-generate the copy wholly or partially until it meets your expectations.
Article Summarizer
Similiar to how the text expander feature re-works text, the article summarizer feature is able to sum up lengthy articles and research papers to save you time and effort. It gives you the crisp gist of the shortest paragraphs into an easy-to-read summary. It is definitely more convenient than going through an entire document and more effective than skimming and quicker than scanning.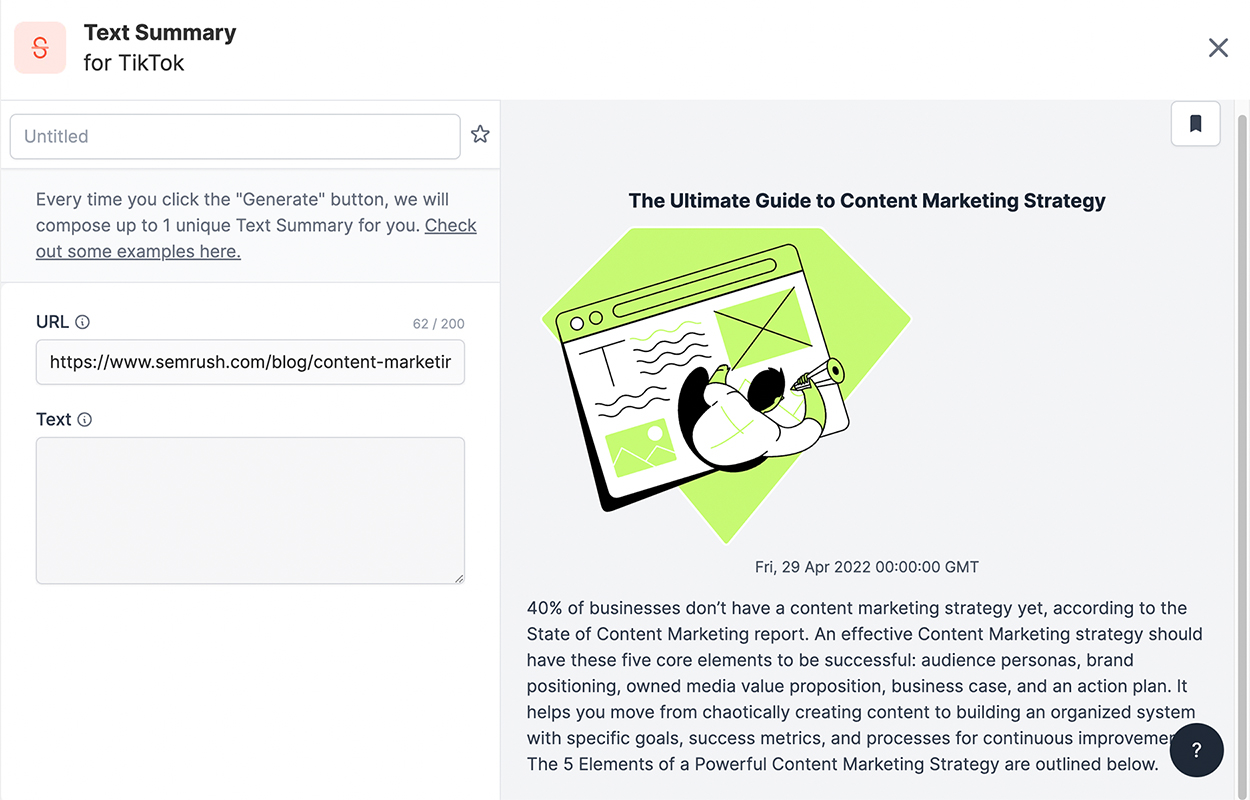 Product Descriptions
The AI content writer feature from Writesonic generates high-quality, SEO-optimized product descriptions. It utilizes features to benefit reasoning to boost business sales by emotionally hooking the target audience.
Landing Page Generator
Writesonic's landing page copy generator is able to create landing pages that sell in a flash! All you need to do is enter your product's name, and a brief description of what it is or does, and voila! You'll have multiple variations of high-converting copy for your page. You can take a pick whatever feels most fitting to you and your brand.
The feature comes with a layout tool that designs the template of your page, including the call-to-action buttons which makes it easy to visualize where the content would go and how it would look.
Pros & Cons of Writesonic
Writesonic has many useful features, but there are a few things to be aware of. Here are the advantages and disadvantages of using this AI copywriter:
Pros of Writesonic
Straightforward, simple user interface
50+ advanced writing tools
Generates content that reads naturally within seconds
Plagiarism-free content that's SEO-optimized
Versatile with topics and content-type
Eliminates the risk of typos or grammatical errors
One of the few AI tools that offer a free trial
Cons of Writesonic
The trial doesn't include enough credits to test the software's features thoroughly.
Copy may not be a 100% accurate
Content expander has a character cap
The credit-based system can be inconvenient when you need re-generate copy multiple times
Writesonic Plans & Pricing
Writesonic offers per-word, quality-based pricing. There are three pre-designed plans to choose from, and you can switch between the quality of words anytime, across plans. Your word balance will adjust accordingly.
Plan #1 – Free Trial
Writesonics free tier gives you up to 25,000 words to experiment with any features you want to. The number of words available changes depending on your quality setting.
Economy – 25,000 words
Average – 12,500 words
Good – 6,250 words
Premium – 2,500 words
Plan #2 – Short-form
Their first paid tier is ideal for hobbyists or marketers. As the name suggests, short-form gives you access to concise content like Facebook ads, paragraphs, and product descriptions.
Annual billing: $10 to $26.67/month per user
Monthly billing: $15 to $40/month per user
The range depends on how many words you buy. Depending on the range you pay for, you get the following:
120,000 to 500,000 Economy Words,
60,000 to 250,000 Average Words,
30,000 to 125,000 Good Words, or
Plan #3 – Long-form
This plan includes all the features Writesonic has to offer. It is perfect for bloggers, students who write theses, freelancers, authors, businesses, and whoever needs to generate bulk content, especially in long form. Not only do you get to create short and brief content but also lengthy articles, blogs, eBooks, white papers, and more.
Annual billing: $13 to $600+ per user
Monthly billing: $19 to $900+ per user
Again, the price range depends on how many words you buy. Depending on the range you pay for, you can get up to 190,000 economy words or 19,000 premium words on the low end, or up to 20,000,000 economy words on the high end of their pricing spectrum!
In addition to extended content output, this plan includes all of the features from the short-form plan, complete article rewriter, bulk processing, the sonic editor (comparable to Google Docs), and priority access to new features.
Our Take on Writesonic
Writesonic makes content creation easier, faster, and more efficient to write. It is one of the best AI copywriting tools. It generates short and long texts that are well-structured, SEO-friendly, unique, and error-free. Writesonic has a number of useful features including the ability to generate 56 types of content quickly that is plagiarism and error-free. This tool is able to write a wide variety of content for personal and commercial purposes.
While the software is unrivaled in its quality of content, it cannot be relied on for high research-based content. And in most cases, it is not recommended to use the content as is, no matter how good or premium (but this is what we warn for every type of AI tool). That said, it is perfect for bloggers and freelancers who need help generating large amounts of content.
Writesonic has specific word-count-based pricing plans, starting with a free trial and moving on to Short-form and Long-form content plans. The price will depend on how many words you buy. The cost starts at $10 for 120,000 words and goes up to $999 for 20,000,000 words.
Click here to get up to 25,000 words for free with Writesonic.