Bertha.ai Review — Pros & Cons [2023]
Bertha is an AI copywriting assistant designed to help writers with creativity and write full-fledged blog posts, landing pages, and product descriptions, directly on their WordPress website. The plugin is great for entrepreneurs who can't afford a full-time content writer and need faster execution of their content marketing strategy. Bertha is also perfect for copywriters experiencing "writer's block" as it can create inspiring ideas on the fly.
Bertha.ai Features
Bertha has a number of features that give it an edge over other AI generators.
Built Into WordPress
Bertha is built into WordPress, the most popular content management platform. The Bertha plugin helps writers and entrepreneurs save an enormous amount of time by generating quality content with high-conversion value directly in the WordPress admin dashboard.
Users can easily install Bertha to enable AI content creation in the page and post editor while creating content. The WordPress plugin is compatible with most WordPress theme editors, including Elementor, Gutenberg, Divi Builder, WOO Commerce, BeaverBuilder, Oxygen, Thrive Architect, and Visual Composer.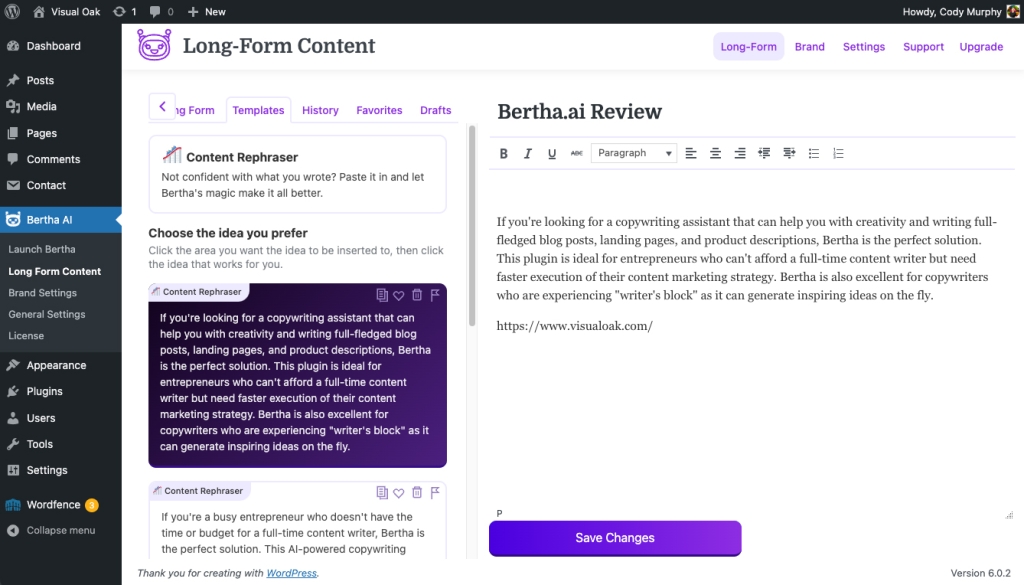 Unique Content Creation
In terms of long-form content like blogs and articles, Bertha's dashboard is designed to be quick and quality-oriented. You can generate each component of a blog or article — from the title to the conclusion. Moreover, users can create an outline of a blog and generate inspiring ideas for millions of topics.
Ask Me Anything – This is one of the newest features added to the platform to make things easier for users. Copywriters can simply ask anything in the text box and Bertha will assist — from social media posts, emails, blog posts, or blurb content.
Unique Value Proposition (UVP) – UVP is an inspiring statement that defines the benefits of an offer and how a product or service will solve the problem of a consumer better than its competitors. The statement is positioned as the introductory sentence of a website. Bertha's AI can help generate interesting and captivating UVPs quickly, which can help you clearly define your vision.
Paragraph Generator – Bertha can create compelling body content for your blog post with the help of the Paragraph Generator Tool. This is a great tool that is especially for writers who have hit a creative block. Besides the body content for a blog post, you can also generate creative short blurbs for your website on WordPress using this tool.
Conclusion Paragraph – The conclusion is an overview of your content that comes at the end of a blog post or article. Bertha is programmed to create a concluding paragraph that compliments the tonality of the whole piece and ensures that visitors stick to reading the content till the end and hopefully get inspired to become a customer of your business.
Long-Form Content – Not an avid writer but need creative blog posts for your website? Bertha can help! The long-form content feature takes the hassle out of writing entire blog posts! Simply click "Start" and Bertha will guide you through each step of creating a blog post (in far lesser time than what it takes to write yourself).
SEO Assistance
With so much competition, SEO can feel overwhelming — or may lead you to a point of being clueless about what is best to improve your online visibility. Bertha.ai provides AI-powered SEO assistance that will allow you to easily generate SEO keyword suggestions, SEO title tags, and SEO description tags that ensure a high ranking for your business. Bertha even works with YoastSEO, the most popular SEO plugin for WordPress!
Keyword Suggestions – Over the years SEO practices like Keyword Stuffing have been deemed bad for any kind of content. Including relevant long-tail keywords in your content is rather preferred by most businesses that are ranking high on popular search engines. Bertha suggests the best topic-related long-tail keyword options that perfectly fit into your content without disturbing the tonality or continuity of the blog post.
FAQ Generator – For maximum optimization of an online business, quick handling of service or product-related queries is necessary for which nothing is better than a list of well-crafted FAQs (Frequently Asked Questions) that leave no doubt unsolved. Bertha users can easily generate a list of FAQs along with their answers to make their blog posts more informative for the readers.
Description & Title Tags – Though a very crucial thing that ensures the high of your business, Writing SEO descriptions and SEO title tags can be a tedious and time-taking task. Bertha's SEO Description Tag tool and SEO Title Tag tools completely automate the process in just a few clicks. Each description and title will also contain keywords that are relevant to your business.
Active Facebook Community
Bertha has an active Facebook group with hundreds of members who are part of a private group where new features are introduced, feedback is shared, and queries are discussed. Users can request to join the group so they can learn more about Bertha and also provide suggestions that will help the developers improve the platform. Andrew, Bertha's Founder, is always active and is welcome to feedback. How refreshing!
Bertha.ai Pros & Cons
There are several Pros & Cons to be aware of before choosing Bertha.ai:
Pros
Built into WordPress, the world's most popular CMS
Compatible with most page builders (including Elementor, Divi, Beaver Builder, and Visual Composer)
Integrates with the YoastSEO plugin
Affordable (starts at $10/mo) and also offers a pay-as-you-go option
7-day money-back guarantee
Cons
Only works with WordPress
Summary
Though there are other AI copywriting software tools, Bertha.ai is the best when it comes to seamless WordPress integration and compatibility with multiple page builders. Bertha's active Facebook group shows that the developers are constantly making an effort to build a community that is also contributing to the improvement of the platform from user feedback. The only drawback is that Bertha is only available on WordPress, which can limit users in certain situations. As far as pricing is concerned, it is commendable that they offer a pay-as-you-go choice, as many business owners don't regularly create content. WordPress users won't find a plugin as well-designed and affordable as Bertha.ai, which is why we recommend giving it a try!
Click here to try Bertha.ai and get 1,000 words/mo for free!