Plutio is an invoicing tool that eliminates the need for multiple tools for different tasks. Whether you run a small or large business, Plutio makes it a breeze to manage projects. Collaborating with teammates or creating project proposals for clients, tracking time, or getting paid, everything is compiled inside the tool to streamline your workflow. Every bit of the workflow offers ultimate customizability. Its built-in drag-and-drop editor can be used to create professional invoices, proposals, and forms that cater to your needs. But there can be some drawbacks too. So, we decided to review Plutio in detail and let you know its features, pros, cons, and pricing plans. Let's dive in!
Top Features of Plutio
Plutio is packed with features, but we picked the top ones to highlight in our review as most businesses will benefit.
Project Management
You get a clean project dashboard to monitor all projects in one place. When you create projects, you can save them as templates for future use. You can also add custom fields to your projects to meet versatile needs. A progress bar on each project shows how far the project has gone or what is remaining. Uploading files related to projects is also easy.
With Plutio, you can create project briefs and create tags to organize projects. Setting the deadline, currency, hourly rate, or other details related to the project is also straightforward. You can add clients and teammates to projects so that everyone has a real-time view of the project. People who aren't contributors can also view the projects through customizable links. The project dashboard looked so neat and easy to navigate.
Scheduling
Whether you do freelance projects or run a large organization, you need to use a scheduling app to keep track of every incoming task. With Plutio, you get all the necessary features to organize your tasks. You can create multiple events for various projects and assign each event to one or more projects. The calendar view shows all tasks or projects related to these events in one place. You can also view relevant invoices.
With Google Calendar integration, you can quickly sync your schedules to manage everything without exiting the platform. You can also export the built-in calendar to other apps.
Legally Binding Contracts
Creating contracts is a big part of the job when you take on a project. Plutio makes it easier as you get a block-based editor to create stunning contracts with ease. Multiple elements can be easily added to contracts to make them more fruitful. And the biggest advantage is the ability to create legally binding contracts with electronic signatures.
You can send a contract to multiple signees and track the status of the contract right away. Plutio also lets you download the contracts and attach them to respective projects. This seems so intuitive that any beginner can start creating contracts in no time.
Timesheets
Managing timesheets is crucial because the bills from clients, payments of the employees, and other factors depend on this metric. With Plutio, you can start tracking time in an ongoing or new project. The tracked time can be set as billable or non-billable. You can manually enter the time later if you forget to start the timer.
You can even edit the tracked time from timesheets. These timesheets are available for every project you handle. And you can download or print the timesheets for further use. Invoices can be created directly from timesheets.
Forms and Surveys
Using forms is the best way to collect vital information about your projects or clients. You can create lucrative forms using text fields, images, and videos. These rich forms can have different pages for intro or confirmation. The form submission date or the expiration date can be controlled on the app. Submission limits can also be set.
Viewing the response through forms and sorting them is easy here. Saving forms as templates allow you to create future forms with less hassle. The forms you design here are sharable and embeddable. Plutio offers other advanced features to make these forms stand out.
Task Management
Creating tasks and tracking them to the slightest bit is absolutely easy. Though it requires entering multiple parameters to create a task, you can actually save these tasks as templates. Next time you create a task, it is done much faster.
From setting the frequency of tasks to assigning them to your teammates, everything is possible here. Getting reminders about deadlines or uploading files to tasks is also easy. You can drag and drop tasks to organize them according to your choice. And it offers multiple views of tasks. Everything seemed so smooth and clutter-free.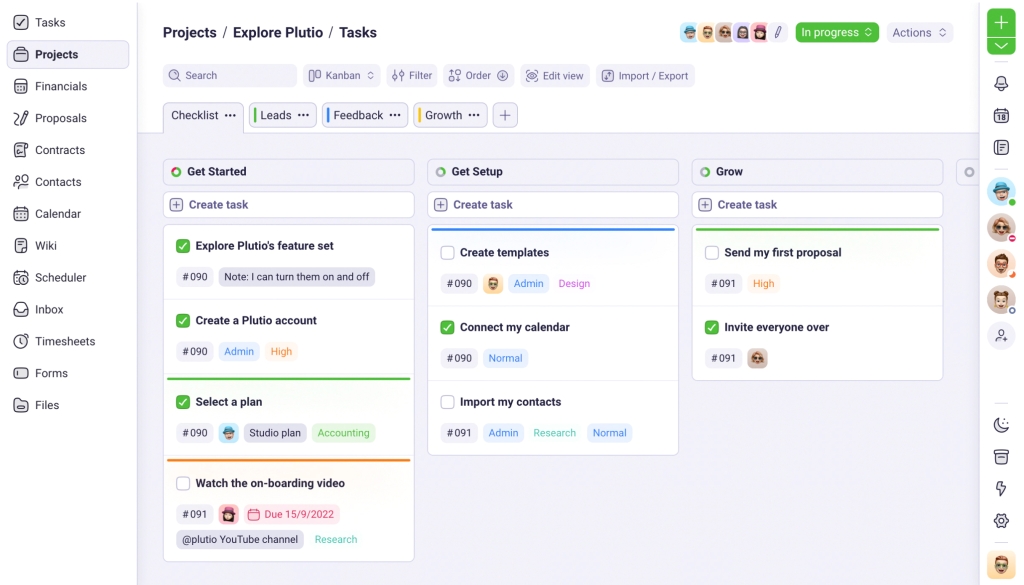 Proposals and Approvals
Creating attractive project proposals can be tricky. Plutio makes the whole process so effortless that anyone can design proposals very quickly. It has a drag-and-drop editor to add various blocks to proposals. You can create proposals from scratch or use an existing template. Created proposals can also be saved as templates.
When you send the proposals to clients, they can electronically sign these to approve proposals. Every stage of the proposals can be tracked easily. And the tool can create projects automatically when the proposals are approved.
Invoicing and Payments
Getting paid for your projects is no more a hassle, thanks to multiple integrations on Plutio. You can accept payments through Stripe, PayPal, or bank accounts. And it supports multiple currencies, so you can go global. Recurring payments are also available.
You can schedule payments with customized fields. Various elements of invoices can be easily customized. And the invoices can be shared with anyone with public links. If you have more technical knowledge, you can use CSS to make the invoices better. It also has an automatic invoice generator to speed up the process.
Unified Inbox
From individual conversations to group chats, everything is organized so well that you can communicate with all the relevant people in one place. It lets you sync your email accounts, so you can reply to them from the platform. The live chat widget can be used on your websites or apps.
You can also create response templates to make communication faster. Scheduling messages are also possible. Message formatting is another good feature of the tool. Every conversation has a unique ID, so you can easily track them. And sharing files through conversations makes working on projects easier.
File Management
All your project-related files can be neatly organized with Plutio. You can create private or public folders to store secret files or share files with teammates. The folders can be color coded for easy navigation. It supports various file formats, so you can open files right from Plutio.
Once you have the files uploaded, they can be used for multiple projects. You can change permissions depending on who can or can't access these files. Publicly sharable links can be created to share these documents with anyone you want.
Pros & Cons of Plutio
While Plutio has tons of features, the platform does have a few downsides. Let's check out the pros and cons.
Pros
Feature-rich project dashboard
Drag-and-drop editor makes creating proposals, invoices, etc., super easy
Items can be stored as templates for future use
Easy time tracking to accurately bill projects
Attractive forms for collecting important leads and project information
Multiple payment gateways with multiple currencies for payments
Electronic signature for legally binding documents
Cons
Data exporting formats are limited
Completed tasks don't automatically disappear from the dashboard
Workflow automation needs to be improved
Low-tier plans have more paid add-ons
Plutio Plans & Pricing
Plutio offers three pricing plans, and each of them comes with specific benefits. Each of their plans has a free trial period, so you can explore features and benefits without fully committing.
Solo – starting at $19/mo

Invite up to 3 clients
No contributors
White-label

Studio – starting at $39/mo

Invite unlimited clients
10 contributors included
White-label
Single sign-on

Agency – starting at $99/mo

Invite unlimited clients
30 contributors included
White-label
Single sign-on
Our Take on Plutio
Plutio offers impressive features that make project management, invoicing, and collaboration easy. Creating various tasks and project is so simple and intuitive – in fact, most of these can be color coded and organized in different views for easy monitoring – project progress shows critical details about projects. You can create forms, proposals, and invoices with the tool's drag-and-drop editor. Once saved, these elements can be used over and over again. Taking payment from global clients in multiple currencies is also easy and Plutio integrates with multiple payment gateways, including Stripe. Plutio also makes managing conversations and files effortless but exporting data in different formats isn't possible, which is a slight drawback. We also think Plutio could improve its workflow automation features. Regardless, Plutio is an excellent choice. Their pricing starts from $19 per month, but we recommend switching to their highest plan so you can take advantage of all the features and benefits.
Click here to try Plutio for free!